E-Commerce
Apr 27, 2020
How to build rapport with online shop customers via Newsletters: part 2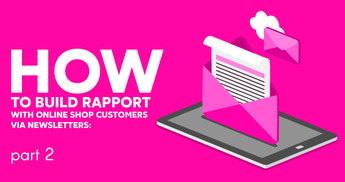 Content
The e-commerce market is crowded with various developers and solutions. Online retailers pay special attention to mailing in order not to lose regular customers and to build rapport. In the previous article, we have considered first steps in newsletters creating and content tips. This article contains the list of practical recommendations for building rapport with customers using newsletters.
Sign up page
If you want to understand your potential customers, put yourself in their shoes and try to evaluate the sign-up page of your online shop. This page should not only attract their attention but also motivate to leave an e-mail. Try to describe the benefits of joining the list using exclusive tips, promo codes and special offers. Then, ask subscribers to confirm their emails via the link. Try to avoid boring messages like "to confirm your e-mail OR to complete the subscription process". The competitors already have used it. You can create another interesting message to build rapport with online shop customers via newsletters.
Relevant Content
Let's remember contact segmentation advice from the previous article. Some are interested in advice only; some would like to get special offers. With segmentation and sharing useful content, it is possible to increase click-through rates by an average of 14% and conversions by 10%. This is one more secret of building rapport with online shop customers.
Newsletters on a Regular Basis
If you want to build serious long-time relations with online shop subscribers, it is vital to make newsletters on a regular basis. The best option is to make mailing once a week or every couple of weeks. When creating newsletters, try to answer this questions:
What sublists do you have?
What is interesting to each subscribers group?
How to add value to the newsletter?
How much information will be the easiest to consume?
For newsletters, some companies use no-response emails. However, this option fits only companies that have already invested a lot in relationship building. No-response emails are not an appropriate option for new businesses because subscribers can not thank you for valuable tips.
No, it's not over. In the next article, you will find out more about technical tricks and other useful tips for building rapport with online shop customers.
Let professionals meet your challenge
Our certified specialists will find the most optimal solution for your business.
Related articles