E-Commerce
Apr 24, 2020
How to build rapport with online shop customers via Newsletters: part 1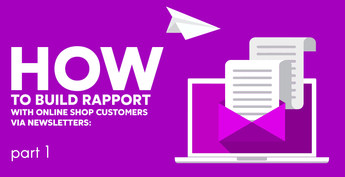 Content
Newsletters is a great tool to build good relationships with online shop visitors. Moreover, this cheap instrument can increase sales if you know how to use it. Find out about the effective use of newsletters for online shop in the article below.
Blog
The first step toward new clients is networking. To achieve this goal you should share useful content with your customers on the regular basis.
Why is it important? It's simple, about 93% consumers find online shops using search engines. Moreover, websites with blogs have 434% more indexed pages. It is a great way to get new leads. It is possible to post articles on the shop's website or on other sites. Useful articles and mailing are helpful in founding trustful relationships with customers.
How does it work? By posting useful material for your blog, the company shows expert opinion, so customers and subscribers start trusting this brand. It is much easier to manage the audience with a positive attitude toward the company. And after several successful newsletters company owners start to realize that selling via mailing is generally simple. You can provide subscribers with free useful content and sometimes can offer paid solutions that are guaranteed to help your audience even further. Do not forget to send newsletters on the regular basis.
Here we have several ideas for content to be considered:
Tips and Tricks are always a win-win that is very popular among readers. In addition, How-to articles can be very useful for a company because you can sell your product indirectly by listing all of its benefits. Most readers also like success stories and interviews. The content, made on the basis of such tips can be mind blowing and also increase conversion.
When useful and interesting content is ready, it is time to add some new e-mails to your list. Subscribe bottom is a great way, but the pop-up window will be much more effective.
Also read:
Create a High-Converting eCommerce Landing Page
Dinarys Named Adobe Solution Partner
Dinarys Joins the Shopware Solution Partnership
Dinarys: Top Web Development Company
The Most Effective Communication Tools for Ecommerce Businesses
Email List Building
To grow email list is not a challenge at all. However, it contains several pitfalls you should be aware of. Always ask customers if they want to receive newsletters. Despite receiving a highly engaged audience, it is a legal requirement in some European countries. You should always add unsubscribe link because it is another legal requirement. Do not buy email lists, otherwise mailing without permission could lead to punishment.
Try to get as much information about your subscribers as possible because the more you know about your subscribers, the easier it is to personalize your messages. First of all, you should ask them for their names and address, and further call them by their first name in every newsletter.
Conclusion
In addition, you can ask your subscribers about their occupation, gender, location, and purchase history. Using this information it is easier to segment them to make newsletters more effective.
In the next article, you will find more useful tips how to build rapport with customers via newsletters.
Also read:Part 3
Let professionals meet your challenge
Our certified specialists will find the most optimal solution for your business.
Related articles