Shopify vs Etsy Comparison: Which Is Better for Your eCommerce Store
eCommerce Mar 13, 2020

Main / Blog / Shopify vs Etsy Comparison: Which Is Better for Your eCommerce Store
Today's world is all about selling things and buying things, and we definitely don't mean it in a bad way. Each person can start a small business selling something, grow it and turn it into a large company with thousands of customers. Alternatively, they can leave it as a small store of unique items that are not made for a wide audience. Luckily, up-to-date eCommerce solutions provide opportunities for any option desired.
Here, we are going to look deeper into two popular platforms that can help you build your very own online sales business – Shopify vs Etsy. You have probably heard both names many times, and maybe even heard different opinions on which one is better. Of course, they include products from different categories, so comparing Shopify vs Etsy can be tricky. Etsy, the perfect place for a little online store to sell your hand-drawn pictures or exclusively decorated sweaters, can be the start of a new chapter in life with no hassle, at all. Shopify, a great website builder where you can create a personalized online store in a matter of hours, is also a great option. Maybe you even already know, or at least think that you know, which one may be a better solution for your business or endeavor.
When it comes to making a decision, it never hurts to learn even more about the differences between Etsy and Shopify. First of all, let us look into both of these online tools in a more careful and scrupulous way. To make it easier, we are going to pretend our goal is to sell handmade sweatshirts so that the advantages and disadvantages of Shopify can be tied to those of Etsy. It makes sense because, if you're going to go with the electronic business, you won't consider Etsy even for a minute, as it's simply meant for different things. Meanwhile, Shopify is meant for any business (can this be counted as a first and very significant advantage?).
Etsy: home for homemade and vintage stuff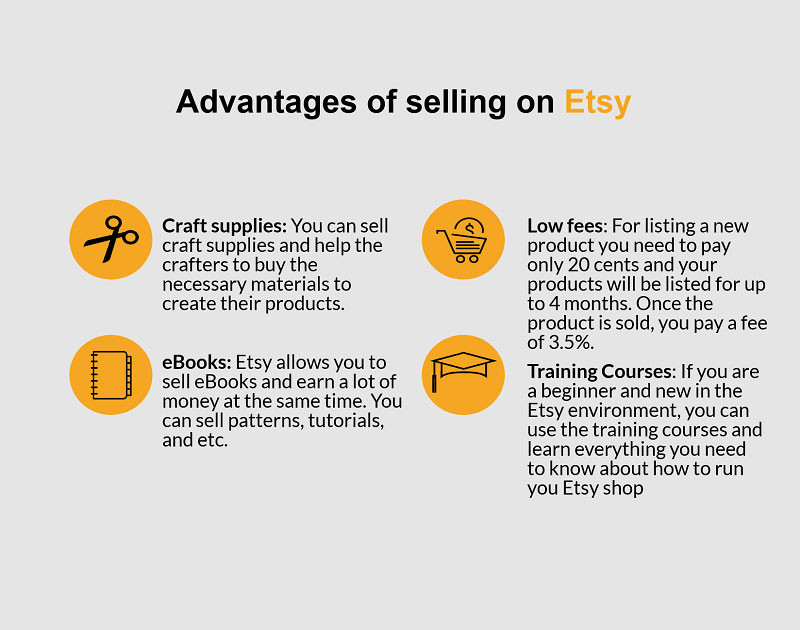 Pros and cons of Etsy
It is definitely not too hard to use Etsy, as it's meant for any ordinary user. Say, a person whose time is mostly dedicated to other things rather than building websites. When you compare Shopify and Etsy, Etsy is definitely simpler, by default. To start, you will have to submit personal information. There is quite standard functionality, so all the stores are created upon the same algorithm. Ease of use can be called among both Etsy's pros and cons. On one hand, it may look like a lack of personalization. On the other hand, it enables regular people to do business with a simple tool that requires no special knowledge at all.
To be successful on the Etsy marketplace, it is essential to pay attention to details such as filling out all the right fields, setting correct regional and language parameters, adding good pictures, and paying attention to keyword detection. There are not too many details, so it's not particularly difficult to keep track of everything, and it is well organized, no doubt about that. If you want to skip a couple of lines that seem redundant, be ready to pay for it, as your goods may not even be shown in platform search engine results, as a consequence.
Will I get beautiful designs?
Thinking about Etsy's advantages and disadvantages, the design definitely falls as one of the disadvantages. Not because it's bad, but because it's basically the same for all users of the platform. There is no opportunity to add a new theme or play with the code or upload your custom layout, even if you are proficient in this department. The only unique characteristics you get are title, store icon, about-us text, and a banner on the header of your page. Of course, you also have the chance to post links in your profile, so that your customers can go check your Instagram or blog, etc. This is not much, but at least it's something.
This doesn't necessarily mean that your shop is going to look exactly like others. How can it, if you have your own unique products and an exclusive story about your brand? You can concentrate on making catchy pictures of high resolution, or adding specific frames with catchy branding, or think of another way to enhance it to make people pay attention to your merchandise. Thus, some individuality can be added by the seller to highlight the business and draw more customers hunting for exclusive things.
What about the features?
Etsy eCommerce platform can be seen as a huge trading platform with many stores functioning alongside each other in this marketplace. All of them are built on the same principles and connected by the Etsy-dot-com domain. Getting your own store there, you get a subdomain that looks like shoptitle.etsy-dot-com. Once you submit personal information and payment details, your user account connects with the online store backend, allowing you to start the selling process immediately. Is this better organized on Shopify or Etsy? Depends on what you need. Sometimes simplicity is on top of the world.
The dashboard is clear enough. There are conversations, statistic previews, settings for listings (or trading positions, as they are called on Etsy), and some marketing tools. You can also link your online store to Google Analytics, add data to the file, and upload items from CSV. Other features include two-factor authentication, setting up notifications, adjusting delivery, and other details. It may look limited but, for most small businesses, it's quite enough.
Shopify: true eCommerce website builder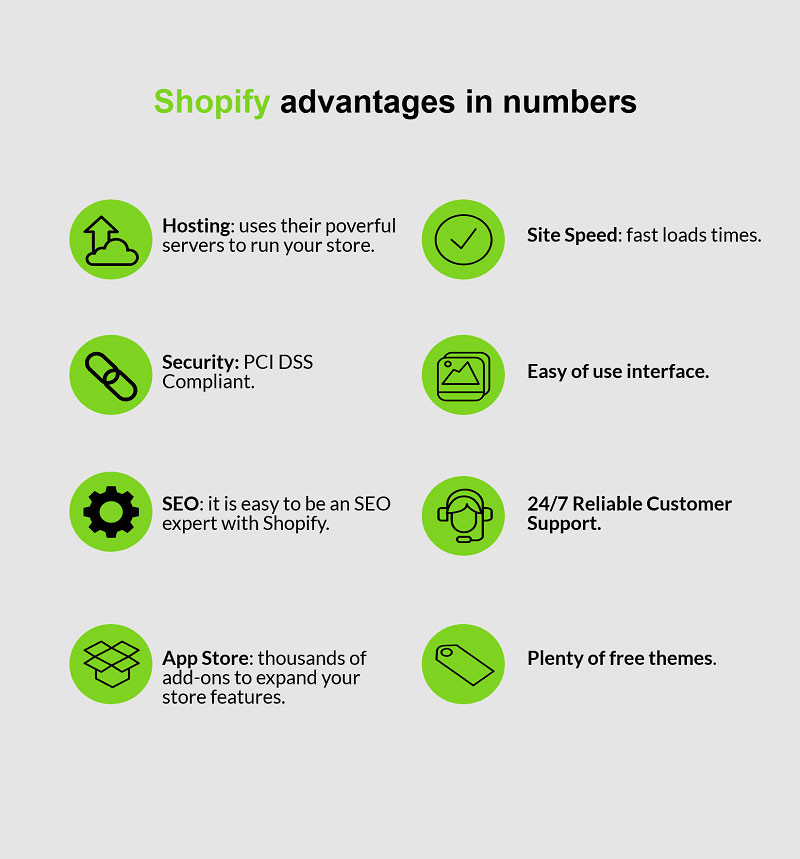 Pros and cons of Shopify
There can be different pros and cons of using Shopify, and simplicity is definitely one of the cons. This website builder is considered to be one of the easiest ones in this particular segment. Its dashboard doesn't feel complicated, even to a beginner; however, it might require some more time to read all the advice that appears on the screen while you create a store of your own. This may seem redundant to skillful website builders but, at the same time, is an asset to those with no experience.
Shopify compared to Etsy, is intuitively understandable and clear, which means that it can be Etsy's direct competitor in this aspect. Keep in mind that not only it allows users to create a store page inside the big online shopping mall, but actually provides you with an opportunity to make a real website for your business.
What about designs?
There are more than fifty themes that can be used for online stores. Ten of them are free, others are paid. Their cost varies from $100 to $200, and they are really good - not just for the visual perception of customers, but also from the point of view of responsiveness. Any Shopify website can be conveniently watched on a mobile device with no loss in quality.
Having some experience, you can make edits in CSS; however, even a total newbie can set up slideshows, edit headers and footers, move blocks, change fonts and colors, etc. It can even slow down the process a bit as some people get lost in the variety of options and keep comparing and changing everything until they are too tired to think about actual sales. That's a joke, of course, but be careful with your time when you play with Shopify designs.
What features does Shopify offer?
Shopify is a perfectly viable system; it allows for the creation of any type of online store for any number of customers with tons of products to sell. Of course, there are instruments that allow your customers to compare products, search for the right ones, and pay for them. Your shop built on Shopify can:
Be absolutely personalized
Offer customers a unique navigation system
Have supplementary applications for additional functionality
Feature its own blog
On Shopify, you can import product lists from CSV, get detailed reports, synchronize with external services as well as enjoy powerful SEO, convenient CRM, stock apps, delivery, and many other nuances like that. All the functionality is implemented on the highest level possible, and it has basically everything you could have ever expected from an eCommerce website builder.
Pricing approaches of Etsy and Shopify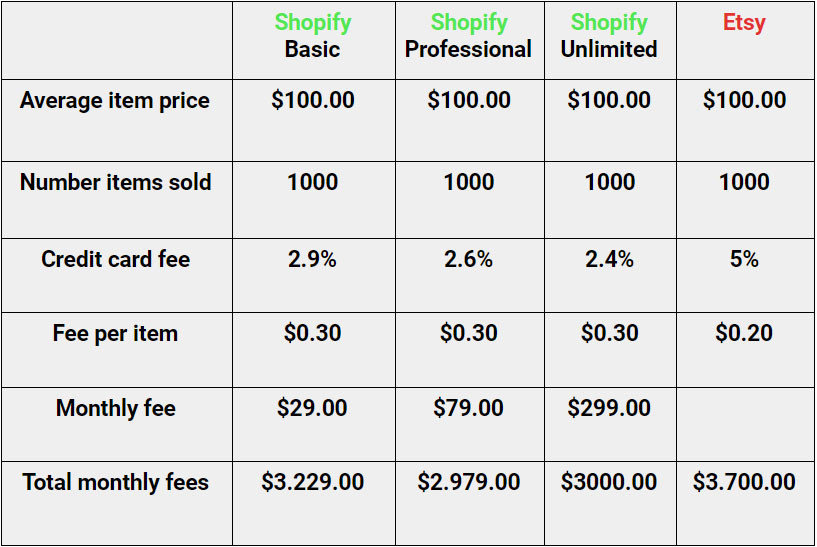 These two platforms have very different approaches to price building. With Shopify, you get 14 days for free to try and see if you really like it, while Etsy works on a full-blown mode right from the start. With Etsy, you do not have to pay any membership fees. However, no matter what you choose - Etsy or Shopify, both platforms charge a commission for each sale that is completed through them. Notice that neither platform deducts this charge automatically, so you have to remember to pay it manually before the 15th day of each month. Let's see how pricing works for both Etsy and Shopify.
Etsy requires you to pay for the publication of each item (it's called a listing, here) you want to publish as a seller. The cost of each item is $0.20 and it works for four months. You also have to pay a transaction fee of 5% and a payment processing fee of 5%.
Shopify offers three types of monthly membership: Basic Shopify ($29/month), Shopify ($79/month), and Advanced Shopify ($299/month). Well, the main difference here is in the number of marketing tools available, sales reports, and, most importantly, transaction fees. Many business owners try to predict how sales will go in order to choose the best option. The more sales you have, the less commission you would prefer.
To make the most appropriate decision for your business you should consider all the facts and try to predict what commission strategy and combination of payments might be the most suitable option in your case.
What other platforms can you consider?
The ecommerce market is constantly growing, providing new tech products every year. Despite the fact that Etsy and Shopify are prominent leaders in the ecommerce system market, they are not the only ones. We would like to introduce you to 2 other options - Magento and Shopware. Let's see their features.
Magento
With a quarter share of the market, Magento is another strong player in the online store platform. Online stores of such well-known brands as Burger King, Huawei, Pepe Jeans & Liverpool F.C prefer to use Magento.
Benefits:
ease of use;
open-source code - you can customize the online store for any needs;
more than 9000 plugins;
the ability to sell through social media.
There are 2 different versions of the platform: free and $20,000+ per year. They differ significantly in the number of available tools. The first one is Magento Community is great for small companies, and the second one is Magento Enterprise is more advanced, it can segment buyers, provides technical support 24/7, and offers a support module for your clients.
Find out the top reasons to choose Magento for an ecommerce website.
Shopware
To be a mobile-first platform is a priority for Shopware, so your clients will be offered a rich mobile experience. This is a true mobile commerce system, and this is its first advantage.
Another advantage is the popularity of the platform and open-source code. As a business owner, you should not focus on the main issues related to the site, but rather focus on your core business and the real tasks of the retailer.
With Shopware, you free yourself from unnecessary technical barriers and can channel all your energy into priority tasks.
In addition to this in-store software, the system offers a variety of payment and delivery methods, including real-time confirmation. This allows your customers to order around the clock 24/7/365, and you can send the order the next business day. This means there is no waiting time compared to prepaid or bank transfer, and you can deliver to your customers even faster, safer, and more reliably.
Read a detailed Shopware review.
Etsy vs Shopify vs Magento vs Shopware comparison
| | | | | |
| --- | --- | --- | --- | --- |
| | Etsy | Shopify | Magento | Shopware |
| What's that | Marketplace for many online shops that can sell different handmade and vintage items | Website builder allowing to create an online shop of any size and complexity to sell any products | Full tech solution for online commerce | Ecommerce platform for any business needs |
| Biggest advantage | Simplicity and opportunities to sell right away without thinking about promotion too much | A huge number of different tools that allow you to customize your shop as well as promote it through different channels | Popularity and huge amount of additional features | Unlimited flexibility thanks to the API-first approach |
| Biggest disadvantage | Not many options for standing out | It Maybe expensive depending on your membership and project complexity | License pricing starts from $22,000 | Comparing to other mentioned platforms, Shopware is not so popular |
| Setting up the process | Very simple and clear | May vary depending on your customization plans, might require additional specialists | May depend on the level of customization needed | Setting in short-time |
| Design options | No themes to select from | Over 50 themes to select from, some of them are free | Unlimited number of themes | Flexible design for any number of pages |
Conclusion
In this article, we tried to compare Etsy and Shopify, though it looks more like comparing a marketplace with a personal website. In the early stages of business planning, this question can be even more timely and essential. Both approaches have advantages and disadvantages, but it is safe to say that, being a marketplace, Etsy is better for those businesses that are not selling hundreds of items and do not aim at becoming global any time soon.
However, Etsy and Shopify are not the only options that are available. We also discussed Magento and Shopware, they have their own advantages and one of them can be a better option in the long run. Their flexibility and customization will allow you to meet your business requirements. Need help to make a wise choice? Contact our team of ecommerce experts to get a free consultation on the topic.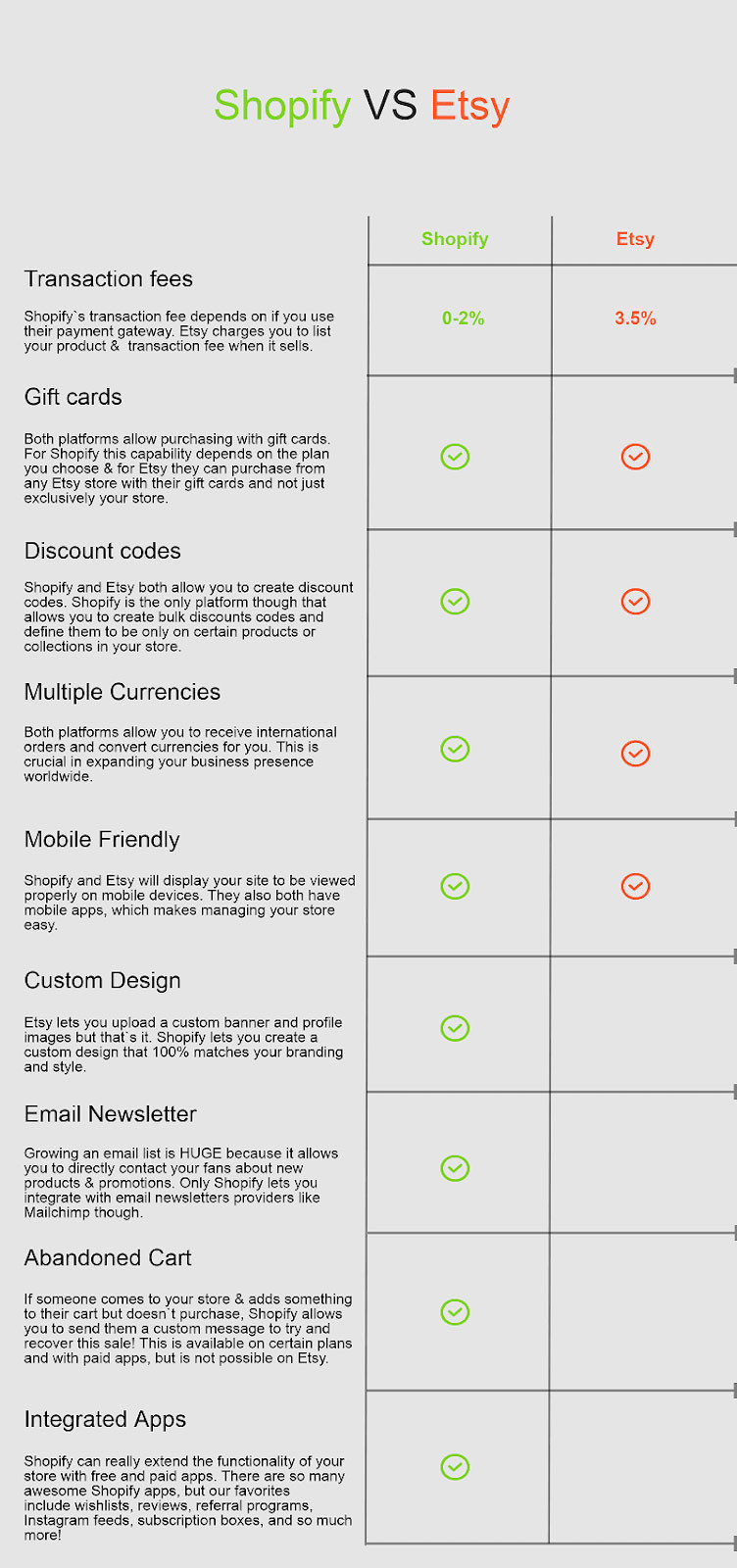 In the meantime, Shopify offers more potential for any business. As usual, potential may go hand-in-hand with considerable initial investments. For example, you could just use a standard free theme for your eCommerce website built on Shopify, and you could limit your promotions to posting links on your social networking profiles, but this will probably not help you increase your income or speed up your success (unless you are really lucky). Having your theme personalized and customized to suit the needs of your customers might be a more beneficial approach. Everything here depends on what you want and what you need.
Please don't hesitate to contact us at Dinarys if you want to get more information on how to create your own shop. We will help you clarify the goals and predict what model might suit your business better – Etsy or Shopify. We can also create an eCommerce website for your company from scratch.
Want to read more
Get fresh articles, news and case studies to your email firstly
Related articles