Marketplace
Dec 07, 2021
How Can You Create a Competitive Freelance Marketplace Like Upwork or Fiverr?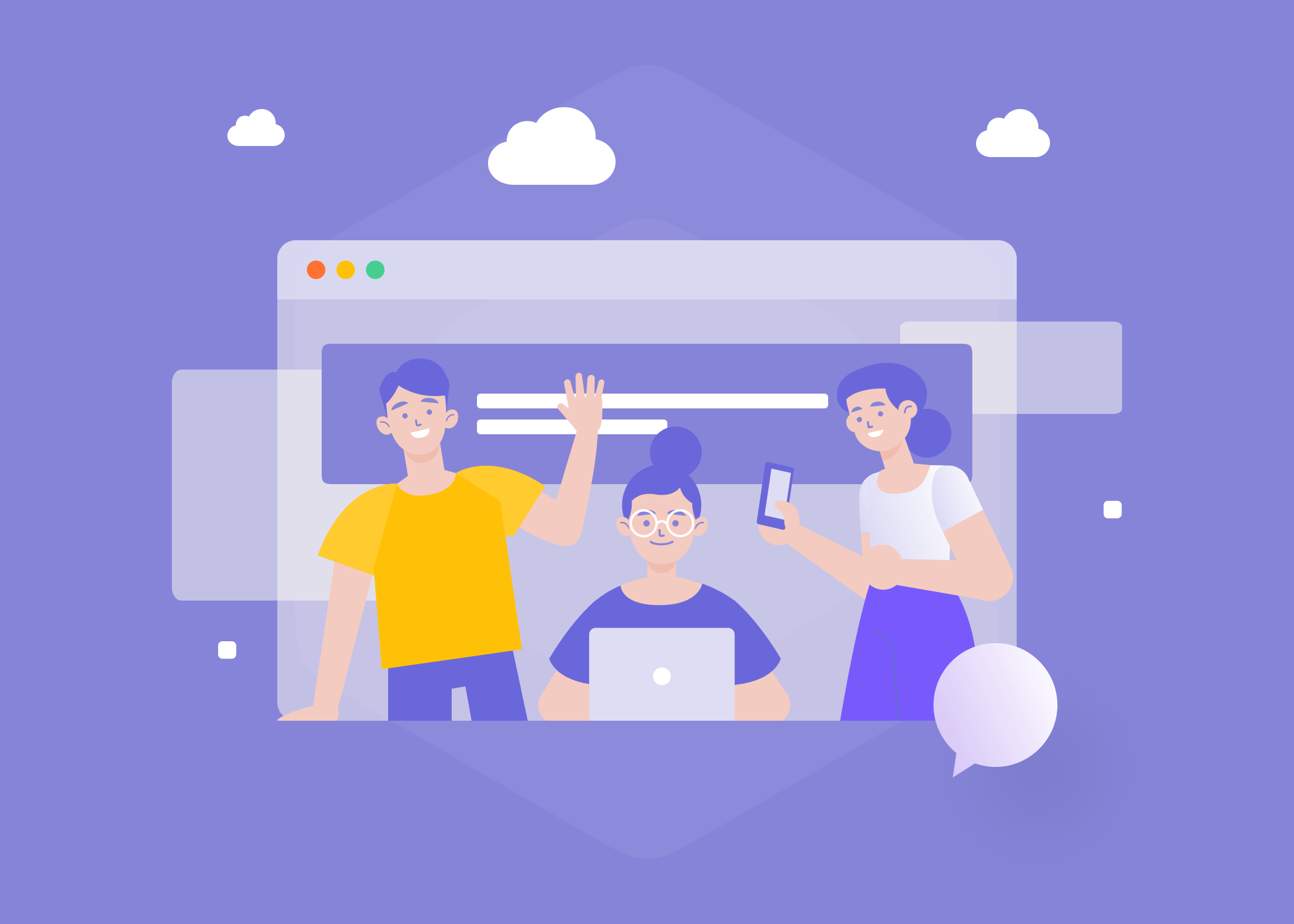 Content
The economic crisis caused by the pandemic has affected almost all industries, but freelancers were among those who suffered the least. With the advent of Covid-19, large companies—even those who had not previously contracted freelance workers—increasingly trusted freelancers, sometimes delegating them the most challenging tasks. Consequently, many companies have realized the benefits of remote work.
Looking at the statistics, you can see the dynamics that many workers will favor freelance work over other work models; the share of freelancers in the US is predicted to hit 50.9% of the workforce. This means that the demand for freelance marketplaces is incredibly strong now.
Although numerous sites offer freelance employment, such as Upwork and Fiverr, none of these sites are excellent. Therefore, businesses can enter the freelance market, develop it and fill current gaps.
If creating a freelance marketplace is in your business interests, keep reading. This article will discuss the key features of sites like Upwork and Fiverr and share our expert opinion on developing such a platform from scratch.
Contemporary Freelance Market Overview
National polls have shown the global nature of the ongoing changes in the freelance industry. For example, a survey of more than 7,000 working Americans in the American Freelancers Union and the Upwork online exchange helped understand why freelancing as a new work model matters. It also showed how large the independent workforce is and what the increase in its volume means for the economy and society. This research helped determine the modes, styles, and methods of freelance work. We have summarized and highlighted the main results of the freelance market research below:
Most freelancers are millennials and Gen Z
The generation born from 1981—1995, those under 35, and Gen Z (18–22 y.o.) are the backbone of modern freelancing. Unlike previous generations, millennials and Gen Z are looking for activities that positively impact the world or are fun in their own right. These generations actively use social networks and connections to find impermanent jobs or additional part-time work, and they easily agree to participate in projects that provide benefits.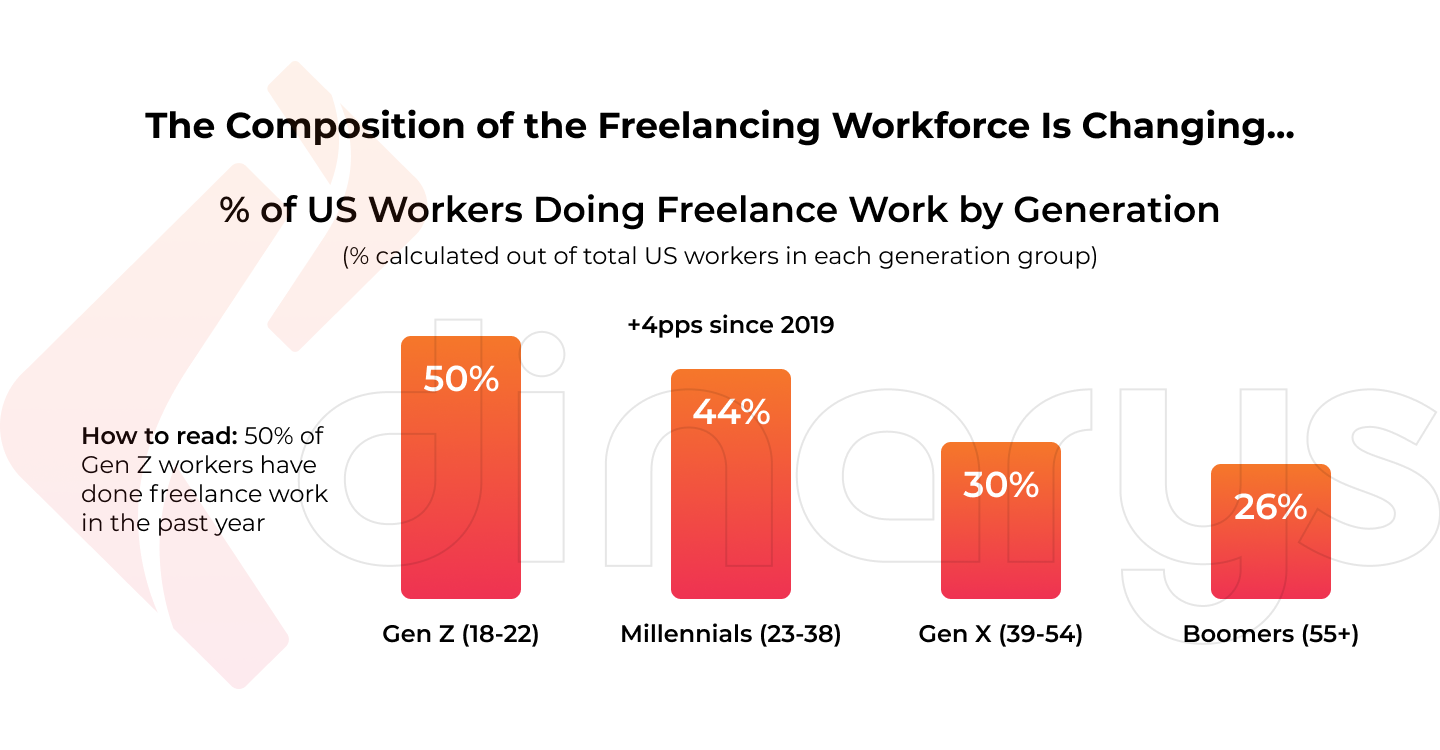 Employees choose independent work and life
Habitual employment 8-hour working day is losing ground. For many, part-time jobs turn into full-fledged projects that bring more income to performers, provide better and more innovative solutions to companies and take less time than traditional jobs. Despite the stability of permanent work, many are already choosing a somewhat risky but attractive strategy: to work for themselves and be entirely responsible for the result. According to experts, this heals competition in the labor market and changes the approach of people to acquiring new knowledge and skill, thus making working methods more flexible.
Freelancing is changing the way people think and are motivated
Companies that work with freelancers have noticed changes in terms of recruitment and motivation. The self-development of employees can suffer due to limited time and opinions imposed by management. In contrast, freelancers can devote time to their personal and professional growth, and well as to themselves and their families. Thanks to freelancing development, employers also have access to people and skills that fully meet their expectations. Consequently, fluctuations in global markets are becoming less dangerous for companies in general and for workers in particular.
The mindset of freelancers is also very different from that of ordinary employees, which accordingly affects their level of engagement and motivation. Most freelancers choose this type of employment voluntarily, despite difficulties in finding a job and the lack of permanent income.
A typology of freelancers is emerging
Experts have identified several types of freelancers:
Independent contractors (36% of all freelancers, 19.3 million) are at the core of the new workforce. These workers do not have a main employer. Instead, they are engaged in part-time freelance work, moving from one project to another.
Part-timers (25% of all freelancers, 13.2 million) are engaged in traditional employment and, on their own time, carry out orders for other companies.
Diversified workers (26% of all freelancers, 14.1 million) have dual sources of income due to their different skills and knowledge. These workers combine freelance work and part-time work in companies with a traditional approach to employment.
Temporary workers (9% of all freelancers, 4.6 million) work in companies on a labor contract. These freelancers have one employer and one project at a time, as specified in the contract.
Freelance business owners (5% of all freelancers, 2.5 million) are those who founded a company with 1–5 employees but still consider themselves freelancers.
A third of the workforce in the US is freelancers
The study provides exciting numbers that show the growth of interest in freelancing. Of all workers in the US (almost 54 million people), 34% are freelancers. Furthermore, the number of "non-standard workers"—who contribute more than $715 billion to the economy every year—is increasing by 700,000 annually.
The freelance infrastructure is developing
According to experts, the new workforce, which brings huge profits, requires the emergence of special infrastructure. This infrastructure, including online job exchanges, coworking spaces, teams, and freelance cooperatives, is actively emerging in the US. Support groups and social benefits, such as the Freelancers Union, also exist for this group of workers because freelancing has become more attractive to employers and performers and has become a more respected profession.
The growth of freelance platforms
As the freelance market grows, freelancers' demand for finding jobs and employers' demand for finding the right freelancers for their businesses are growing as well. This is where freelance marketplace platforms come into play. So, in more detail, what is a freelance marketplace platform?
A freelance marketplace is an online platform that gathers information about freelancers of various qualifications (e.g., those who can design a website, create software, write interesting articles, etc.). Some platforms are focused on one industry, while others are versatile, allowing, for example, consultants, accountants, marketers, IT specialists, software developers, and designers to offer their services on one portal.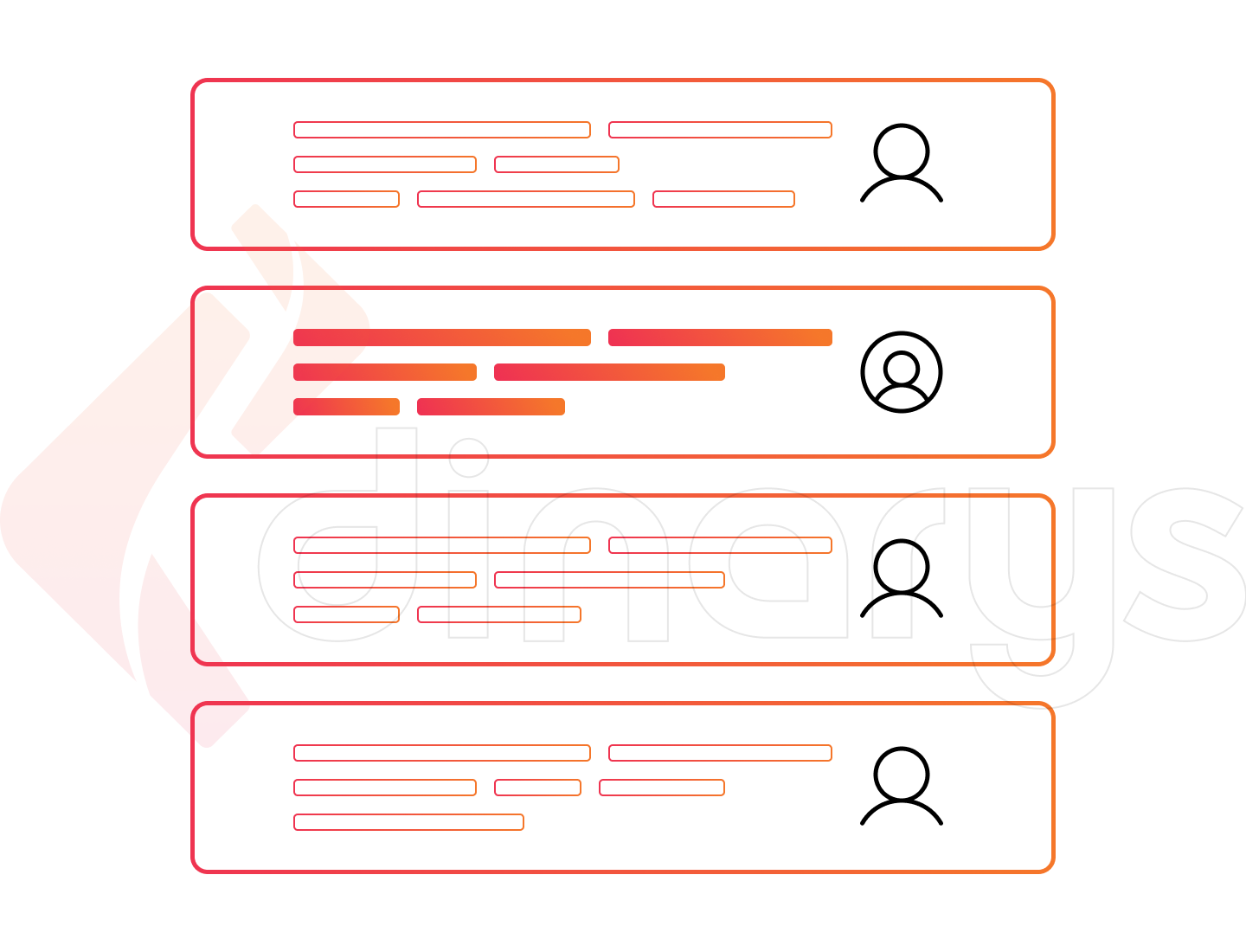 Several parties benefit from this cooperative format. Let's look at the benefits from different angles: those of the contractor, freelancer, and platform owner.
The contractor receives the following benefits:
Paying only for what is needed. The contractor may not have the budget to maintain an in-house specialist. Why would the contractor pay these fees if the services of a specialist are required only for a few days every month? In this case, a contract with a freelancer would be the best option, as the employer wouldn't have to worry about things like vacation pay and medical care.
Access to many talents in one place. As already mentioned, the freelance marketplace offers a huge selection of specialists. Companies don't have to spend hours browsing sites from Google search results; a contractor can simply publish the assignment and then consider applications from freelancers who want to complete it.
The ability to check the freelancer's biography. Freelancers' profiles on the marketplace must contain information about their previous projects. Employers can find out what sites they have already worked on, what feedback they received from previous customers, and how the customers evaluated the freelancers' work. This increases the chances of working with a professional.
Safe and easy payment options. A contractor does not need to worry about how to transfer money to the freelancer. Instead, marketplaces use standard forms of payment. For example, the contractor funds their account on the site, and then the money goes to the freelancer after the work is completed. In this case, the portal acts as an intermediary. For this, the platform may charge a small fee.
The freelancer receives the following benefits:
Experience. First, the freelance marketplace provides an opportunity to "fill the hand" of novice specialists in various areas. Additionally, even students who have no experience in more general areas, such as online advertising and copywriting, are able to find jobs.
The ability to create a portfolio and earn money. Freelance platforms help enrich freelancers' portfolios with examples of completed work. On such marketplaces, customers will often contract with the freelancer on an ongoing basis for a more decent payment. This is possible if the freelancer has a portfolio and good reviews from other employers.
Possibility to work with foreign contractors. Confident knowledge of the English language allows freelancers to work on foreign exchanges, significantly expanding the opportunities for novice freelancers.
By creating and owning a freelance marketplace, you get the following benefits:
Access to a global audience. By 2027, more than half of Americans will be working as freelancers instead of in traditional jobs. Millennials and Gen Z both prefer flexibility and the opportunity to "be your own boss" over a stable, long-term position in an unnamed corporation. Freelancing can give them that. With the right settings on your site, you can reach freelancers all over the world.
Huge income. With an increasing number of freelancers, by recruiting such workers worldwide, you will profit from every new freelancer that appears on your site through the right monetization strategy.
Best freelance marketplace examples
Fiverr and Upwork are two major players in the freelance market today. Let's take a quick look at their principle of operation and their advantages to understand why they lead other platforms.
Upwork is essentially a classic freelance exchange with free registration, skills projects (development, web design, copywriting, etc.), and responses. Although Upwork is fully English-speaking, basic knowledge of the language is adequate. Their interface is intuitive.
Upwork allows freelancers to apply to projects for free, but if they buy extra service for a couple of cents it will increase the chances of freelancers getting the project.
Upwork is a suitable exchange for those looking for long-term projects with a large check, as well as those interested in long-term cooperation. The average hourly rate on the platform is $23. To get a good project on the exchange, a freelancer needs to fill out a profile completely, create an attractive portfolio, and write a cover letter wisely.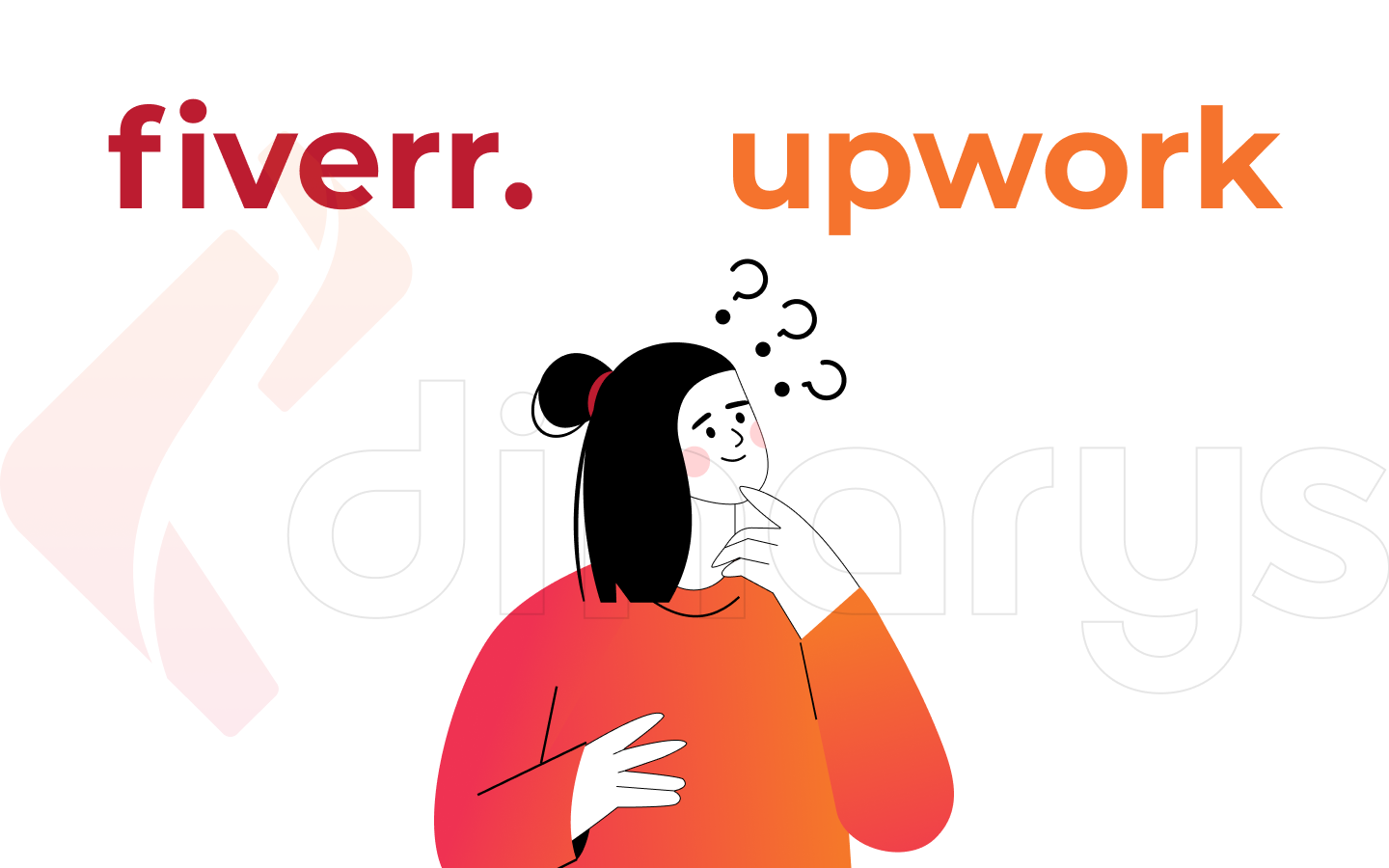 Fiverr is another platform where freelancers can sell their services in a variety of areas. On Fiverr, a freelancer acts as a salesperson who sells the services to customers. They create their own service (called a "gig" on the site), which then appears among the services. Clients can view these and choose a suitable freelancer.
A freelancer does not need to monitor orders around the clock, write a cover letter, etc., and a well-completed profile, portfolio, education, etc., play a lesser role on Fiverr than on Upwork. Of most significance is a well-made gig with a description of the service. Therefore, freelancers on this exchange must learn how to sell themselves well.
Registration, placement of services, and the agreement conclusion with the employer on the site are free, but the standard service commission for the money earned by freelancers is 20%.
Developing a Freelance Marketplace Like Fiverr or Upwork: The Essentials
Dinarys knows all the specifics of developing marketplaces like Upwork and Fiverr, so we can help you create a freelance platform, from requirements gathering and planning to prototyping, developing, and go-to-market. Here are the main points to consider when creating such a platform:
Five best methods of freelance marketplace monetization
The creation of any marketplace involves certain costs: creation, payment for a domain and hosting, and content creation. Earning on the site allows you to recoup these costs and get additional profit, which can turn into the main business income over time. What are the ways to monetize a freelance platform?
Subscription
A subscription is the best way to monetize your freelance marketplace. The essence of the subscription model is that you don't sell a product to a client one time. Rather, the client signs up for permanent use while the subscription is active. You provide a customer base on your site, and the freelancer pays you monthly / quarterly / annually to use the product.
Your best bet is to provide multiple subscription options as Upwork does; they have three types of subscriptions: Plus ($49.99/month), Business ($499/month), and Enterprise (price upon request and depending on your corporate needs).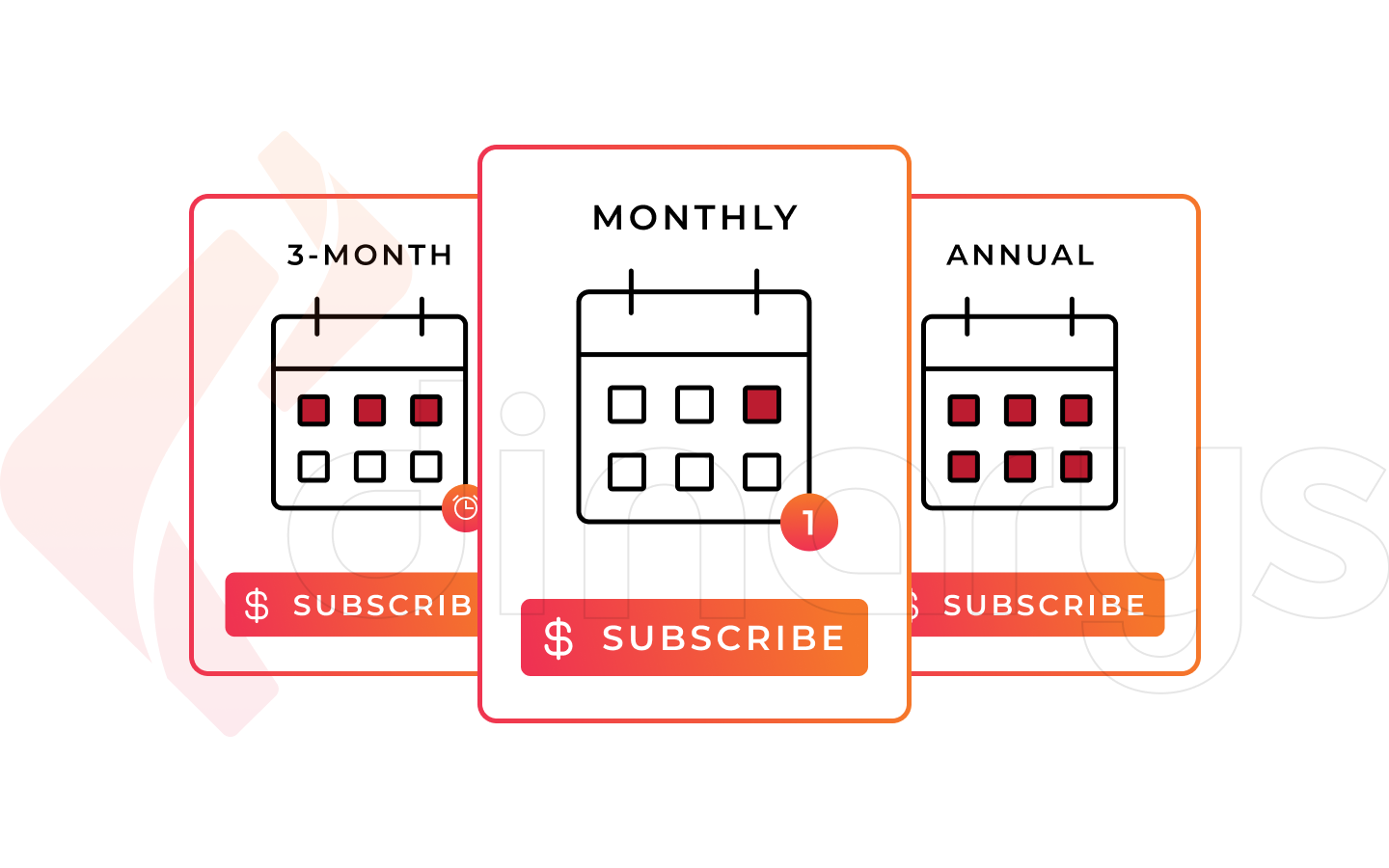 Commission
Receiving commission is also a trendy way to monetize a freelance marketplace. Every time a freelancer receives a salary on the site, he or she must pay a certain commission to withdraw it. The commission can either be a percentage or a fixed rate. At Upwork, this commission is 5–20% of the freelancer's income. On Fiverr, it's 10% of purchase prices above $10.
Profile promotion
Promotion of a profile to the TOP is a classic example of monetization on freelance sites. This method raises the freelancer's ad to the top of the website page for an additional fee. The ad can be highlighted or added with other services to draw attention to it, which can lead to a greater chance of finding a job as a result.
Banner advertising
This is probably the oldest form of advertising and a method of income for marketplace owners. Banner advertising is the placement of any graphic, animation, or video banner in certain places on the website. If your platform has high traffic, the income from the banners can be significant. Everything will depend on the subject matter and how interesting your site will be to advertisers. You can use ad models like cost per install (CPI), pay per click (PPC), cost per click (CPC), or cost per point (CPP).
Mixed type
As the online market became more competitive, developers began to create new ways to serve ads and diversify their monetization strategies. These methods included improving the perception of how ads are intertwined with the product interface. The advantages of monetizing a marketplace with a mixed (or hybrid) method are that you can combine several methods, increase income and offer advanced promotion opportunities for consumers.
Basic features of freelance marketplaces
The main task when building a platform for freelancers is thoughtful functionality. By choosing the right functionality, you stand out from the competition and attract more users. Before implementing the basic functionality, though, you need to understand what the business flow of your freelance marketplace will be like.
This is what Dinarys' user flow for freelance marketplaces looks like:
The task of the buyer's interface is to help easily find a freelancer and contact him or her. The client publishes a vacancy and selects the best candidates from those who have responded. → The client discusses all the details directly with the freelancer through private messages. → When both sides agree, the client entrusts the freelancer with the work. → At that moment, the required amount of money withdraws from the client's card and is frozen in the marketplace system. → When the freelancer completes the work, the system transfers the money to him or her upon successful approval.
After understanding the entire customer and freelance journey, let's define the MVP features of a freelance marketplace:
Authorization/registration
A freelance marketplace assumes two types of users: a client and a freelancer. You need to make sure that both types of authorization and registration are available. You also need to think over the moderation process to protect the reputation of your marketplace. That is, a mechanism for identifying a person who enters the platform must be implemented so that you know that the person is not fraudulent and can be trusted. For example, you can add authentication via Facebook and/or Google+.
However, be careful when requesting personal information. If you are going to store or process this data and deal with the card data of your visitors, then your site must comply with GDPR and PCI requirements.
Freelancer personal profile
To create an easy start and provide options to promote the freelancer, a complex profile with all necessary functionality must be created. This profile should include the following:
Option to add/update all personal information
Option to upload a photo
Option to choose the industry
Option to attach a CV or add a work history
Option to create a portfolio based on the industry
Option to set the rate
The functionality can be expanded based on your business needs and budget. The main goal is to present all the tools to the freelancer that are needed to keep him or her on the platform for as long as possible.
Contractor's profile
The profit from the site also depends on how easy it is for companies to manage their profile (i.e., add/update information). That's why you should ensure that as many companies as possible are registered on the platform and providing work for freelancers. In addition, the company profiles should look trustworthy and contain all necessary information for quick access.
We advise starting with the following:
Option to add company details, location, and description
Man in charge of contacts
Dashboard
The dashboard helps collect data on one screen and visualize tables with calculation results in understandable graphs. This method of presenting data makes it easier to perceive information, which significantly simplifies the decision-making process for both freelancer and client side.
The dashboard is an excellent way to keep track of the work process on the freelance marketplace. To highlight account details, project history, and info about current partners and contracts, dashboards are needed for both companies and freelancers.
Freelancer's portfolio and CV
The ability to add and edit the portfolio should be intuitive and easy. Enough space must be provided for the freelancer to share all gained experience and work examples with potential employees.
During the UI/UX stage, finding the optimal solution for how the CV will be presented on the website for others is recommended. The functionality of portfolio can be expanded with test skills or some test work (based on the industry) to underline the freelancer's level of expertise.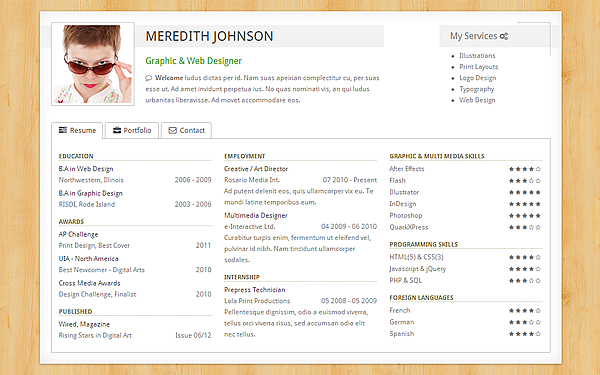 Company's job posting
For a freelancer to clearly understand whether he or she can apply for a job and send a resume, the job description must be formulated correctly.
The following must be included in company's job posting:
Responsibilities description
Duration
Project description
Urgency
Candidate requirements
Job listing and search functionality
The freelance marketplace should have a competitive directory of vacancies, sorted by all the selection criteria necessary for companies to find an employee. Sorting options need to be well thought out, and filters should include domain, specific freelance skills, hourly rate, publication date, and more.
A freelancer should have the same extensive filtering options, such as, for example, a catalog with updated vacancies, the country of the company, and the time allotted for the task. Here, you can expand the functionality with algorithms for finding the job and/or freelancers based on the needed criteria. Users can get emails with the best offers or best candidates based on the job description.
Reviews
Feedback is a critical aspect of the freelance marketplace for both clients and freelancers. For example, for those who are choosing a contractor or bidding for a project, displaying the number of completed projects, the overall estimate of the work, and other information is useful. Therefore, introducing a transparent assessment and feedback system is indispensable for speeding up the process of finding a freelancer. In turn, freelancers should be able to give feedback to the companies or employers.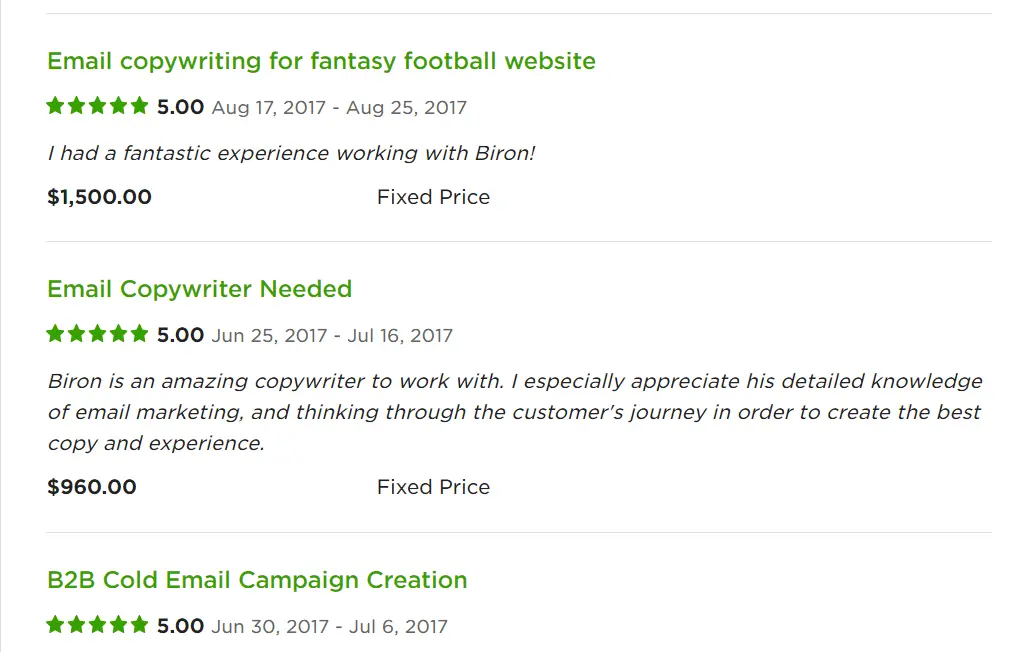 Project management tools (time tracking)
To satisfy both freelancers and clients, time tracking can be implemented using various project management tools. Time tracking for the freelancer will help stabilize work-life balance, and clients will get a report and an idea of what they paid for.
Built-in messengers
In the user flow, we mentioned the communication between the freelancer and client. A chat must be created to discuss the workflow and tasks and acts as a communication tool for the project. The main mission of the freelance marketplace is keeping freelancers and clients within the system, which means that communication methods must be provided through the platform and not in third-party messengers. This allows all communication and agreements to be controlled.
Payments
One of the most critical steps for your freelance marketplace to work properly is establishing the payment process. First, you need to ensure that the payment gateway is as secure as possible. For example, online freelance marketplaces mostly process transactions with the popular escrow payment option (i.e., the seller will only receive the funds when the buyer has received and accepted the products and/or services). Additionally, you should ensure integration with the most popular online payment gateways.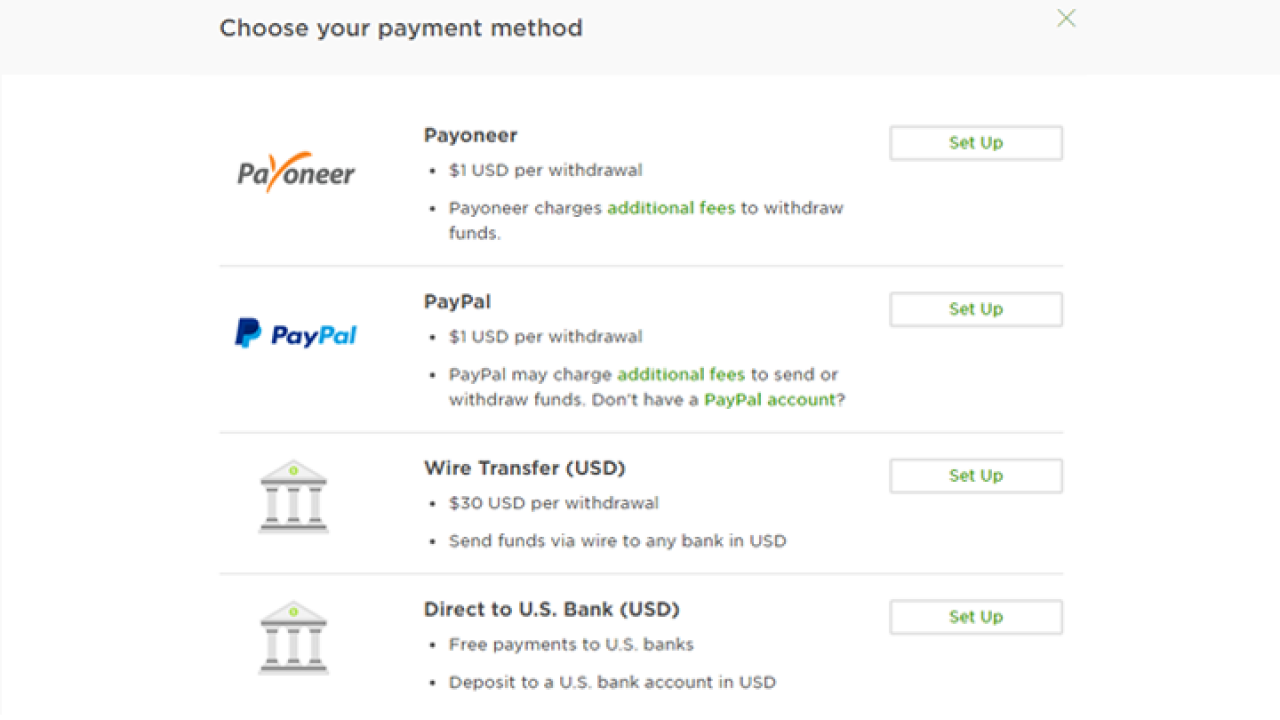 Calculator, automatic invoices
Making an algorithm for calculating services on a freelance marketplace will make life much easier for customers and freelancers. Doing so helps develop a balance for the freelancers and for the employees to safeguard both sides and ensure that freelancers get paid for the work done and that employees have a valid card and the necessary amount of money to pay for the job.
As an example, here is the Upwork calculator: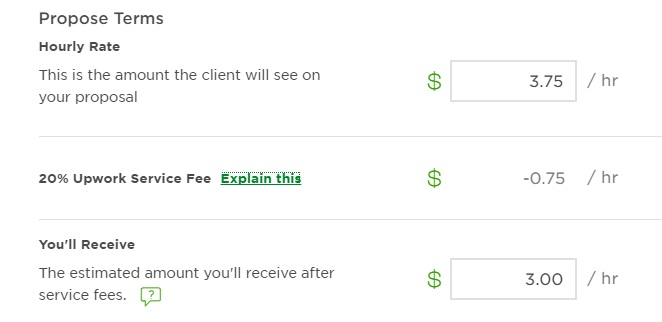 These are not all the features you might need when setting up a freelance marketplace, but they provide a good start that will lay the foundation for a quality, intuitive and functional platform.
Ready to Start?
Remote work is becoming the norm for many companies. Many people, sensing this trend, are ready to join the category of freelancers. Creating a freelance marketplace can become a profitable business model during such a wave of hype.
When you develop a freelance marketplace, we can offer you custom development services, which will be tailored specifically to your business idea and niche. Moreover, due to the fact that we propose more than standard functionality—integrations with other systems, widgets, mobile applications, and specific reports modified for the individual requirements of our clients—we perform complex tasks and satisfy the most demanding customers who need more than what's in the box.
If you need professional advice for your future marketplace or another project, fill out the contact form, and our team will reach out to you shortly.
FAQ
The most popular freelance marketplaces are Upwork, Freelancer, Guru, and Peopleperhour.
"Freelancer" is another name for on-demand workers. Specialized skills and expertise, as well as cost-effectiveness, are among the top benefits of hiring freelancers. More and more workers are abandoning traditional jobs in favor of the flexibility of freelancing.
Using freelance workers allows companies to keep costs down by paying freelancers an agreed amount for a project or work completed over a fixed time period. Keeping prices competitive will make it worthwhile for a company to use freelancer services instead of hiring an employee.
Let professionals meet your challenge
Our certified specialists will find the most optimal solution for your business.
Related articles