E-Commerce
Mar 22, 2020
3 tips to improve your online shop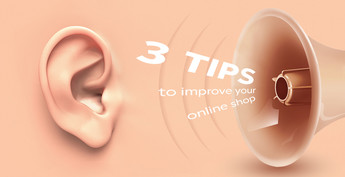 Content
One of the most interesting and profitable spheres is eCommerce. It gives entrepreneurs the opportunity to avoid third parties and to sell products directly to customers. Moreover, consumers like this business model very much because they can buy everything online.
There are many other examples of how online stores have increased company's profit in many times. However, not every company is a winner on this battlefield. The number of entrepreneurs is perpetually increasing and it's become harder to diversify their products. Diversification is vital for every businessman in eCommerce, as starting own online shop can be really hard. If you want your online store to be different from your competitors' online store, read 3 useful tips in the article below.
Determine your target audience
For beginners in eCommerce, it is very important to find their niche. If you are not about blowing money and you want to have effective advertising campaigns, you need to understand your target audience. Think about the brand and who is your target audience.
Drop shipping
The biggest mistake of modern eCommerce entrepreneurs is investing too heavily in inventory. Entrepreneurs should balance their cash flow, especially when they have marketing, management and inventory costs. For that reason, drop shipping is very popular among eCommerce entrepreneurs. Drop shipping is a special strategy in eCommerce when an online store does not hold an inventory. The shop sells products from a third party directly to the customer. That way the seller never sees or handles the goods.
Brand awareness
If an entrepreneur has decided to do eCommerce and the market is already crowded with similar companies the only way is to invest in branding. Traditionally, branding was nothing more than placing ads on billboards. But now there are many ways to promote your products, even through social media. By using social media you can not only have more followers but also increase the number of visitors to your online store.
Let professionals meet your challenge
Our certified specialists will find the most optimal solution for your business.
Related articles