Interview
Oct 10, 2022
Interview with Anthony Chow, Newegg Commerce About Bringing Value and Technology Together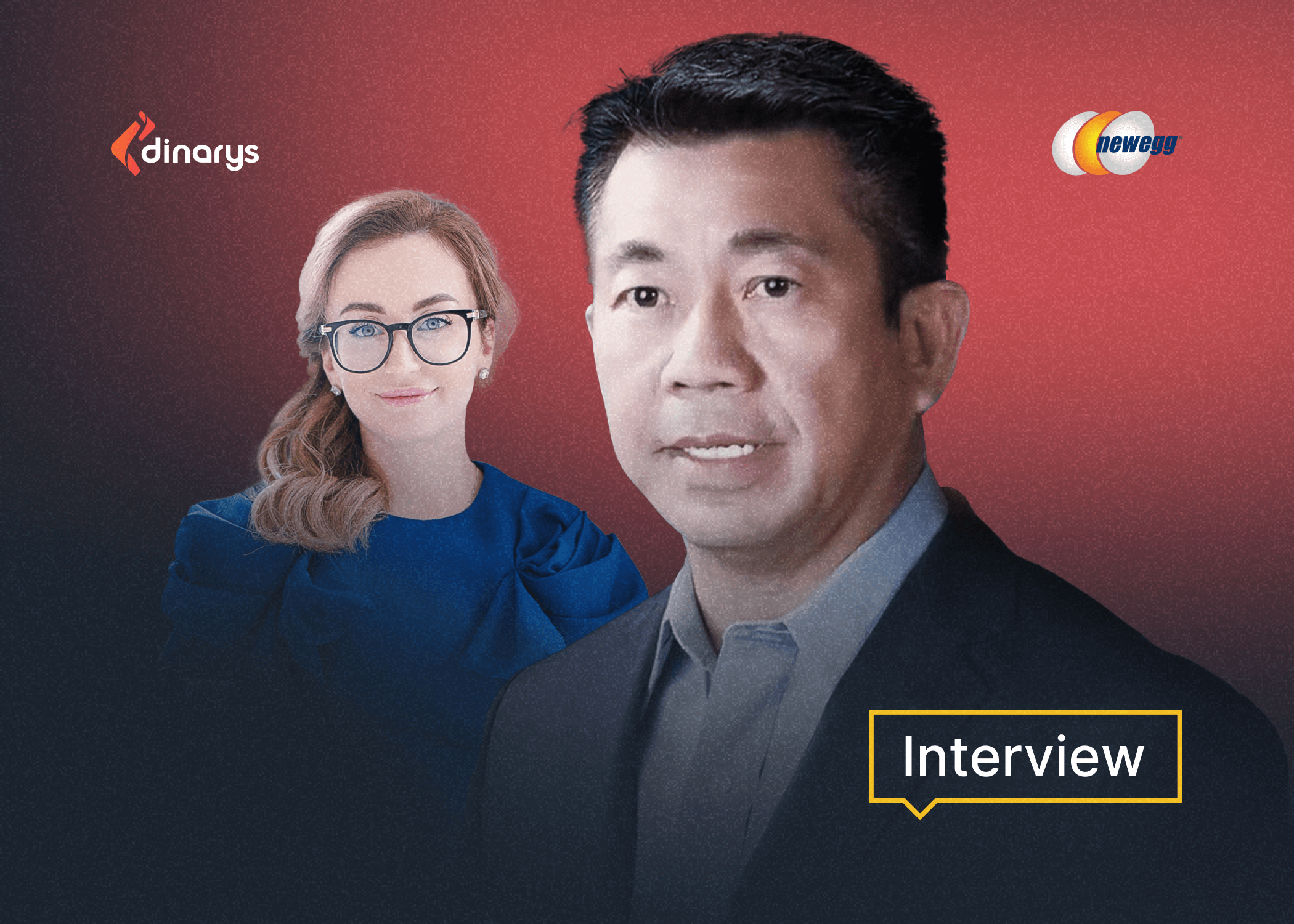 Content
As e-commerce companies grow and target new markets, they should constantly adapt to the rapidly evolving online world. However, the online world is not the only one undergoing changes. In light of the recent pandemic, the current war in Ukraine, and the resulting recession in the global economy, e-commerce entrepreneurs must take active steps to address difficulties caused by recent events. Preferably immediately.
Outdated technical infrastructure delays progress. Automation is the first step to staying afloat. Otherwise, business operations can become even more entangled in a complex web of suppliers, logistics routes, and multiple distribution channels.
Technical problems aside, retailers should always keep in mind the value with which they are appealing to their customers. The value of the company is the DNA of the company. It guides the business through automation efforts, partnership initiatives, or marketing tactics. Meanwhile, only 31.9% of consumers believe there is a tangible difference between vendors.
So how do you maintain business performance while creating new value propositions in the face of potential disruptions? Let's turn to the big names in the industry and find out how they're coping with the challenges of the day.
Recently, Dinarys spoke to Anthony Chow, a CEO at Newegg Commerce. Newegg is a full-service provider in IT, logistics, marketing, and customer service with a customer base of over 40.3 million members.
While discussing values and technology, we explored Newegg's perspective on what's going on in the e-commerce ecosystem, logistical challenges and how they are being solved, how to implement word of mouth in a modern way, microservices, and what trust signals are for customers shopping on Newegg.
Nice to meet you, Anthony! As I know, your leadership has guided Newegg through some of its most transformative years. Could you please tell us more about your career path at Newegg and in e-commerce in general?
My background is in corporate strategy and investment, specifically reengineering how e-commerce companies do business. I have been involved in Newegg since the very beginning. I was Vice President of Newegg's North American business from 2006-2008, then led Newegg China operations until 2011.
I left Newegg to start as CEO of OTTO Group Greater China, a subsidiary of one of Germany's largest online retailers of fashion and lifestyle products. There, I introduced many Western brands into key Asian markets.
In 2015, I was appointed Vice President of Haier China, a global home appliance and consumer electronics manufacturer. There, I pioneered technology related to O2O (online-to-offline retail).
In 2019, I returned to Newegg to lead the company. So far,I have redesigned the global platform to unite direct sales and the marketplace. I have also restructured the organization into a domain-centric model. Newegg has since undergone a substantial financial turnaround and is listed on NASDAQ.
Throughout my career in e-commerce, I have emphasized attention to detail in my management. I use three words to define my approach: execution, execution, and execution.I'm a process guy. I love automation. These are the key elements of e-commerce as I see them.
In addition to IT development, at Newegg, you'll be involved in several other areas of e-commerce: Marketing, Logistics, and Customer Service. Could you please tell us what business needs you currently observe in these areas?
I will speak about how we are meeting customers' needs in how we bridge US customers with overseas manufacturers and sellers in Asia.
Marketing needs revolve around introducing new products and brands to the US market. We have an in-house studio team that produces product images, video, and editorial content for different points in the customer journey. From a performance marketing perspective, we can earn a lot of traffic without buying clicks or paying a sales commission due to our investment in original content.
Logistics challenges include finding storage for products when there is a "warehousing crunch" in the US and building fulfillment operations that are accurate, timely, and efficient in a multichannel context. This includes transportation and carrier management for the last mile.
Customer service challenges involve creating turnkey outsourcing solutions, building out business processes, and meeting the needs of today's customers who want to connect on multiple channels.
IT development needs include backend automation of repetitive work related to cross-border sales processing and leveraging machine learning and AI to uplift digital activities.
More and more tech-savvy customers are putting the realization of business value at the heart of what they do, and Dinarys is no exception. How do you manage to shape your company's value proposition to meet the needs of your target audience?
For Newegg Partner Services, the target audience is overseas manufacturers selling their products in North America. These companies are missing the infrastructure and expertise to market and sell their products where we do business.
Our value proposition is to address every pain point related to cross-border e-commerce. We have a3PL for warehousing and fulfillment across all major sales channels. We offer marketing services to create targeted campaigns and produce original content. We offer web services to build and manage a standalone e-commerce presence, a staffing service to scale customer service and fulfillment operations, services for processing cross-border transactions, and more—all in one platform.
On the consumer side, our focus is to provide the best online shopping experience for a tech-savvy audience. This is how Newegg differentiates itself from broader retailers. Most recently, our development team has leaned into personalization. For example, a customer using the Gaming PC Finder inputs their favorite gaming titles and desired screen resolution and frame rates to reveal computers capable of their preferences. On-page content answers the frequently asked questions along the customer journey and links to other useful finders and tools based on what they are looking for.
I also believe a great online shopping experience comes from the interaction between consumers and the platform and among consumers and their peers—especially Millennials and Gen-Z. With this in mind, we launched a live shopping program. Every weekday, thousands of viewers engage with the brand and make purchases in the app during the show. Other examples of original content include unboxing videos, original series like Newegg Now and Gamer Lounge, sponsored live streams, and more – it has inspired over seven hundred thousand subscribers on Newegg YouTube.
How exactly does Newegg's D2C program help companies build brand awareness?
What you might call D2C we refer to as Newegg Partner Services (NPS). During our two decades in business, we created a value chain ecosystem for ourselves. Our development teams build robust systems for automating order management and inventory. Those systems are connected to a suite of marketing tools for content creation, advertising, and promotion. Connected to those is a multichannel logistics network with built-in systems for managing customer contacts.
Therefore, the idea of NPS is to monetize our value chain ecosystem by selling a suite of services related to e-commerce and fulfillment to other companies across the globe. We are a one-stop shop for online selling services— on and off Newegg.com.
To that end, NPS helps companies build brand awareness on our site in two primary ways.
One, we create opportunities for targeted customer marketing. This happens via social and influencer marketing, original content production, email marketing, select SEM/SEO tactical elements, and in live shopping and other video programs.
Two, we give partner companies control over the onsite experience. They control web page management for their items and brand store. We provide them with insightful analytics and reporting so they can measure success and adjust their approach.
It takes robust e-commerce technology to succeed in search engine rankings. What do you think is the best solution for digital retailers regarding high visibility?
There are so many different elements of a successful SEO strategy. At the highest level, retailers should routinely publish unique content useful to the reader. They should adhere to the technical advice that Google has made available. It is always good to delegate operations to personnel with specialized expertise.
I should add that the younger generation finds information on more channels than search engines. For this reason, we emphasize content marketing designed for consumption on social platforms, such as live shopping programming and video production.
So, you are targeting the younger generation with your marketing efforts. What is the ideal customer profile for Newegg in general?
Newegg.com is where tech experts go to buy technology. Our website is tailor-made for tech-savvy customers. We focus on helping enthusiasts find the perfect product by providing original content and useful information throughout the customer journey.
Typically, Newegg's customers skew more male, more affluent, and more educated than the general population.
We do start to see a trend toward younger consumers joining Newegg. The younger generation has different expectations about the products they buy and how they buy them. They want an experience and to engage throughout the customer journey—with brands and their peers. In response, we are creating opportunities for engagement by refreshing our mobile experience, introducing live shopping programs, and other bespoke content designed for social platforms.
Today's customers do demand an omnichannel experience to fully immerse themselves in their preferred shopping medium. Which automation solutions can help them seamlessly unite all touchpoints in one central system?
Newegg is a pure-play e-commerce company, and our customers connect with us through our website, mobile site, and app. They frequently switch between these channels along the customer journey. For example, customers may browse product comparisons on the desktop site and finish the checkout on their mobile device using Apply Pay or another supported payment method. For this reason, continuity features have been an important part of our development so that users experience consistent browsing and shopping trails across all channels and have their post-purchase communications in one place.
We also believe that modernizing the mobile experience allows customers to interact with our brand and their peers in real-time. With this in mind, we have launched live shopping programming on our app and on social platforms like YouTube, TikTok, Instagram, and others. In addition, Newegg Gallery offers a Pinterest-like experience where customers can show off their custom PC builds and engage with each other. Content is used for educational purposes as opposed to for transactional purposes only.
Which measures do you take to modernize the mobile experience you offer?
Personalization is such an important part of the mobile experience. The products and brands the customer has purchased or browsed, the informational content that they view along their journey—we use this data to tailor the mobile experience to the unique interests and preferences of the customer. For viewing preferences, we were among the first to offer dark mode and enlarged font display in the mobile experience.
Our next steps involve the development of in-app chatting features to enhance communications between customers and third-party sellers. The goal is to make it as easy as possible for customers to connect with Newegg and our marketplace ecosystem.
Word of mouth remains probably one of the most important channels for e-commerce brands. How can word of mouth be leveraged within the marketplace model to drive sales?
Word of mouth is the oldest and best form of marketing. For us, user-generated content is front and center in the shopping experience.We have over 4.5 million customer reviews on the products available on our site. Reviews often include photographs and a good amount of detail. We also have reviews for sellers who do business on our site. These are useful trust signals for customers shopping on Newegg.
The Newegg Gallery is a space for users who want to show images of their custom builds and tech setups. Another opportunity is our live shopping program that airs each weekday. Hosts showcase several products every episode; viewers can ask questions and interact with them in real-time.
Speaking of logistical challenges, COVID -19 has significantly affected and, I'd say, changed the e-commerce supply chain, as well as the coming recession processes around the world during the war in Ukraine... Cross-border supply networks account for up to 30% of the total value added in Europe.
How do you think this crisis will change the e-commerce industry?
This year we witnessed how consumer buying behavior was affected by macroeconomic forces that resulted in softening demand. On the supply side, sanctions stemming from the war in Ukraine increased, saturating the market with products. Both presented challenges for us to digest; we optimized our operations to keep costs in check in response to market conditions.
E-commerce leaders should expect disruptions to occur due to any number of circumstances. We must do our best to diversify to mitigate these inevitable disruptions. Technology is on our side. We recognize that automation and machine learning advancements will make supply chains more efficient and resilient over time.
Potential trends shaping the COVID-19 era of retail might include retailers forging new partnerships to support new product mix;new health and safety expectations defining the customer-retailer relationship; demands for convenience driving even more contactless transactions, and growing importance placed on building consumer trust.
What is the difference between US and EU consumption, in your opinion?
In my personal observation, Europeans tend to be more conscious of what they consume.US customers are more price sensitive; they enjoy the act of shopping and purchasing. As a result, the US is heavier with marketing activities. Europeans are less price sensitive. Quality is their top concern.
Could you please share some ideas on how to future-proof the logistics of an e-commerce business while reducing the workload?
The past few years have forced us to look ahead and plan for the future. Some of the most important things are diversifying the supply chain and carrier base, prioritizing free and fast shipping, increasing the fulfillment footprint to get closer to the customer, regionalizing inventory, so it is balanced across the network and building processes for reverse logistics.
All-in-one solutions call for powerful and flexible backends. Do microservices already have the upper hand over monolithic architecture, or is the latter still a worthwhile investment for solutions with high infrastructure loads?
Yes, microservices are gaining momentum. Microservices bring benefits like scalability, faster development, and added security. Most of our new e-commerce and business administration applications are on microservices now.
The API-first approach is now gaining traction too. Could you please give some examples of when applying the API-first strategy is critical for enterprise retail?
Having an API-first approach makes us agile and open to partner integration. One example is our Sponsored Product Ads (SPA) program. The API-first approach allowed us to integrate with external partners such as Channel Advisor and Pacvue within weeks.
What technologies or/and approaches do you think can be most useful to support the concepts of sustainability and responsible consumption?
In our logistics network, we lean on our vendors to help us support sustainability goals. We are working with them to offset our carbon footprint to become carbon neutral. Also helping to reduce environmental impacts are automation, warehouse efficiencies, shipping efficiencies, and advances in inventory planning technology.
It was a groundbreaking conversation, full of details about how leading names are adapting to new changes in marketplace development, marketing, logistics, and customer service. Thank you for sharing your thoughts on this. With the way you're implementing your business values, I'm sure you will succeed despite everything. Keep it up!
Let professionals meet your challenge
Our certified specialists will find the most optimal solution for your business.
Related articles