E-Commerce
Apr 30, 2020
Anuga: international exhibition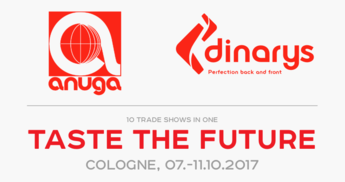 Autumn came with surprises!
Dinarys will take place in international exhibition Anuga. The exhibition will take place from 7 to 11 October in Cologne.
Anuga is the main event in the food industry. The organizers promise an incredible scope of the event. This year Anuga will host more than 7000 participants from 100 countries. Thus, the exhibition will be the largest platform for food industry companies.

The exhibition will take 280 000 square meters. There will be an inspiration for everyone. Everyone can get some fresh ideas about business development, new trends and technologies.
The basic concept of Anuga "10 exhibitions in one" is a unique format for such events. This is 10 pavilions, dedicated to a particular kind of products. This helps to gather specialists from all spheres of the food industry.
Dinarys will provide an expertise in web development and food delivery fields. Learn more about our experience in the field of food delivery in Dinarys case under the link.
Find more information about the exhibition and tickets on the official website.
We will be glad to all guests of our booth!
Photo: http://www.anuga.com, http: //www.proecuador.gob
Let professionals meet your challenge
Our certified specialists will find the most optimal solution for your business.
Related articles