E-Commerce
May 12, 2022
Why Is Amazon So Successful? Amazon Success Story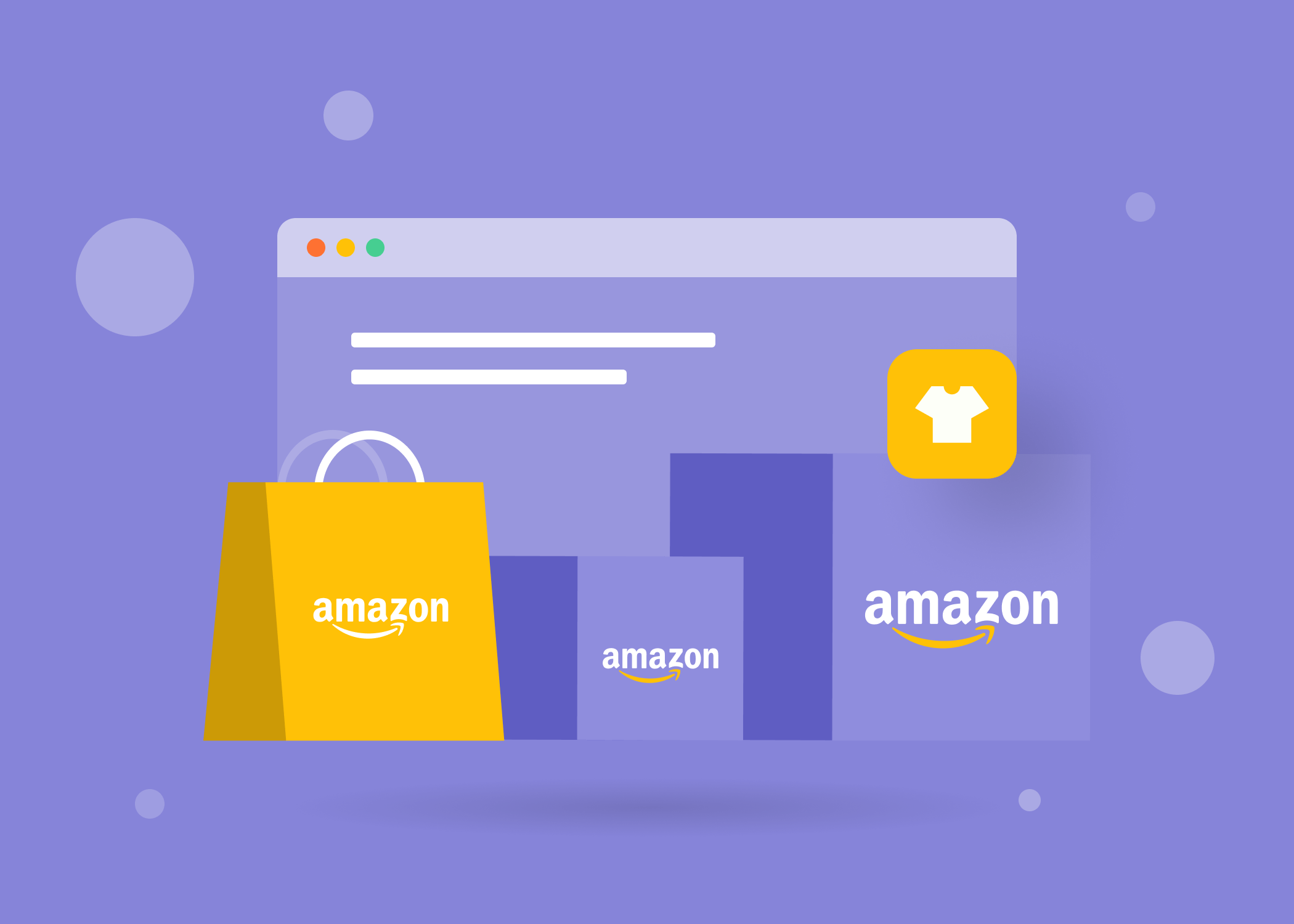 Why Is Amazon So Successful? Amazon Success Story
Amazon. Obviously, this company needs no introduction. Each of us has at least heard about the Amazon marketplace, a worldwide e-commerce platform that brings vendors and buyers together. What you may not know is that the company owns a much wider range of products, including the Amazon Game Studio, a cloud storage application called Amazon Drive, and a comprehensive cloud platform called Amazon Web Services (AWS), which is used by numerous technology representatives worldwide.
How did Amazon become so successful? How did an aspiring entrepreneur, whose initial business specialization was in selling books, manage to build a global empire? Let's find the answer together by reading this article!
What Is Amazon?
Amazon is more than a marketplace. First of all, it is a multinational technology company with a reliance on e-commerce, cloud computing, digital streaming, and artificial intelligence (AI). Today, it is considered one of the most influential economic and cultural forces in the world and one of the biggest rule-setting brands. According to Statista, during the first quarter of 2022, Amazon generated total net sales of approximately $116.44 billion, surpassing the $108.52 billion it had generated in the same quarter of 2021.
As of 2021, Amazon is the leading digital retailer, marketplace, and cloud computing and smart speaker service provider. The company distributes multiple streaming and downloadable content through Amazon Music, Amazon Prime Video, and Twitch. Additionally, Amazon distributes film and TV content via Amazon Studios.
Here are some facts about Amazon that might interest you:
Amazon owns numerous subsidiaries and brands, such as Zappos.com, IMDb, Goodreads, Whole Foods, and many more. Now you know that each time you make a purchase from these brands, you make money for Amazon.
Amazon's office is a pet-friendly environment. There are more than 6,000 dogs, pets of Amazon employees, who are allowed to visit the workplace on Amazon's campus in Seattle.
There are certain types of products you can't order online via Amazon. Those buying full-size homes, cars, cigarettes, and animals must be present at the time of purchase.
A Brief History of Amazon
The founder of Amazon is Jeff Bezos, an American entrepreneur, computer engineer, and commercial astronaut. The company originated in Bezos' garage in Bellevue, Washington, in 1994. Initially, the project was conceived as a bookshop, since books are quite easy to source, package, and distribute. At the time, the founder likely had no idea that this would explode into a worldwide phenomenon.
The company was almost given a completely different name—Cadabra—as a reference to the magic phrase "abracadabra." After some deep thought, Bezos settled on Amazon as a reference to the river in South America. The idea was that the selection of books in his store would be as wide as the world's largest river, and Bezos didn't fail to deliver.
Amazon.com's first website appeared in 1995, and it had already attracted approximately 180,000 customer accounts by December 1996. Less than a year later, Amazom.com had garnered up to 1 million customer accounts.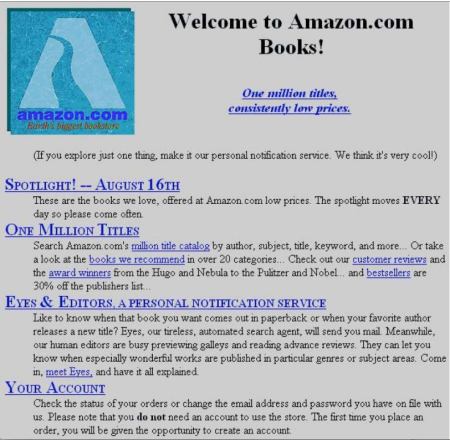 Eventually, Amazon expanded its sales into other areas, such as consumer electronics, video games, and other software, along with home-improvement items and toys.
Amazon was the first company to face the challenge of adopting the latest technological advancements to improve store performance. The company was brave enough to experiment with AI while sharpening its order processing and recruitment activities and facilitating order fulfillment with drones and robots. In the mid-2000s, Amazon started enhancing its innovative tech path by launching AWS.
So, what exactly made Amazon so popular at that time? The idea of searching, selecting, and making purchases from the comfort of home and the possibility of receiving items at one's front door within days was quite striking for customers who had not yet explored all the benefits of shopping online.
Today, Amazon.com is a full-fledged marketplace that sells its own items and enables third-party vendors to use its platform for selling their products, enabling customers to compare prices and find the best offers. Every second, Amazon records nearly $4,722 in sales. Every minute, those sales amount to $283,000, and in an hour, the company averages more than $17 million in sales.
Take an inside look at how Amazon CEO Jeff Bezos built one of the largest and most influential economic forces in the world—and the cost of Amazon's convenience.
Amazon's Key Success Factors
Amazon.com ranks above Walmart and even eBay as the most successful shopping platform. So, why is Amazon so successful and what makes Amazon unique? Let's take a look at five factors that contribute to Amazon's success.
Focus on innovation
As we mentioned earlier, Amazon has been a pioneer in adopting emerging technologies and practices, like the use of robots to streamline the efficiency of e-commerce fulfillment operations or the implementation of AI applications across logistics, warehousing, and distribution.
Alexa-enabled online shopping is also worth mentioning. Amazon explored brand new opportunities for its customers by providing hands-free shopping with Alexa, a voice assistant that enables buyers to walk through their e-commerce journey with voice prompts instead of clicking a mouse or tapping a screen. This technology can also be used to play songs, check the weather, or simply communicate with Alexa. Interestingly, more than 250,000 marriage proposals have been made to Alexa!
Bezos also integrated culture of innovation into Amazon's corporate environment. Consequently, employees can freely test extraordinary ideas without the fear of failure. Jeff Bezos claims that failure is an inevitable part of trying new things, which will eventually lead to success.
Unprecedented customer service
Amazon has always prioritized ensuring an excellent customer experience. Bezos prefers focusing on the company's customers rather than its competitors, and this principle proves to be working.
Amazon provides a correctly organized customer service page that allows for an intuitive and fast search for required information:
The Order page lets clients keep track of the status of active orders or cancel them. Clients can leverage the information on this page to solve any issues within hours or minutes or leave seller or product feedback.
The Return and Refund page directs buyers to frequently asked questions regarding return and refund request processing.
The Account page presents six subcategories to manage customer profiles: Your Addresses, Login & Security, Your Payments, Gift Cards, Prime, and Your Orders.
Additionally, Jeff Bezos believes that word of mouth is an essential driving force of sales even in times of digital progress. The digital ecosystem makes word-of-mouth capabilities even stronger. If customers can share either their satisfaction or dissatisfaction with a product or service physically with six other potential customers or so, the same customers can reach many more users online. Therefore, this is either a risk or a good tool to turn customer feedback in the business's favor.
Amazon product reviews
The availability of comprehensive tools on Amazon.com to leave and overview independent reviews only demonstrates Jeff Bezos' belief in the importance of word of mouth. In February 2022, Amazon.com had over 2.2 billion combined desktop and mobile visits, down from 2.7 billion visits in January 2021. One reason why the website receives such a huge number of visits is its display of customer feedback. This feedback not only provides a way of fully understanding customers' perception of the brand and measuring their satisfaction with merchants but also enables potential clients to assess the usefulness of purchase by means of other clients' opinions.
So, how does Amazon approach reviews on its website? First of all, it safeguards the trust-worthiness of reviews. It is now quite easy for clients to distinguish artificial reviews, placed to create a positive image of a brand, from real reviews, left by customers who have actually tried the product. Amazon bans sponsored reviews and sellers who use such reviews for their purposes.
Unlimited product proposition
Amazon.com has every right to call itself a digital mall. It is a universal place for shoppers to search for any type of product, compare prices, and pick the best one in terms of quality/price ratio items.
After launching as an online bookstore, Amazon.com gradually expanded into new markets and also allowed third-party sellers to place their goods in its marketplace. This has enabled the company to win and retain buyers. Now, Amazon.com offers a broad assortment of products within a single category—from books and electronics to beauty, groceries, and clothing.
Loyalty programs
Amazon also understands the value of customer loyalty programs and knows how to listen to customers to please them in the best way possible. Especially today, it is quite a complicated task for sellers to maintain high levels of customer satisfaction and loyalty, but Amazon does a great job of this by offering its Amazon Prime membership to customers. This is what makes Amazon successful in terms of customer loyalty.
Amazon Prime is a paid subscription service that costs $139 per year or $14.99 per month. Amazon Prime members are entitled to a large number of incentives, the biggest of which are free delivery and two-day shipping.
Despite the relatively high cost of admission, this offer is in high demand. Over 200 million people globally have an Amazon Prime subscription. Why do they opt for this? Prime members can receive discounts on numerous types of products and services and many other perks. Active Amazon.com clients, thus, can significantly benefit from this membership, offset its cost, and even derive added benefits. This factor is what makes buyers return to the Amazon website again and again.
Read more in our blog How to Create a Successful Amazon Store.
Conclusion: Why Hire Dinarys to Create the Marketplace of Your Dreams?
Amazon.com serves as a great example to aspiring merchants and certainly inspires them to greatness within their endeavors. Fortunately, the diverse e-commerce tools at our disposal allow for building a full-fledged online marketplace, strengthening your brand's market positions, and generating profit.
Dinarys, as a marketplace development company, possesses vast experience in this field. We develop marketplace solutions for different business models and e-commerce industries, like finance, travel, real estate, auction, and healthcare.

Contact us today, and let's create an e-commerce marketplace together!
Let professionals meet your challenge
Our certified specialists will find the most optimal solution for your business.
Related articles