How to Hire the Best Magento Developers in 2021
Magento May 12, 2020

Main / Blog / How to Hire the Best Magento Developers in 2021
Constant change and improvement is a reality of eCommerce. There's always some tweak to be made, or some new feature to add. To support these efforts, most entrepreneurs need to hire outside Magento specialists. Finding the right one can be a real challenge for any business owner.
That's why we at Dinarys decided to share our experiences in hiring the right Top Magento developers for any eCommerce project.
As an eCommerce development agency, we have extensive knowledge in developing Magento online stores. Selecting the right person from the vast range of choices is no easy task. In this article, we'll approach the challenge from a client's point of view.
Typical engagement models
There are several types of engagement models popular among IT companies. Find below the details about each in order to choose the right one for your future Magento project.
Fixed cost
This is the most commonly used type of engagement with developers. It means that the customers and the developer agreed to a single-sum contract for completing the project. This model works only when there are highly predictable requirements, rates and specifications. To apply fixed cost, the client should have a clear vision of the project in order to ensure the final result.
Choose this if:
You have determined deadlines and requirements
MVPs
A limited project scope for a small project
Time and Material
This is absolutely a different type of contract. The client only pays for actual work scope according to developer hourly rates and costs of materials. Please note that in some cases, an hourly rate of senior Magento developer could range between $50-70. This approach is the best for big projects of mid-sized since it provides an opportunity to adjust requirements and flexibility of the project. In addition, this approach allows replacing or adding new features, involving users for product testing and shifting direction.
Choose this if:
You have a long-term project and dynamic requirements
You are still not sure of your project scope
There is a need for flexibility to modify the scope of your project
Cost plus
This is the most transparent pricing model. In this case, both the customer and the developer agreed on a detailed cost structure. Still, this model only works if the customer has a complete vision of the project including the full list of features. It also requires more time to prepare all project components. However, it gives a sustainable result to the customer and clear income to the developer.
Choose this if:
You have a detailed vision of what your project will consist
The developer you work with has enough expertise and knowledge to fulfill all your requirements
You and your developer have approved workflow of your project
You are certain about your future model of engagement with Magento developer. Below are simple steps on how to hire certified Magento developer for your online shop.
Also read: How to Create an Ecommerce Website in Magento
What kind of Magento specialist do you need?
Before starting your search for the best developer, you should clearly define your project, and what you will expect of your outsourced help. If you understand your goal, then hiring the Magento eCommerce developer will be a much easier task.
To define the project, consider the following points
Will this be full-time work, or a finite set of tasks?
Is there just one bug to fix, or an ongoing series of problems?
Do you need someone to stay on staff to keep up with additional changes?
These are important questions, since some specialists might be available for smaller jobs, but too busy for full-time work.
If you do need someone to stay available for ongoing tasks, be sure that your prospects understand your expectations. It doesn't matter how much skill and knowledge a developer has if they are too busy to deliver results.
Conversely, some developers are only looking for long-term projects, and will not be available for small projects.
Most importantly, though, you need to make sure that your potential developers have enough knowledge, training, and experience. It's always a good idea to start with a test project. If they perform well on the test project, then you can hire them for more important work.
Freelancer or Agency
Depending on the size of your project, you may need an entire development team. Larger projects are simply too much work for one person, so if you have a laundry list of tasks, you should consider a team.
Although it's certainly possible to hire individual freelancers and assemble a team yourself, it's generally not cost-effective to manage them. Reputable eCommerce agencies always have a project manager on hand to manage the team, ensuring that quality work is delivered on time.
Although agencies or dedicated teams will generally do a better job than freelance Magento developers, the cost to hire them will obviously be higher.
If your project is small enough to be handled by one or two developers, freelancers are you best bet. For anything larger, it is better to hire an agency.
Magento eCommerce Developers – You Get What You Pay For
As the saying goes: Good, Fast, or Cheap. Pick Two. There's another saying: You get what you pay for. If you hire the cheapest developer, you're putting your business well-being on the line.
Generally, the cheapest developers don't have the breadth of knowledge needed for effective development. You'll spend more time and money hiring more experienced specialists to fix their mistakes than you will save by using them in the first place. Fixing bugs will send your project off schedule and over budget.
On the flip side, there's no sense in overkill. Hiring an overqualified developer for a simple project will yield great results, but at an unnecessarily high price.
Does Your Project Really Need a Senior Developer?
Bear in mind that the hourly rate for a Magento developer depends on a great many factors. Along with their skills, experience, and education, their place of residence will influence their price. In the US, a Magento developer earns from $75 - $90 per hour. In Eastern Europe, developers of the same skill can be found for $15 - $30 per hour.

Magento Certification
Another important consideration when hiring a Magento eCommerce developer, whether a freelancer or a team, is their Magento certification.
Magento, the company, has a reputation to protect, and they want to ensure Magento developer has the skills to make their product shine. For that reason, the company provides online courses for Magento specialists. A specialist who holds a Magento certification has proven they're serious about the work, and have the skills to stand out from the competition.
There are several Magento certifications available, each differing mainly in the type of developer experience needed.
The Magento Solution Specialist certification indicates the holder has a deep understanding of eCommerce processes. They can help fine-tune Magento to meet your specific business needs to meet business goals, as well as optimize its native features. Other Magento certifications include Developer Plus, Front-End Developer, Moderator Kit, and others.
Why does Magento offer so many certifications? It's a broad platform that covers many different aspects of eCommerce. Certifications can cover
design
PHP programming
marketing
usability
drop shipping
and many others.
If you come a cross a specialist who claims to hold all of the available certifications, to know everything, and do everything, be suspicious. They may have cheated to obtain the certifications, or simply have low standards of work.
ECommerce agencies can provide all the necessary specialists for most projects. However, before hiring one, you should get several quotes from different agencies.
Magento hiring process
The requirements
Before looking for a developer, you should write down all the requirements you have for your project. This might be helpful since your future developer or a development team could analyze the timeline, work and quotes. If you want to use time and material model, decide on the developer hour rate. The project milestones
When working with the e-commerce team of a freelance developer, you should decide on a tentative timeline and divide your e-commerce project into smaller milestones. This is the most convenient way of working on an online shop because you will know what to expect.
Signing the contract
When you have found your e-commerce team or a developer, do not ignore this important step except for working via recruitment platforms such as UpWork or Fiverr. The contract should include not only the project scope but also an NDA part as well.
Starting your project
The next step of working with e-commerce agency is an introduction to the team of developers and designers who will work for your future success in retail.
Magento developer services
Both e-commerce agencies and freelance developers might provide services such as:
Magento implementation
Development and customization of extensions and modules
Integration of payment modules into your online shop
Integration of your online shop with your ERP or CRM
Development and integration of shipping modules to your web store
Integration of Magento online store with social networks
Integration of drop shipping modules
Magento developer salary
This is a very interesting question for each customer. It can be calculated using figures from the internet but we would like to tell you more about the prices of Magento online shop development.
A basic Magento online shop will cost you between $3000-20.000.
For this price, customers receive:
Basic functionality of Magento website
Simple theme or design for your online shop and
A smooth CMS
Custom development of Magento e-commerce website: $10.000 $50.000
Custom development benefits your online business such as:
Custom online shop design
Integration of your e-commerce website with your Back Office Systems
Creating of customer attribute for products
Customer groups
Migration to Magento host
Extension integrations and other.
Magento online store of Enterprise size: $40.000 - $75.000
This is a special Enterprise plan that Magento provides. In this case, the best option for customers is to allow the Magento enterprise developer to take care of your online business. For this price, you will receive the most powerful Magento online shop that includes:
Integrated modules
Responsive design
Multiple websites manage in a single dashboard
Free customer support
Magento hosting
Custom coupons
Advance SEO features
Integration with social media and other.
If you want to hire a certified Magento developer, take into account that the hourly rates vary depending on the level of the developer. Still, an average cost of a quality Magento developer is $15 - $80 per hour.
How do I hire Magento developers?
If you are looking for a dedicated Magento developer, we have some recommendation for you. Today, there are many freelance developers across the Internet. However, if you really want to hire a decent specialist, follow your instructions.
If you are looking for a developer, it is better to hire a freelancer using one of the popular platforms such as UpWork or Fiverr. Pay attention to the number of previous projects done by this developer and client's reviews. It is not a problem to find Magento certified developer. Nevertheless, if your candidate has positive feedbacks but not certified by Magento, you still can use his services.
If you are looking for an e-commerce Magento development team, other criteria would be preferable. First, check the company's portfolio. If the company claims to be super experienced in Magento but has no Magento connected project to show, there might be something wrong. In addition, consider that the whole team of developers and designers will work on your future project. For that, to control the workflow, the project manager should be friendly and responsible. Pay attention to these when meeting your future e-commerce team.
Benefits of hiring Magento developers
If you still have doubts on hiring a Magento developer and you want to make all changes without the help, think twice. Because it is much easier to work on Magento website building an online store from scratch than correcting mistakes.
Find below the full reasons to hire Magento designer for your future online business.
A certified Magento developer will provide you with greater quality of coding
Such professionals carry out smooth implementation of website development and customization
With such professionals, you can build long-term business strategy. Working with Magento developers gives you the opportunity to integrate useful modules and plug-ins to make your online store more effective.
Additional advantage of hiring an e-commerce team includes helping you in building a roadmap based on your customer profile and competitors strategy
How to Hire the Best Magento Developer for Long-Term Work
Some online retailers are under the mistaken impression that eCommerce is a static business. In some rare cases, a website and its sales process is entirely automated, requiring little work from developers. Even in these cases, though, an eCommerce website is still a living entity. It's vulnerable to viruses and hackers, or it may simply need maintenance.
Every store also needs updates from time to time, for themes, extensions, or the platform itself. Finally, you will certainly have some ideas for new features at some point.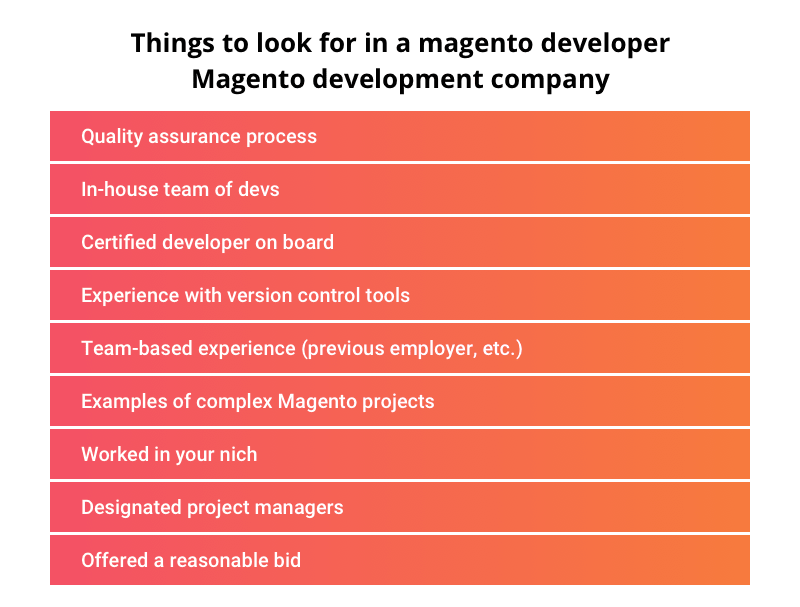 Related Article: Benefits of Custom Magento Extensions for Web Development
When you hire a Magento eCommerce developer, remember to allow them some time to understand your project. They should also have time after deployment to solve issues that may only become apparent over time.
How to Hire the Perfect Magento Web Developer
For people who are not themselves Magento developers or tech people, hiring the right Magento developer can be challenging. Below, you will find the Dinarys team checklist of the critical points of Magento development, as well as tips to select the best developer for your project.
The checklist includes parameters to help you choose the best Magento development team, freelancer, or eCommerce agency.
QA of the Final Product
Testing is an essential part of all development, Magento or otherwise. Any good professional eCommerce agency will have at least one specialist responsible for QA. It's important to understand their function, and how they fit into your particular project. Before hiring an agency, find out about their QA processes. Even the best development work can be hamstrung by poor testing.
The same applies to freelancers. Before hiring anyone, ask who is responsible for testing. The prospect may have their own testing person or even a dedicated team, or they may simply rely on automatic code testing.
Experience with Version Control Tools
When selecting a Magento developer for a large project, don't forget to inquire about their experience with version control tools. Good Magento specialists should have some experience with proper version control systems, such as GIT or similar.
Previous Projects
When hiring developers for your Magento eCommerce website, be sure to carefully examine portfolios and examples of previous work. You're free to ask candidates to show you as much work as they can, or for them to showcase only their best project. The goal is to let you check their skills.
Specific Niche
If your project is very specialized or relating to a very specific niche, many developers might not have the necessary skills. One of the first questions you ask candidates, in this case, is if they have any experience in your niche.
To be successful, your Magento online shop needs to be tailored to your niche, meeting its specific business goals. Otherwise, it might fall short in essential areas like marketing. Be sure to take this into account when speaking with Magento specialists.
Each Magento developer can have their own approach, but it's important they understand your vision.
Most specialists also have their own favorite set of extensions and tools. If your niche is a specialized one, be sure to ask if their extensions are suited to your particular store.
Project Management
Most eCommerce agencies employ a project manager (PM) who acts as a liaison between the developers and the client, and ensures that the project maintains forward momentum. Before hiring a team, ask if they have a PM. If they don't, then you could be in for some headaches.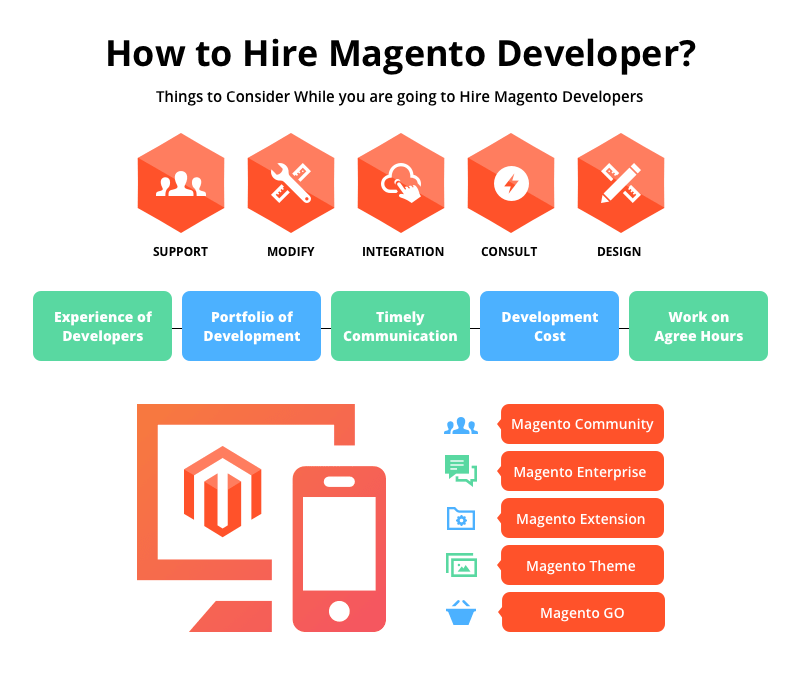 How Much Does it Cost to Hire a Magento Developer?
Hiring an experienced Magento developer, much less a team, is never cheap. And yet, complex projects need the best talent. If you hire the cheapest candidate, be prepared for a rough ride.
As you go through the hiring process, remember that it's almost impossible to find a good specialist who will work within a low budget, especially if you haven't asked IT professionals about current going rates before setting a price.
If you find your job rejected by multiple promising candidates, it might not be that they are asking too much. Instead, you might be offering too little.
Most specialists will offer approximately the same bid for any given job. But what if you find the perfect candidate at a much higher price than the rest of the pack?
The answer is simple: Ask them to justify their price. They should be able to quantify what makes them worth so much more than the competition. Don't hesitate to ask for the specific means by which they arrived at their quote.
Related article: How Much Does It Cost to Build an Ecommerce Website?
Consider as well that every project and every client is different. For instance, before hiring the Dinarys team, some of our clients like to meet our salespeople. Other clients prefer to hire agencies that are geographically local to them.
As you go through the hiring process, you can think about your own priorities for selecting a Magento specialist or team.
Hiring the right Magento web developer, whether freelance or an entire team, is the first step to a successful online shop. It's a major decision that has long-term effects on your business. In the end, it's not important whether you decide to work with a senior developer, a freelancer, a team, or even a student.
The important thing is that whoever you hire, you are able to trust them, and that they understand you and your business goals.
Hire Magento certified developer
Dinarys offers Magento ecommerce development services based on different engagement models. Our main goal is to drive your business growth. For that, we can even develop it from Scratch.
Depending on your project, you can hire Magento developer from Dinarys for full or part time, or on the hour basis. The main motive of your team is to transform your ideas into reality while bringing profit to your business.
Want to read more
Get fresh articles, news and case studies to your email firstly
Related articles