Bigcommerce vs Shopify- Which is Best in 2020
eCommerce Apr 26, 2020

Main / Blog / Bigcommerce vs Shopify- Which is Best in 2020
When it's time to choose an eCommerce platform, beginners in the online retail world are faced with a common dilemma: should we use Shopify or Bigcommerce? These are two of the most popular eCommerce platforms; however, they are aimed at different businesses. One is the best option for middle-sized and bigger companies, while the other is aimed at beginners in the eCommerce field. This gives you an opportunity to develop an eCommerce website without the help of developers and tech persons.
As an expert in eCommerce, the Dinarys team has prepared a comparison of Bigcommerce vs Shopify. This article includes:
Advantages of using Shopify
Advantages of using BigCommerce
Comparison of Shopify and BigCommerce design
eCommerce tool availability
Technical support
Apps for both platforms
Pricing options
Let's find out which platform suits your business model the best.
Why use eCommerce platforms?
Today, there are many ways to be involved in online retail. Starting with retailer accounts on marketplaces, to custom eCommerce websites, every business can find a perfect solution based on their specific needs.
If you are serious about your future eCommerce activity and you need to choose between Shopify and BigCommerce, you can use platforms developed for online retail.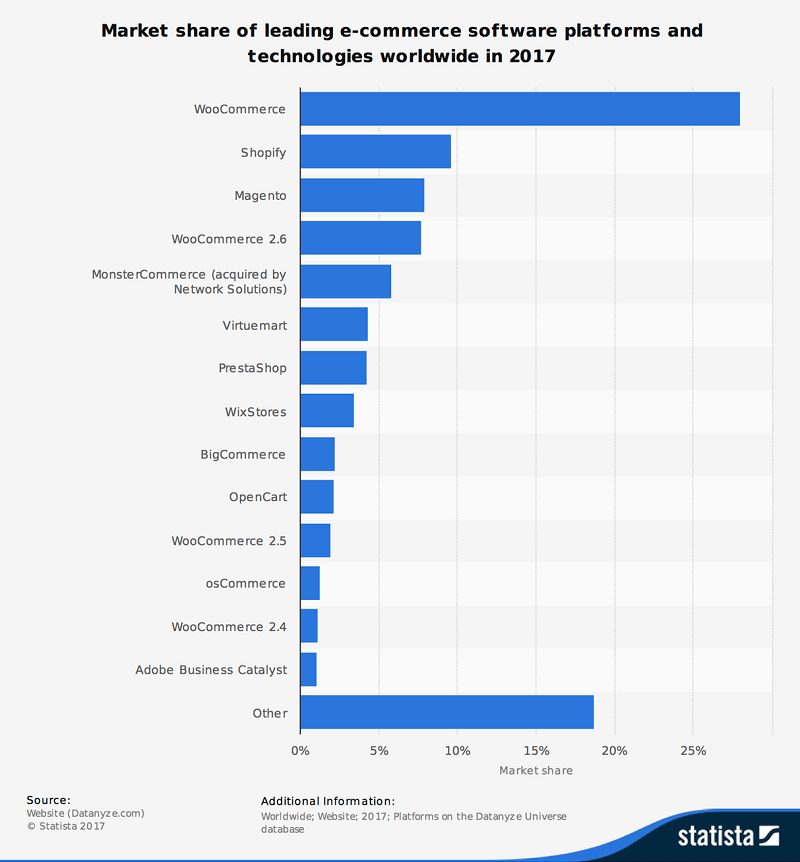 In 2017, Statista shared information about the market share of leading eCommerce software platforms and technologies worldwide.
As you can see, Shopify is far more popular than BigCommerce, though your final decision should be based on your business needs.
We want to emphasize that eCommerce platforms for successful online retailers are like the foundation for a house. The correct platform can give additional stability and amazing scaling opportunities.
Keeping that idea in mind, let us start the Shopify vs BigCommerce comparison.
You might also like: How to Launch a Successful e-Commerce Website: The Ultimate Checklist
Advantages of using Shopify
Shopify is one of the most popular eCommerce solutions. Even if you have no website building skills, you can create an eCommerce website using this complete tool.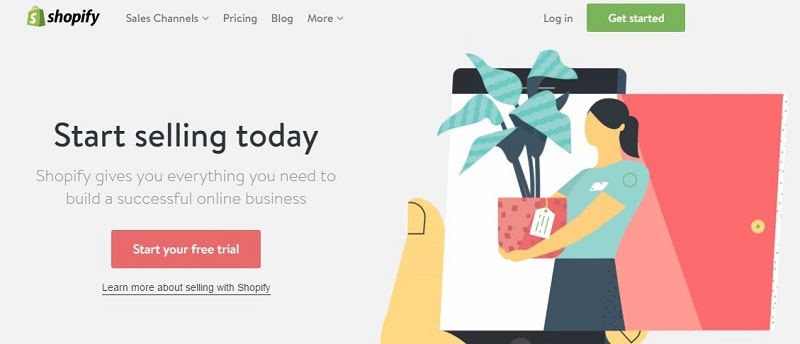 Any future online retailer can use it to develop an online shop without the help of eCommerce agencies.
A user-friendly interface is the main selling point of Shopify. By default, Shopify includes such perks as:
Hosting space and a subdomain
Advanced inventory and product management
Online payment gateway and order tracking
CRM features and customer database
Advanced tools for sales and special offers
Social media integration
And others.
Shopify helps online retailers save time in slower areas of the eCommerce business. In addition, it provides users with creative freedom, optimizing really important areas like a great shopping experience for your customers.
You might also like: Shopify vs Etsy Comparison: Which Is Better for Your eCommerce Store?
Advantages of using BigCommerce
Like Shopify, BigCommerce is an in-box eCommerce solution. Using this platform, you can create an online shop from scratch and maintain it on an ongoing basis. BigCommerce has a complete set of tools that online retailers can use along the way.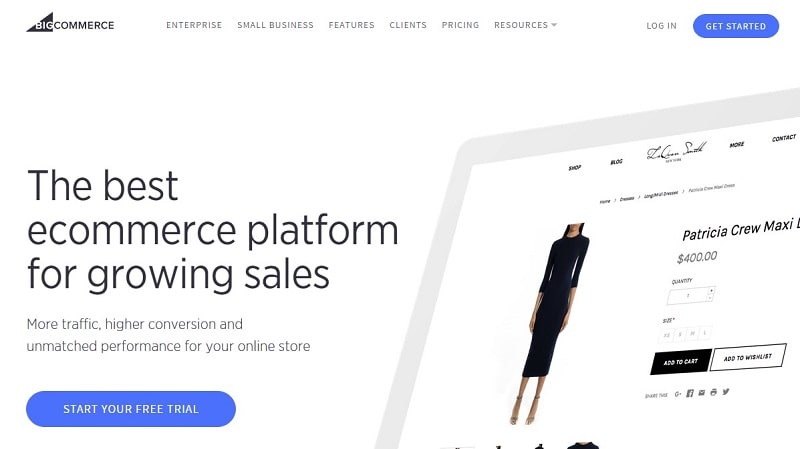 The BigCommerce control panel is clear and even beginners can understand and manage main metrics. On the dashboard, online retailers can find information on:
Site traffic,
Recent orders,
Revenue,
and other data.
If you want to have a successful online shop, you should provide visitors with relevant content. BigCommerce lets website owners create pages and blog to build a strong community of brands.
Other notable BigCommerce features include:
Transactional emails,
Search marketing campaigns,
Coupons,
and more marketing-related tools.
Still, this platform is more for well-developed businesses with good revenue. At the same time, complete eCommerce beginners also enjoy using it.
Designs and themes
In today's highly-competitive world, design matters. If online shoppers find an eCommerce website confusing and ugly, they will simply visit another, more attractive website.
If you want to make your online shop successful, pay attention to the website's appearance. Design is the first thing your customers see and, with a bright and clear design, you will increase the chances of making a sale, despite the fact that you do not have the best product in the world.
When choosing between BigCommerce and Shopify, consider the fact that both of them have paid and free themes. Let us take a closer look and find the difference between them.
Shopify eCommerce themes
This platform is known for updates and impressive templates and designs. Both free and paid templates are inviting and professional. By using independent professional eCommerce designers, the platform always provides users with modern and fresh storefronts.
The single con, especially for startups and beginners in eCommerce, is that some of the Shopify themes are paid. If you want to have an eCommerce website with a premium theme, expect to pay anywhere from $100 to $180. Nevertheless, remember, that you invest this money in your business and this is a one-time payment. If you want to create a successful eCommerce portal, be prepared for extra expenditures. With a pretty theme, your prospective clients will stay in your online shop longer, while increasing your chances to make a sale at the same time.
You might also like: How to Build a Custom Shopify Theme: Best Step-by-Step Tutorial
With this link, you can view the Shopify themes marketplace and find out more about professional and elegant storefronts.
BigCommerce eCommerce themes
Since BigCommerce upgraded their theme collection in 2016, there are even more updated themes for the eCommerce website. What is even more important is that most of them are mobile-friendly. This leads us to the conclusion that the design gap between BigCommerce and Shopify is narrow. The price for premium BigCommerce themes varies from $145 to $234, and you can buy a Shopify premium theme for almost the same price.
If you want to have an eCommerce website on the BigCommerce platform that totally reflects your company business values and is developed specially for your company, you can also hire an eCommerce agency, like Dinarys, that deals with custom theme development.
Tools for e-businesses
If you want to manage an online shop successfully, you will almost certainly need a wide range of eCommerce tools.
The most basic and popular are:
Inventory management tool
Product catalog
Prices and special offers setting tool
Shopping cart
Taxes
Shipping details
Tracking orders
Payment gateway
And more
If you are still not sure whether to choose between BigCommerce or Shopify, take into account that both platforms have everything you need to build and scale your eCommerce website.
To make a final decision between Shopify versus BigCommerce, read the slight differences in their approach in the article below.
Shopify eCommerce tools
This platform gives users a basic toolset to develop and manage the online shop. If you need more advanced tools, on the other hand, you can buy them in the App Store, including:
Customer reviews
Wishlist
Product recommendations,
The good news is that all of the advanced tools include a trial period, so that you can test them before purchase.
We want to emphasize that additional tools will help your eCommerce website break new ground; however, young companies might not be ready to spend the budget on them from the very beginning.
It's no big secret that some businesses need custom apps or extensions to make the customer journey even more convenient and fascinating. If you are looking for this type of development, you can hire Dinarys or another eCommerce agency.
You might also like: Top 9 Essential Features for Custom E-Commerce Websites
Online retailers will enjoy integrated payment gateway Shopify Payment. What is it and how does it work? This is a convenient tool aimed at saving time by avoiding separate payment gateways like Stripe or Paypal. You can manage all your transactions on the Shopify admin panel, with transaction fees depending on your Shopify plan (more details below).
BigCommerce eCommerce tools
This platform is popular among other solutions for a wider choice of tools for eCommerce. BigCommerce provides users with many out-of-the-box advanced tools. You can use them from the very launch of your Internet-based business since they are included in the platform monthly fee.
We can say that, in this comparison between BigCommerce and Shopify, the first platform has far more advanced tools to provide users with.
Technical support
Managing an online store can be a real challenge, especially if you're not a tech person. Unless you are familiar with coding and developing, you probably need a strong support team to watch your back.
Shopify Technical Support
Many users find Shopify support teams the best in the eCommerce industry. If you run into any trouble, you can reach the support team in various ways, including:
E-mail
Phone
Online live chat
When paying for Shopify, you also pay for security and serenity. With a well-developed support team, you have nothing to be afraid of when something goes wrong with your online shop. There will be always a professional team to help you.

BigCommerce Technical Support
BigCommerce tries to keep up with the leader. The platform provides users with technical support using the same channels as Shopify.
In prior years, 24/7 phone support was not available for BigCommerce users, but they've now recently decided to add this option in order to improve the user experience.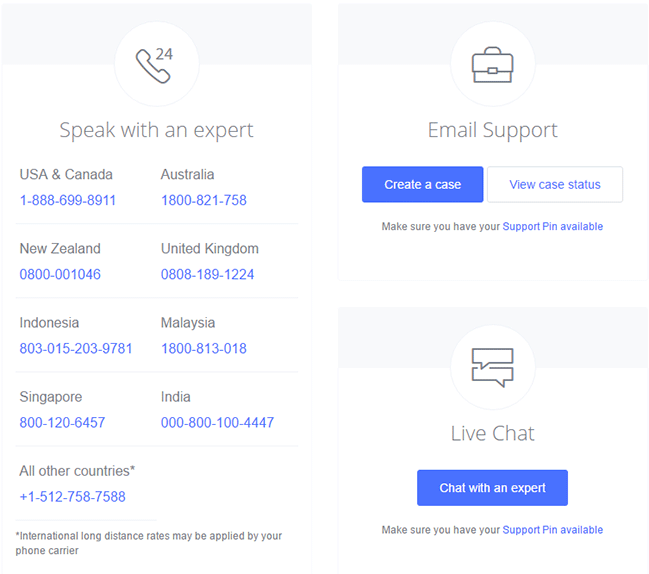 When deciding whether to choose Shopify or BigCommerce, consider that both platforms have a well-developed community with forums and informative tutorial resources.
The great benefit for users on both platforms is the 24-hour live phone support.
Applications for Shopify and BigCommerce
All online retailers who are thinking about scaling their eCommerce business in the future will find this information useful.
BigCommerce and Shopify have their own marketplaces where users can find any tool, extension or app to extend the existing functionality of their eCommerce websites.
You can find any tool to meet your goals in such spheres as:
Marketing and promotion
Inventory management
Shipping
Orders fulfillment
Customer service
Bookkeeping
And others
The best thing about these apps is the routine task automation so that online retailers can concentrate more on business strategy.
Shopify users can find over 1,400 apps for their online shop in the marketplace, while there are only 250 apps on the BigCommerce marketplace. This leads us to another main point: that the number of Apps available on the marketplace correlates with the platform's attractiveness for the web developer.
Shopify vs BigCommerce: price comparison
Shopify fees
To get all the advantages of this popular eCommerce platform, be ready to pay anywhere from $29 monthly for the "Basic Shopify" account. As your e-business expands, you can switch to a "Shopify" plan and pay $79 every month, or to "Advanced Shopify" at $299 per month.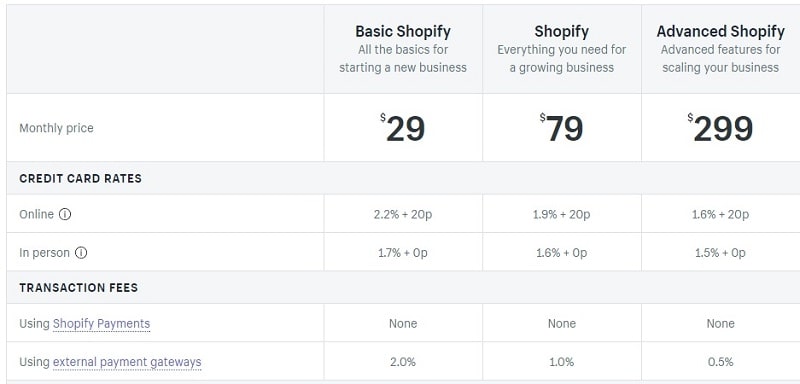 There is also a "Lite" plan with a monthly fee of $9; however, this plan does not allow users to create an online shop. The "Lite" plan is aimed at people who have a website on other platforms or CMS, or even a seller page on social media, and want to add some eCommerce features with a Shopify Buy Button. "Lite" is the cheapest Shopify plan but, if you need to develop an eCommerce website, you can choose from other Shopify plans.
BigCommerce fees
If BigCommerce features and templates suites your business the best, be ready to pay a monthly fee of $29.95 for the Standard Plan, $79.95 for the Plus Plan and $249.95 for the Pro Plan. For more detailed information, visit the BigCommerce Pricing page.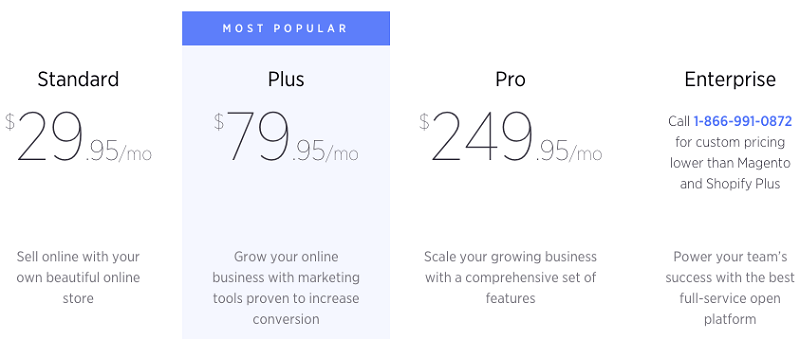 It is worth mentioning that BigCommerce also provides a customized solution for enterprises. With the Enterprise Plan, users receive the help of an eCommerce team that assists with data migration, online shop setup, and further technical support.
Shopify or BigCommerce? Final thoughts
When comparing Bigcommerce and Shopify, consider that both platforms have rich features, developed support teams, great paid and free templates and designs, together with developed community and support teams.
At the same time, the final decision depends on your business goals and industry.
If you are looking for a simple solution with basic features to set up an online shop in a minimum period of time, while still paying attention to the design, your platform of choice should be Shopify.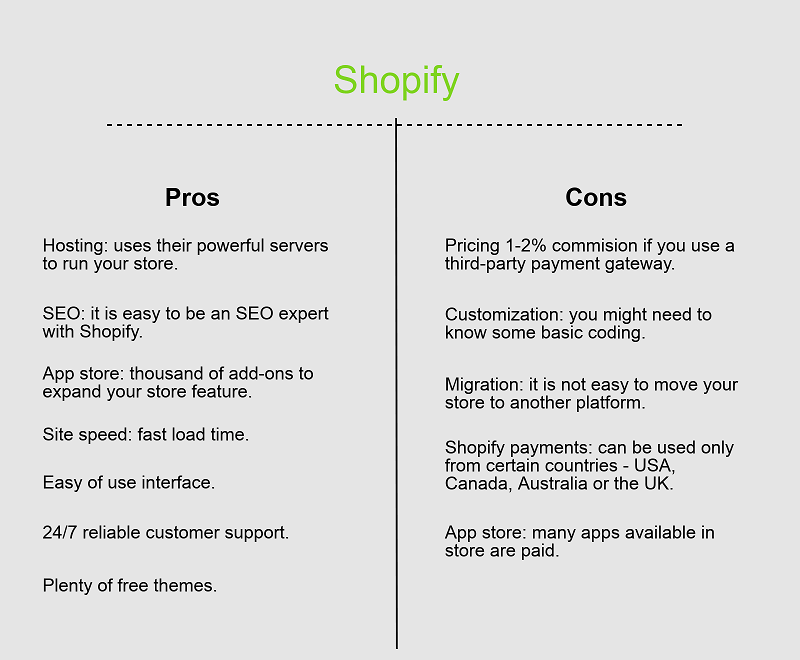 For those looking for a platform with further scaling opportunities and specific, or even custom, features (in other words – a more complicated solution), then BigCommerce is the best option.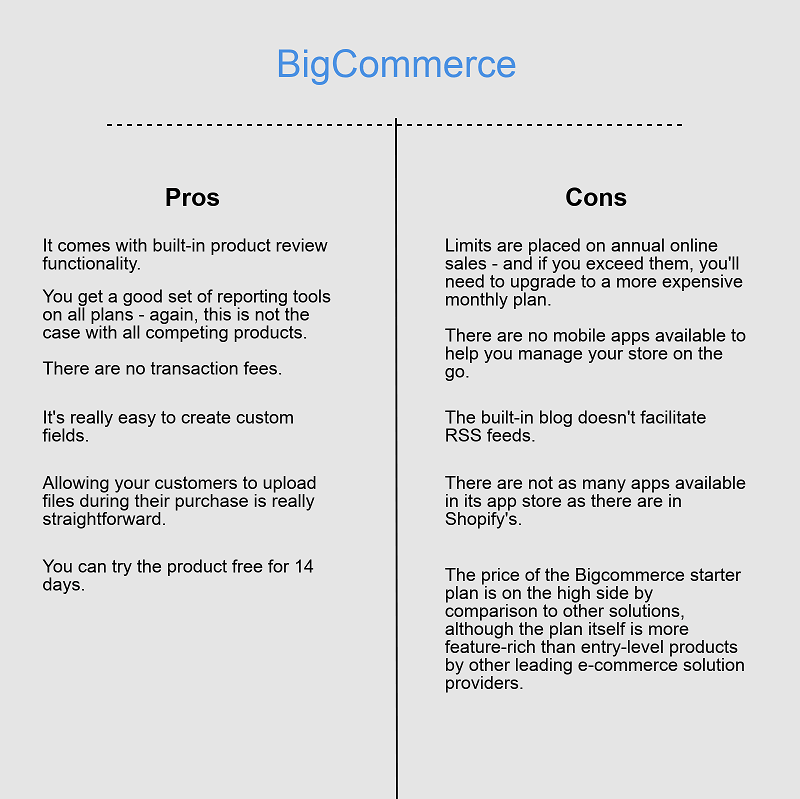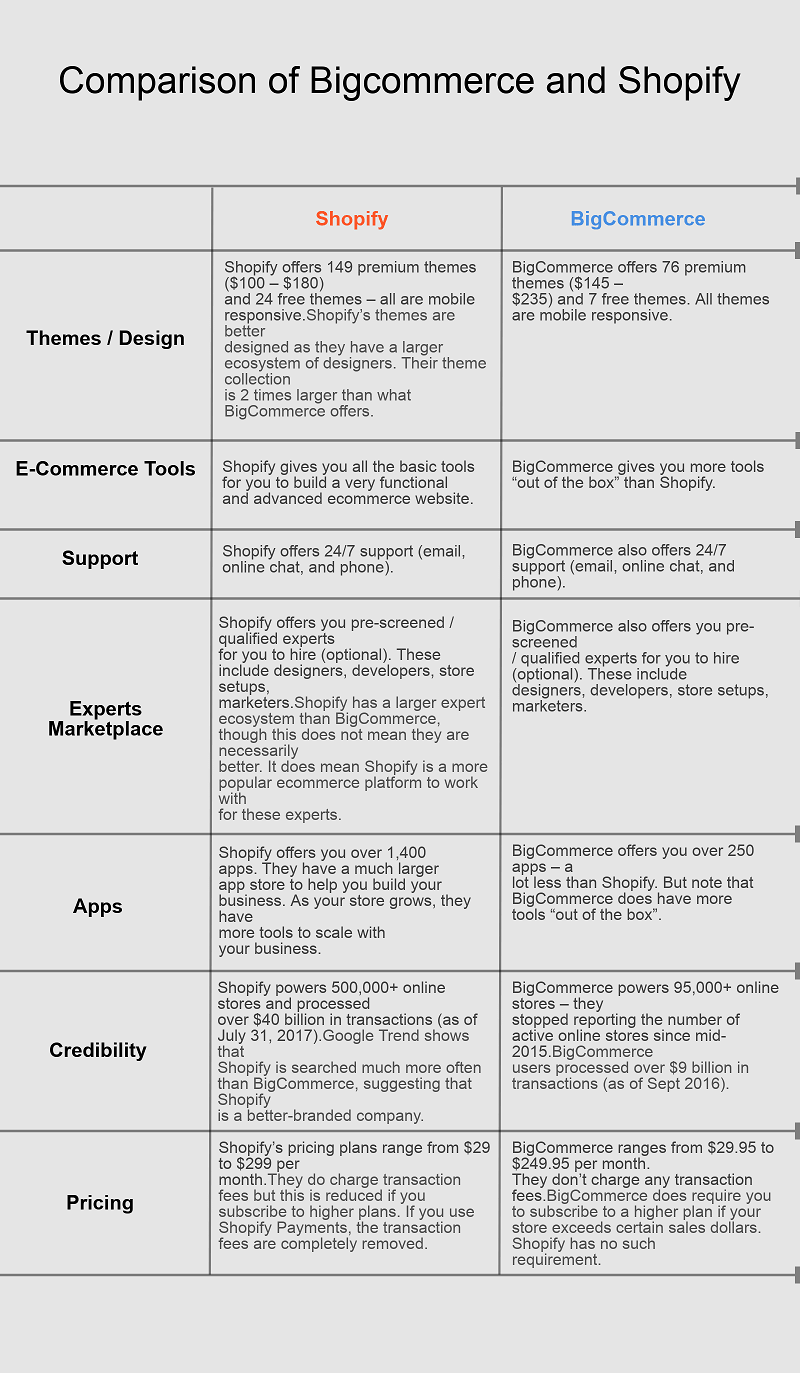 Why hire Dinarys for eCommerce development?
As eCommerce experts, Dinarys provides clients with full-cycle development services. Based on our extensive expertise, we have solutions for most eCommerce issues, including low conversion rates, high cart abandon rates, and more.
Dinarys cam improve your eCommerce website in the following ways, to name a few:
Profile creation for your target customers
Deep industry analysis
Online shop development, from scratch
Responsive website design
Custom extensions (Magento, Shopify, BigCommerce)
Mobile app development to boost your m-retail
Customs website and online shop designs
Do you have more questions when it comes to what eCommerce platform to choose? Want to hire an eCommerce team with experience in development? Need advice from eCommerce experts? Don't hesitate and contact us now through our online form. Our team will get back to you ASAP!
Want to read more
Get fresh articles, news and case studies to your email firstly
Related articles