Magento
Jan 10, 2023
Magento 2 vs Woocommerce: Which Platform Is Best for Your Business in 2023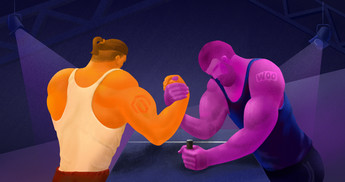 Content
Both Magento and WooCommerce are open source platforms for online shop development. Despite similar nature, they are different. Even non-technical people can use WooCommerce, a plug-in for WordPress websites. At the same time, to use Magento, online retailers should hire an e-commerce team or learn to code. Therefore, they suit different businesses.
In thisMagentovs Woocommerce review, we compare both platforms, their pros, and their cons. Also, you will learn about:
Pricing
Integrations
Security
And much more.
After reading Magento and Woocommerce comparison, you will know which platform suits your business the best.
What do Magento and Woocommerce have in common?
Both Magento and WooCommerce are self-hosted solutions. It means they have considerable space for online shop customization in comparison with hosted platforms.
Both platforms suit businesses who want to develop an online store with personalized design and custom features. Another common thing is a powerful developer's community behind both platforms.
You can add an unlimited amount of products to your catalog and run your own blog.
Another common feature is a "freemium" business model. It means that these platforms are free but to add advanced features to your website, you should buy extensions and plugins.
What is Magento?
Magento is a platform of choice of many famous brands. With 4.45% of e-commerce platforms market share, it is a common platform for online shop development among famous brands.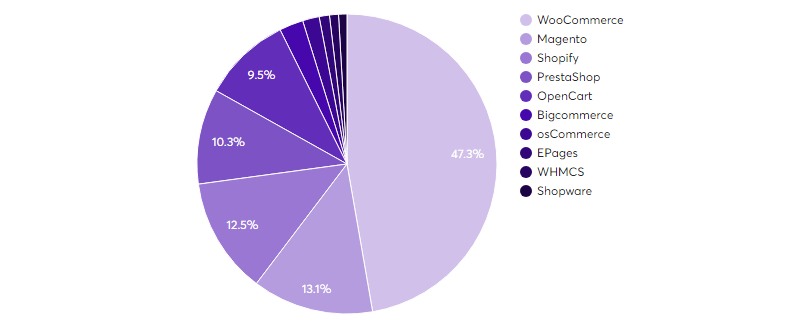 Image source: Wappalyzer
To use Magento for your future online store, you need to be technically savvy. Otherwise, you need the help of e-commerce developers to set up and maintain your website.
Magento tracks the critical business metrics of websites. Using this analytic information, you will learn how well your products are selling and receive insights into the performance of your online store.
Currently, there are two editions of Magento 2 platform. The difference between Magento 2 Community and Enterprise is that Enterprise is the advanced version of the community. Therefore, they differ by pricing, feature list, and support.
To make your online store even more powerful, use Magento Connect. In this marketplace, you will find add-ons to extend the online store functionality.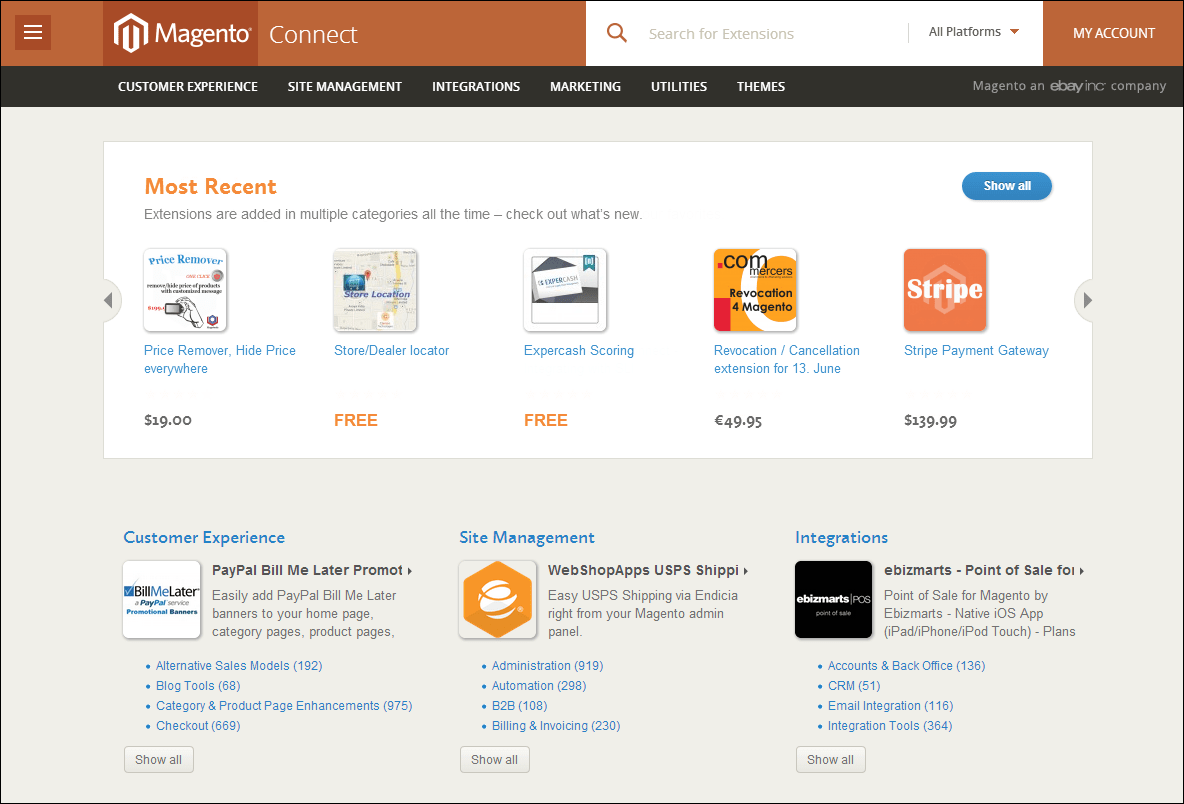 Image source: Magento
While Magento Community gives you basic e-commerce features free of charge, the best additions can be costly.
You will also need some assistance from the developer at the stage of setting up plugins. Adding extra features to the website based on Magento is a technically lengthy affair.
If you want to create a big online store and you have products ready to go, Magento will be perfect for you. The platform offers unlimited scalability and a significant amount of power.
Since the platform requires time and money for establishing and maintaining the website,it better suits large businesses that have resources to spend.
Magento key features
This platform is oriented toward developed businesses. Still, small companies can also enjoy its functionality.
The key features of Magento platform:
An unlimited number of items
Their own layout and theming systems
An efficient APIs for third-party integrations
The product creation tools
An intuitive admin panel
Below you can find the table with built-in features of Magento 2 Community Edition and Magento 2 Enterprise Edition.
Magento 2 CE and Magento 2 EE features
| | | |
| --- | --- | --- |
| Feature | M2 Community Edition (CE) | M2 Enterprise Edition (EE) |
| Search Engine Optimization | Yes | Yes |
| Site Management | Yes | Yes |
| Catalog Management | Yes | Yes |
| Catalog Browsing | Yes | Yes |
| Product Browsing | Yes | Yes |
| Checkout, Payment, and Shipping | Yes | Yes |
| Order Management | Yes | Yes |
| Customer Accounts | Yes | Yes |
| Customer Service | Yes | Yes |
| International Support | Yes | Yes |
| Analytics and Reporting | Yes | Yes |
| Mobile Commerce | Yes | Yes |
| Native Device Applications | Yes | Yes |
| Marketing, Promotions and Conversion Tools | Yes | Yes |
Magento pros
You can handle large online stores. This platform was designed for scalability. You can choose any hosting provider and scale your store as much as you need. For that, Magento is better than WooCommerce for a significant number of products.
Another Magento benefit is online shoppers can enjoy a fast checkout process together with a default guest checkout.
You receive the online shop integrated with PayPal, Authorize.Net, and Braintree. These payment gateways give your customers a better experience and improve cart abandon rate.
Also read: Create Magento 2 Payment Module
Magento cons
Magento is more oriented to developers rather than online retailers. For that, using the platform goes with a steep learning curve.
Another disadvantage is cost. Magento 2 Enterprise edition costs from $22,000.00 — $125,000.00 depending on your gross sales revenue.
What is Woocommerce?
WooCommerce is a wildly popular e-commerce platform. It powers 32% of all online stores. Moreover, this self-hosted content management system holds 42% of the online store builder market.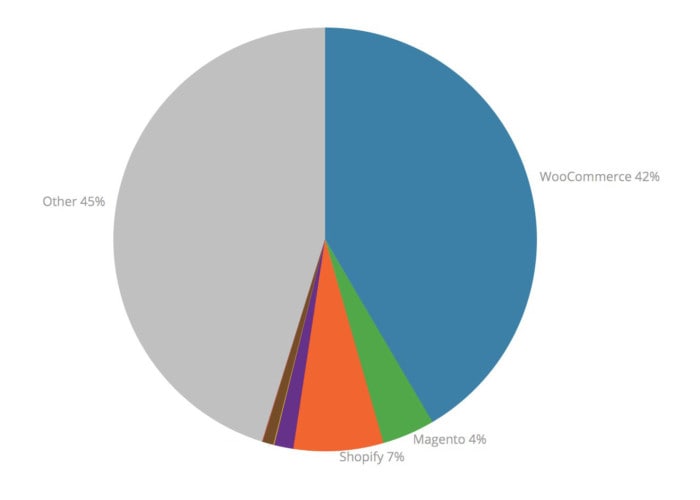 Image source: Barn2
WooCommerce is a plug-in for WordPress websites. With WooCommerce, users receive almost all the functionality for a successful launch of an online shop. Let`s try to answer the question of why WooCommerce is better than Magento. While Magento is technically complex and costly, WooCommerce has a low cost of entry and is simple to use.
You can establish a small e-commerce website on WordPress-based hosting free of charge. If you already have a WordPress-based site and want to enter the e-commerce sphere, it would not be hard. For that, you need to install and configure WooCommerce.
This e-commerce solution is easier to use. Still, it has less built-in features compared to Magento. The product-filtering feature in WooCommerce websites is not as refined. For that, WooCommerce online shops are less intuitive for customers who need to spend some time to find the item for which they are searching.
However, you can compensate such imperfections with WooCommerce extensions. If you consider it as your future platform for an online store, remember that WooCommerce has less specific e-commerce features that Magento does.
WooCommerce key features
This e-commerce solution attracts more and more online retailers. The key features of the Magento platform include:
An unlimited number of products
A robust extension system
Dozens of premium and free themes
Another benefit of WooCommerce is that it is compatible with almost all payment processors.
Below we share a more extended WooCommerce feature list.
WooCommerce Features:
Modern and clean interface
Improved experience for store owners
WordPress Content Integration
Pre-installed payment gateways
Total control of the checkout process
Set Default Currency
Geolocation Support
Automatic Taxes
Cart Behavior
Reduce Page Loading
Add/Manage Products
Product Types
Product Variables
Inventory Management
Shipping Calculations
Cart Calculator
WooCommerce pros
The platform is free. For that, aside from web hosting expenses, you can start selling online without significant investments. If you are already familiar with WordPress admin panel and you like it, WooCommerce could work the best for you.
The platform supports integration with Google Analytics via the extension.
WooCommerce cons
If you did not use WordPress before, you need to learn how to work with the admin panel. Paid extensions and premium themes could be costly. The price of extensions varies from $0 to $150, the cost of the theme could be as high as $90.
Comparing Magento and WooCommerce
Now it is time to check other vital factors of both platforms. Continue reading to see a fuller picture and make your choice between Magento and WooCommerce.
Magento vs Woocommerce: Pricing
Your budget is one of the critical considerations when you need to choose between these great platforms.
Image source: FitSmallBusiness
WooCommerce is a free extension. It gives you basic e-commerce features.
At the same time, Magento Community Edition, which is also free, has even more basic functions for an online store. However, it does not include some of the premium options, which Magento Enterprise does.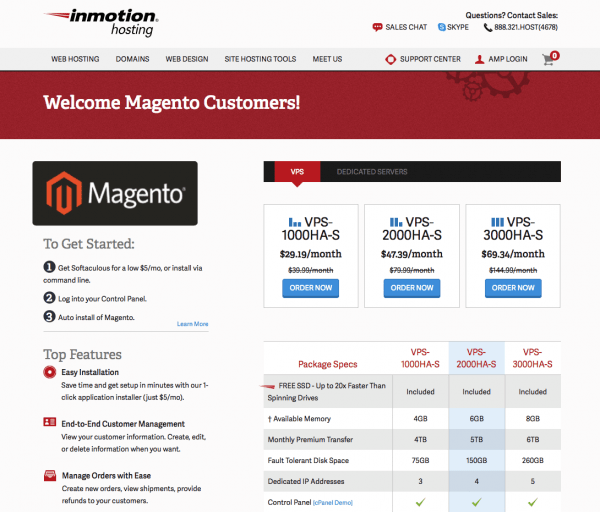 Image source: InMotion
Another factor that adds cost is a web hosting cost. The price of hosting depends directly on your provider and the size of your online store. The bigger your online store, the more space it will require. As a result, to host a large online store is more expensive than a small or medium one.
As we said before, extensions are another point where costs can pile up quickly. There are also free extensions for both platforms. Still, premium extensions are more advanced.
Magento vs Woocommerce: Ease of use
Magento is a platform created for developers. Once again, we emphasize that an advanced setup process might be complicated for beginners. Still, it is a powerful platform with tons of built-in features.
Also Read: Hire Magento Developers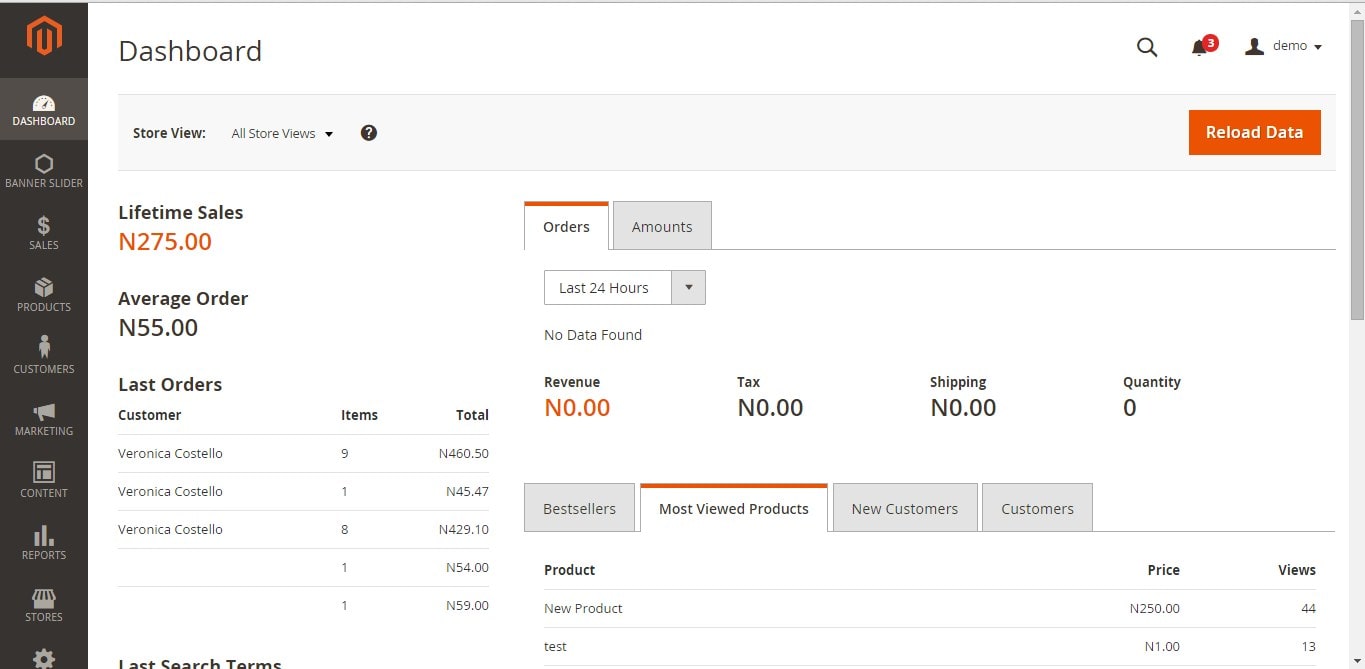 Image source: Magestore
If you have no previous experience with Magento, it will be hard for you to install it. Also, most hosting companies have no pre-configured installers for Magento.
WooCommerce is an easier option. Before setting WooCommerce, you need to install WordPress. Most hosting providers automatically install it for future online retailers along with WooCommerce. If your hosting provider does not automatically install WordPress, you can still do it with just a few clicks using auto-installer.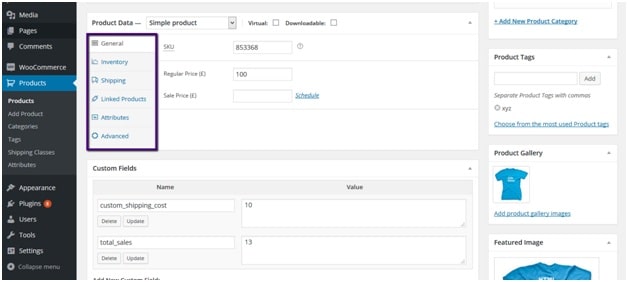 Image source: Themelocation
WooCommerce is a good option for beginners since it comes with the setup wizard. It will help you in setting up payments and shipping, creating pages, and choosing the currency. The same applies to plugins and themes. They are easy to install and have their own settings.
Magento vs Woocommerce: Scalability
If you want to scale your e-commerce website using Magento Community edition, you have to do it by yourself. Alternatively, you can hire a developer to help you with scaling. Moreover, be prepared that it could cost you a fortune since Magento is very resource intensive software.

Image source: websiteplane
Online retailers who use VPS hosting will have to upgrade to a dedicated server. If your online shop requires even more space, you will need a cloud hosting service. Since you will need to manage backups, optimize a website for caching, and do other technical routines, we advise hiring an e-commerce developer.
Scaling the WooCommerce store requires facing the same technical challenges. However, we have good news. It is possible to grow your e-commerce website and keep your costs low.
As your online store grows, we recommend moving to WordPress hosting providers such as Liquid Web and WPEngine. The unique thing about these providers is that they are concierge WordPress hosting companies. They allow scaling WooCommerce online stores to meet your business goals.
Still, to scale an online shop on this platform, we recommend hiring an e-commerce developer. WooCommerce technical specialists are not as costly as Magento developers.
Magento vs WooCommerce: Security
Security is essential for every online store. Along with the performance, this part depends on your actions. To make your e-commerce website even more secure, you need to implement several advanced measures. No platform can be 100% safe.
While WooCommerce offers SSL Certificate, Magento gives users dedicated security patches to increase the security of e-commerce websites. You can try this Magento Security Scan Tool here. More about Magento Security.
Just like in other cases of integrating something with Magento website, you will need the assistance from e-commerce developers.
Magento vs WooCommerce: Extensions and integrations
Magento has a massive community of developers, freelancers, and agencies. The platform offers both free and paid extensions and plugins. You can readily pick a necessary add-on and enrich your existing feature list with a new one.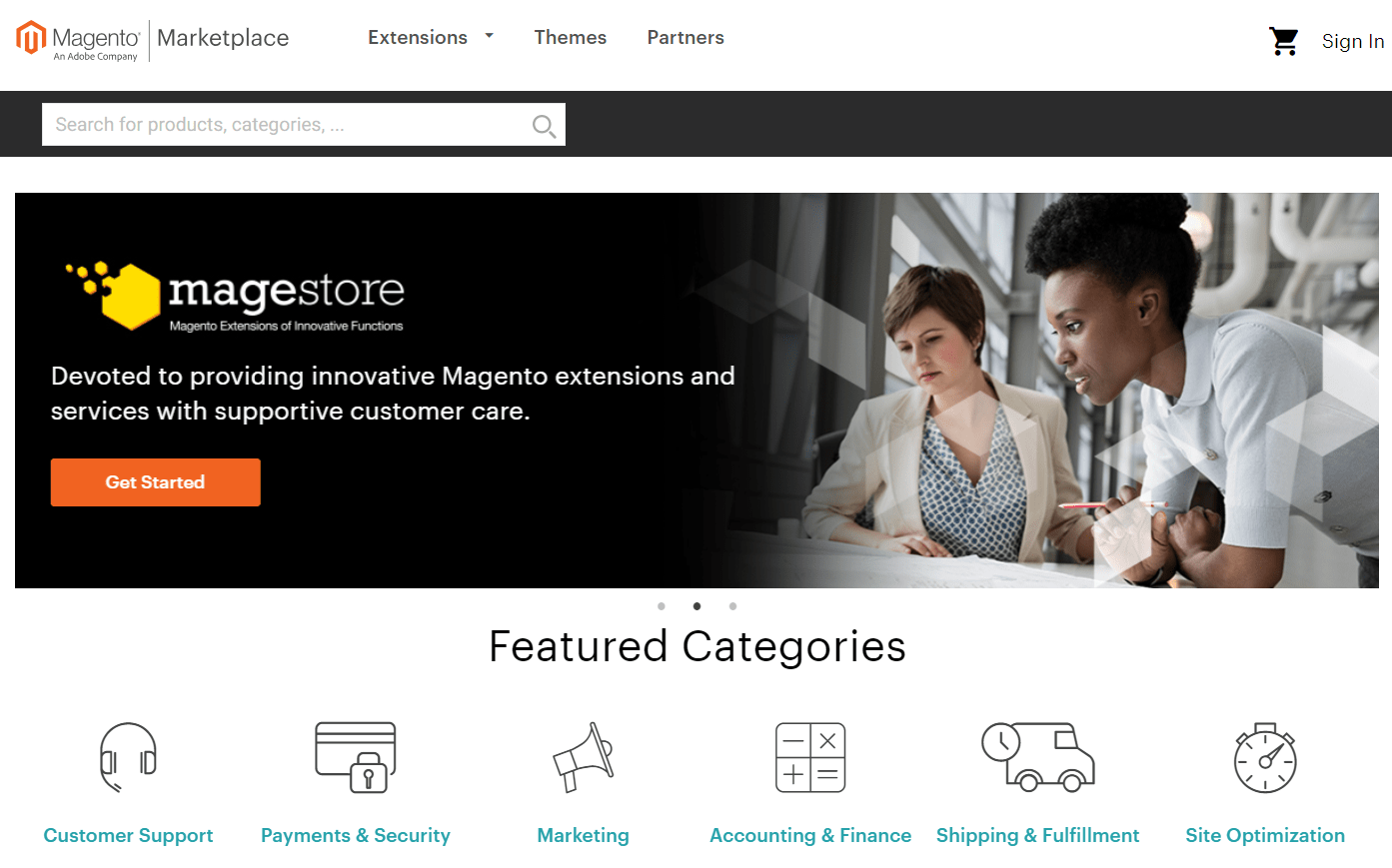 If no extension meets your requirements, you can hire a developer to create a custom one for your particular needs.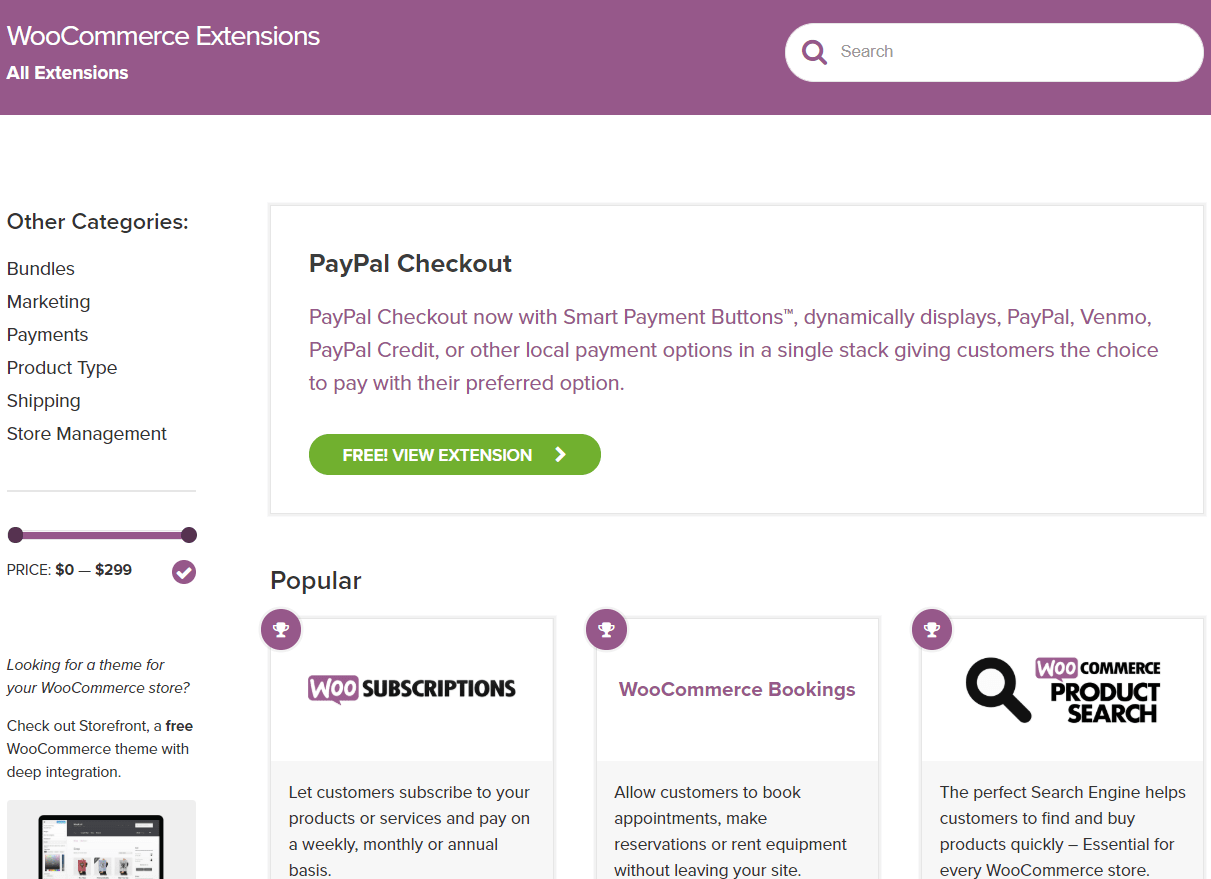 As you remember, WooCommerce is an extension for websites powered by WordPress. To add more features to your online store, you can use any WordPress plugin for your WooCommerce online shop. You can choose from thousands of paid and 55,000 free plugins.
A vast choice of extensions allows you to connect your website to any third-party services, including CRM software, email marketing automation tools, and payment gateways.
We have experience in the e-commerce development field. Moreover, we can share our experience working with Magento and WooCommerce.
Dinarys experience using Magento
One of our Magento projects was an online store of the cosmetic retailer, Goddess. Goddess was looking for a team for website maintenance because the website showed a slow loading speed.
We found out that one of the reasons was a non-optimized code throughout the site.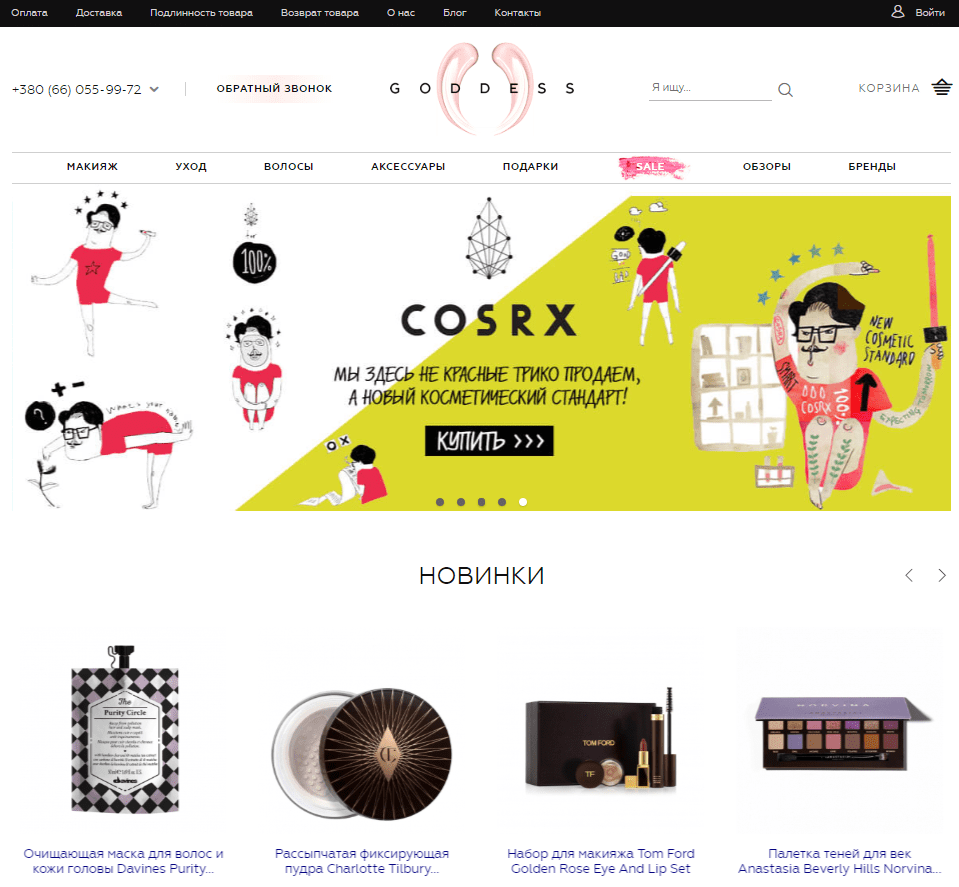 Image source: Goddess
To fix it, we went through the Magento installation page by page. We minified scripts, CSS styles, and icons. We also compressed all images and installed a caching solution for further speed improvement.
Another reason for the slow website was an unusual hosting choice. Magento website works faster when they are stored on specialized hosting. As we said before, Magento based sites need more space than other platforms do. We moved Goddess to a Magneto specific hosting. As a result, the website started to work faster.
Dinarys experience using WooCommerce
As for WooCommerce projects, on one occasion we developed an online store for the Lucidera company, which sells schizandra extract.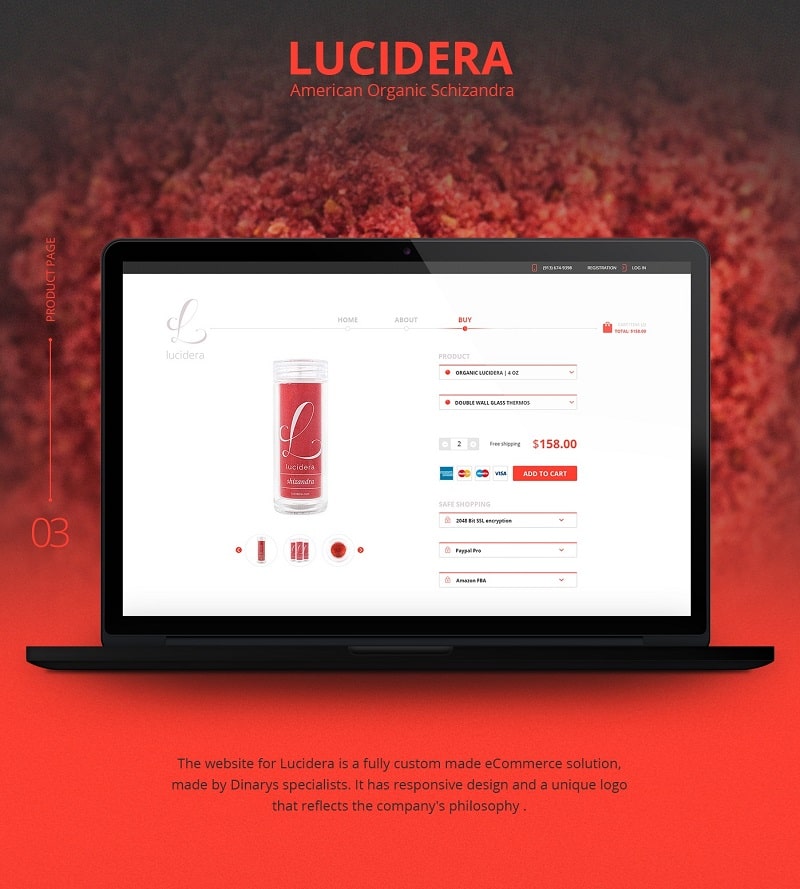 Image source: Lucidera
We decided to use WooCommerce because of the specifics of the customer's business. Lucidera has a limited amount of products. Still, we wanted their website to look professional and bright.
We developed a custom theme and empowered the website with the basic e-commerce features. As a result, Lucidera received a simple and branded online store.
Final thought
We cannot say, whether Magento or WooCommerce is best for you. Both platforms are very different and suit different businesses. Still, you can make your choice based on your budget, platform features, and business strategy.
WooCommerce gained popularity among small businesses. Because of that, it has a large user base. It is a great solution when you need to create a stylish but unassuming online store.
Magento is a powerful platform. Its main benefits are customization and scaling of an online store. Since website setting and maintenance might be costly, the platform suits businesses with large product catalogs.
Below we share the Magento and WooCommerce comparison table with the main features of both platforms.
| | | |
| --- | --- | --- |
| | WooCommerce | Magento |
| Price | Free | Freemium |
| Requires hosting? | Yes | Yes |
| Supports unlimited items? | Yes | Yes |
| Does the platform offer extensions or plugins? | Yes | Yes |
| Can it be customized? | Yes | Yes |
| Does it offer analytics? | Yes (extensions) | Yes (out the box) |
| Is it beginner-friendly? | Yes | No |
| Does it offer extensive documentation? | Yes | Yes |
We hope that this Magento vs WooCommerce review helped you to choose your future e-commerce platform. If you need assistance in determining your next e-commerce platform, fill in the contact form. We will contact you as soon as possible.
Lassen Sie Profis Ihre Herausforderung meistern
Unsere zertifizierten Spezialisten finden die optimale Lösung für Ihr Unternehmen.
Related articles