Hire Symfony Web Developer
Are you looking to hire a Symfony web developer? Look no further than Dinarys. With our team of experienced developers, we can help you create the perfect website or application for your business. We use Symfony`s popular open-source framework to develop powerful and efficient websites and applications. Using Symfony technology, Dinarys can create websites and apps that are secure and reliable. We specialize in customizing the framework to meet your specific needs and goals.
Hire a Symfony Developers
Are you looking for a Symfony web developer to hire? Dinarys is your one-stop shop for finding and hiring the best Symfony developers for your project. With over 20 years of experience in the industry, our team of experienced professionals knows how to develop custom solutions that will meet your needs. We provide four key services when you hire a Symfony web developer:
Custom Symfony Development
Our experts can create custom applications and websites using the reliable Symfony framework. This will ensure that your project is secure, efficient, and fast.
Symfony Performance Optimization
Our developers are highly skilled at optimizing the performance of your Symfony project. This includes reducing page load time and improving user experience.
Symfony Security Auditing
We understand the importance of keeping your application secure, so we conduct regular security auditing to ensure that your web applications are safe from malicious attacks.
Symfony Training and Consulting
We can provide customized training and consulting services to ensure that you have a deep understanding of the Symfony framework so that you can develop your projects.
Dedicated Symfony Developers Hiring Process
Are you looking to hire a dedicated Symfony developer? Dinarys can help! We offer world-class talent in the form of highly qualified, skilled, and experienced developers with expertise in Symfony. Our hiring process is simple and efficient - it takes just 4 steps to hiring the best Symfony developer for your project.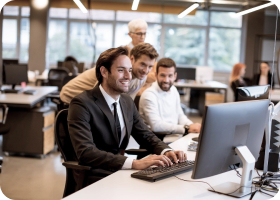 Submit Your Project Requirements
To hire the best Symfony developer, we need to know more about your project requirements. Simply fill out our online form with information such as project details, budget, and timeline. Our team will review your requirements and create a tailored hire plan.
Choose Your Symfony Developer
Once we have reviewed your project requirements, we will present you with the best-suited Symfony developer profiles in our pool of talent. You can review their detailed experience and skillsets to find your perfect hire.
Interview & Select The Right Candidate
Our team can arrange interviews with the candidates of your choice, helping you select the right hire for your project.
Onboard & Get Started
Once you have chosen your hire, we will take care of the onboarding processes to get them started on your project quickly and efficiently. Dinarys can help hire the perfect Symfony developer for your project by following these four simple steps.
Technologies We Use
At Dinarys, we hire Symfony developers for complex web development projects. We have extensive experience building custom applications and websites with the Symfony framework. Our team of experienced, talented developers can create robust, secure, and scalable solutions that meet your specific needs. We use cutting-edge technologies as described in the table below, to create stunning user interfaces and robust web applications. Our Symfony developers have a deep understanding of the framework's features and capabilities so that you get the most from it.
PROGRAMMIERSPRACHEN
FÜR HANDYS ОС
Kotlin (Android)
Swift (iOS)
FRAMEWORKS
Yii2
Laravel
Symphony
React
Angular
Vue
PLATTFORMEN
Magento
Shopware
Spryker
SFCC
Shopify
BigCommerce
DATENBANK
MySQL
MongoDB
PostgreSQL
Percona
MariaDB
Oracle
MS SQL
CLOUD-LIEFERANTEN
AWS
Google Cloud Platform
Microsoft Azure
Digital Ocean
Any private cloud
MICROSERVICES UND CONTAINER
Kubernetes
Rancher
Docker Swarm
Docker Compose
CI/CD
Jenkins
Gitlab
Github
Teamcity
Circle CI
Travis CI
Bitbucket Pipelines
INSTRUMENTIERUNG UND AUTOMATISIERUNG
Ansible
Puppet
Terraform
Packer
Consul
DEVOPS DIENSTLEISTUNGEN
RabbitMQ
Apache Kafka
Apache Kassandra
Redis
Elk Stack
Memcached
ÜBERWACHUNG
Zabbix
Nagios
Traefik
Prometheus
Grafana
Benefits Of Hiring Symfony Web Developer
When looking for a Symfony developer to hire, you want an experienced and reliable partner. That's why choosing the right one is critical in helping your business reach its goals. At Dinarys, we hire only the best Symfony developers so that you can benefit from their expertise and achieve success with your project. Our remote dedicated Symfony developers are knowledgeable and experienced in developing web applications using the Symfony framework. Here are some benefits of hiring our remote dedicated Symfony developers: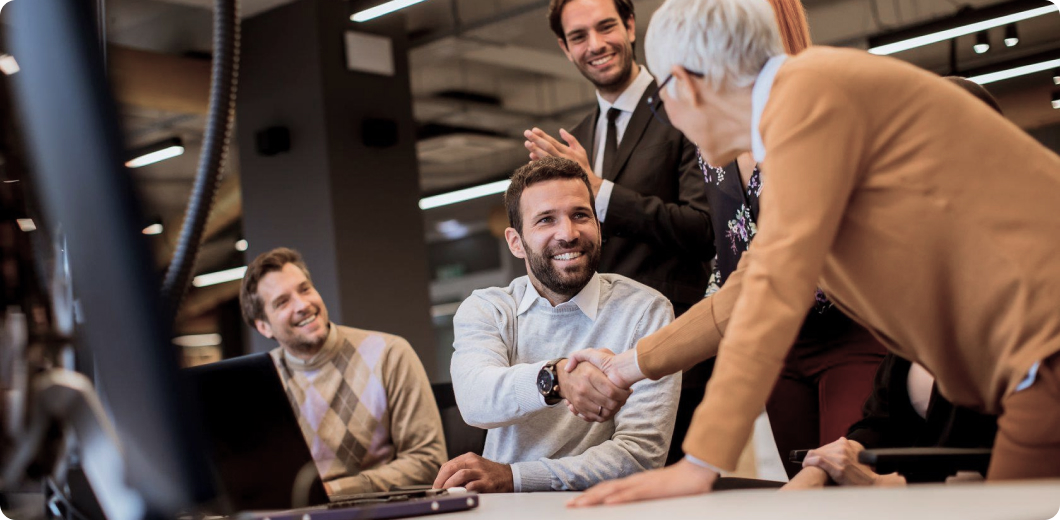 High-Quality and Cost-Effective Solutions
Our hire Symfony developer team has experience in delivering high-quality solutions for clients at affordable prices. We understand that time is money, so we work quickly and efficiently to ensure your project is delivered on time.
Versatility
Our hired Symfony developer team has the expertise and skills to work on various web development projects. They have experience in working with different frameworks, libraries, and tools. And can quickly adapt to any project requirements.
Technical Expertise
We hire only experienced developers who deeply understand the Symfony framework, its components, and related technologies. This allows them to develop innovative and secure applications that meet your business needs.
Why Choose Our Symfony Developers?
As an experienced hire Symfony developer provider, Dinarys is the perfect choice for finding the right talent for your project. We offer a wide range of Symfony-specialized developers - from junior to senior – who possess the knowledge and experience needed to build stunning web projects with the Symfony framework. Our hired Symfony developers are handpicked for their expertise and have a proven track record of successful projects. They have experience with complex web development tasks that require the security, speed, and scalability only provided by the Powerhouse framework – Symfony. Here are some factors that make Dinarys hire Symfony developers the perfect fit for your project:
Transparency
We provide detailed communication and status updates throughout the development process, so you can monitor your project in real-time. You always have full control of your project, from timelines and costs to code quality.
Streamlined Recruitment
We offer a streamlined recruitment process that helps you quickly and easily find the right developer. Our team of experts guides you through the hiring process and helps you find and select the best candidate for your project.
Support
Once you hire your dedicated developer, we provide ongoing support and guidance during the development process. Our team of experienced professionals is always available to answer your questions and assist whenever needed.
Focus on Feedback
We take customer feedback seriously and are always open to suggestions for improving our services. We regularly review customer feedback and ensure that your project incorporates the latest industry standards and trends.
Full-Time and Long-Term Engagement
We offer full-time and long-term engagement options that allow you to easily scale your project team. This ensures that you have the resources needed to complete your project on time and within budget.
Born Group is an award-winning global agency that helps brands with digital transformation. BORN, a Tech Mahindra company, creates unique brand experiences by connecting ten specialisms that serve as the foundation of the digital economy.
"Working on a large telecommunication company project, we needed to enlarge our development staff to cope with heavy project loads and deliver timely outcomes, so we started to search for professional and reliable third-party developers across a range of disciplines, including SFSC, React, JS, etc., and this is what Dinarys assisted us in.
Dinarys GmbH has made significant contributions to the platform. They have helped them streamline their development process and enjoyed their results. They are also reachable at all times and offered reasonable solutions to any difficulties."
Accenture Song is a global consulting, technology services, and digital transformation company. Accenture offers core consulting services in business strategy, operations, marketing, human capital, and technology to more specialized services, such as customer experience design and digital transformation.
"I recently had the pleasure of working with Dinarys and their dedicated developer services. As Head of Business Innovation & IT at Accenture Song, I needed a reliable and experienced partner to bring my vision to life.
Dinarys exceeded my expectations in every way! Not only were they incredibly responsive, but the quality of their work was outstanding. Their developers had the excellent technical expertise and always put in extra effort to make sure our project was completed on time and with the highest quality."
Vaimo is an expert in digital commerce experience. The company is a full-service omnichannel partner, driving success in digital commerce through digital enablement, customer experience, solution development, and managed services. Having built a fourteen-year track record of technical excellence by working with select industry partners, Vaimo provides its clients with high-quality solutions across the B2B, B2C, and D2C sectors.
"I have been working with Dinarys for the past couple of years, and our experience has been nothing short of exceptional. From start to finish, the team at Dinarys was professional and knowledgeable, [delivering] exactly what we needed in a timely fashion. We hired dedicated developers from Dinarys for a few different projects, and not only did they meet our expectations in terms of quality and performance, but their prices were also very competitive. I would highly recommend Dinarys to anyone looking for reliable, cost-effective, and high-quality dedicated developer services. Their team of experts was very helpful in guiding us through the entire process and meeting our needs."
FAQs
The cost of hiring a Symfony developer will depend on the specific hire's experience and the length of their contract. Generally, an experienced Symfony web developer can be hired at around $50 - $80 per hour. However, more experienced developers may charge higher rates. At Dinarys, we provide flexible hire packages to suit your individual needs. Our hire packages start from as little as $30 per hour and include additional benefits, such as personalized support, access to our suite of tools and resources, and more. With our hire packages, you can be sure you are getting the most value for your investment! So if you're looking to hire a Symfony developer, look no further than Dinarys – we will provide you with the skills and expertise you need to develop your project in no time.
Hiring a Symfony web developer can be done in just a few clicks. All you need to do is visit our website and browse through our list of developers. You can select the hire package that best suits your needs and hire the right candidate for your project. Our hire packages also provide access to our suite of tools and resources, allowing you to easily manage your hire and get the most out of their skill set. At Dinarys, we understand that finding the right hire is a big decision, so our team is always on hand to provide expert advice and guidance to help you make the best hire for your project. So don't wait any longer – hire a Symfony developer with Dinarys today! Hire the best Symfony developers with Dinarys. At Dinarys, we pride ourselves on our team of experienced and talented Symfony developers.
The amount of time it takes to develop a Symfony PHP application or website will depend on the complexity and scope of the project. Generally, an experienced team can build simple applications anywhere from 1-2 weeks, while more complex projects may take up to several months. At Dinarys, we understand that time is a precious commodity, so our hire packages ensure that our Symfony developers can work quickly and efficiently to meet your project requirements. So hire the best Symfony developers with Dinarys and get your project up and running quickly! If you're looking for an experienced, reliable team of Symfony developers for hire – look no further than Dinarys. With our hire packages, you can hire the best talent for your project and get the most value for your investment. Why hire a Symfony developer from Dinarys? At Dinarys we understand that finding the right hire is an important decision, so we ensure that our hire packages offer unmatched value for money.
Lassen Sie Profis Ihre Herausforderung meistern
Unsere zertifizierten Spezialisten finden die optimale Lösung für Ihr Unternehmen.