Hire UI/UX Designers
Finding quality UI/UX designers to hire for your web or app project can be challenging. You need someone with the right skills and experience to create a great user experience for your product. At Dinarys, we make it easy to find talented UI/UX designers for hire who have the perfect combination of technical expertise and creative vision you need.
Hire a Certified UI/UX Designers
Are you looking to hire top-notch UI/UX designers for your mobile app or web project? Look no further than Dinarys. Our team of certified professionals are dedicated to creating remarkable user experiences that bring value and improved engagement. Whether you're building a new website, an app, or any type of digital product, our UI/UX design team can help you deliver an exceptional experience. Here are the services our UI/UX design team offers:
Design Strategy & Planning
Our designers will help you build a strategy that ensures your project's success. We can also assist with user research and information architecture, so you can create an intuitive and effective digital product.
Visual Design
Working alongside our experienced visual designers, we will help you create stunning visuals for your digital product. We make sure all aspects of the design, from typography to color palettes to iconography, conform with your brand's identity and message.
Prototyping & Testing
Dinarys' UI/UX designers can help you create interactive prototypes that can then be tested for usability. This helps us create a product that is intuitive, efficient and easy to use.
User Interface
We understand that your user interface should be tailored to the needs of your users, so we make sure all elements are properly placed and aligned in order to produce an engaging experience.
UI/UX Designers Hiring Process
Hiring UI/UX Designers requires a thoughtful and strategic approach. It's essential to have a clear idea of your project goals and requirements and the team you need to make them happen. With Dinarys, you can easily find highly skilled UI/UX Designers that are perfect for your needs. Our platform utilizes advanced search technology to match you with the best professionals for your project, whether it's a app or web UI/UX Designer. This is our 4-step process: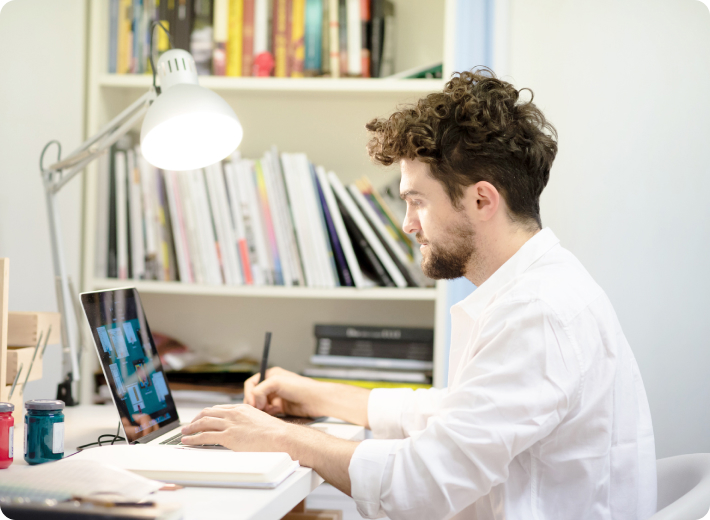 Step 1: Define Your Project Goals
The first step is to define your project's goals and requirements. This will help you hone in on the type of UI/UX Designer that's right for you. Think about the challenges you are facing and how a professional can help make them happen.
Step 2: Conduct a Thorough Search
Using Dinarys' advanced search technology, you can easily browse our extensive database of UI/UX Designers and filter those that match your project criteria. Filters include location, experience level, industry expertise and more. You can also see profiles with detailed information including portfolios, reviews and ratings.
Step 3: Interview and Shortlist Candidates
Once you've found the perfect match, it's time to start interviewing candidates. Take your time to go through each candidate profile and conduct thorough video interviews if possible. Ask questions about their experience, portfolio samples, technical knowledge and other important details that are relevant to your project.
Step 4: Select and Hire the Right Person
After you've conducted all the interviews, it's time to make a decision on who to hire for your project. Use our rating system to compare each candidate and find out who is best suited for the job. You can also use our messaging feature to contact them directly and discuss terms and conditions.
Technologies We Use
At Dinarys, we are committed to staying ahead of the curve when it comes to web and mobile technologies. Our team of UI/UX designers is well-versed in all aspects of modern web development, from HTML5 to CSS3, JavaScript and AJAX. We also have extensive experience working on mobile app platforms such as iOS and Android. Our team can quickly develop intuitive user interfaces that will drive organic traffic to your website or application. Our UI/UX designers are also highly proficient in:
PROGRAMMIERSPRACHEN
FÜR HANDYS ОС
Kotlin (Android)
Swift (iOS)
FRAMEWORKS
Yii2
Laravel
Symphony
React
Angular
Vue
PLATTFORMEN
Magento
Shopware
Spryker
SFCC
Shopify
BigCommerce
DATENBANK
MySQL
MongoDB
PostgreSQL
Percona
MariaDB
Oracle
MS SQL
CLOUD-LIEFERANTEN
AWS
Google Cloud Platform
Microsoft Azure
Digital Ocean
Any private cloud
MICROSERVICES UND CONTAINER
Kubernetes
Rancher
Docker Swarm
Docker Compose
CI/CD
Jenkins
Gitlab
Github
Teamcity
Circle CI
Travis CI
Bitbucket Pipelines
INSTRUMENTIERUNG UND AUTOMATISIERUNG
Ansible
Puppet
Terraform
Packer
Consul
DEVOPS DIENSTLEISTUNGEN
RabbitMQ
Apache Kafka
Apache Kassandra
Redis
Elk Stack
Memcached
ÜBERWACHUNG
Zabbix
Nagios
Traefik
Prometheus
Grafana
Benefits of Hiring UI/UX Designers
Hiring UI/UX Designers can be highly beneficial for businesses looking to improve their user experience. With the help of an experienced UI/UX Designer, businesses can offer a better and more intuitive product design that increases customer satisfaction and drives growth. This is the list of benefits that come with hiring UI/UX Designers: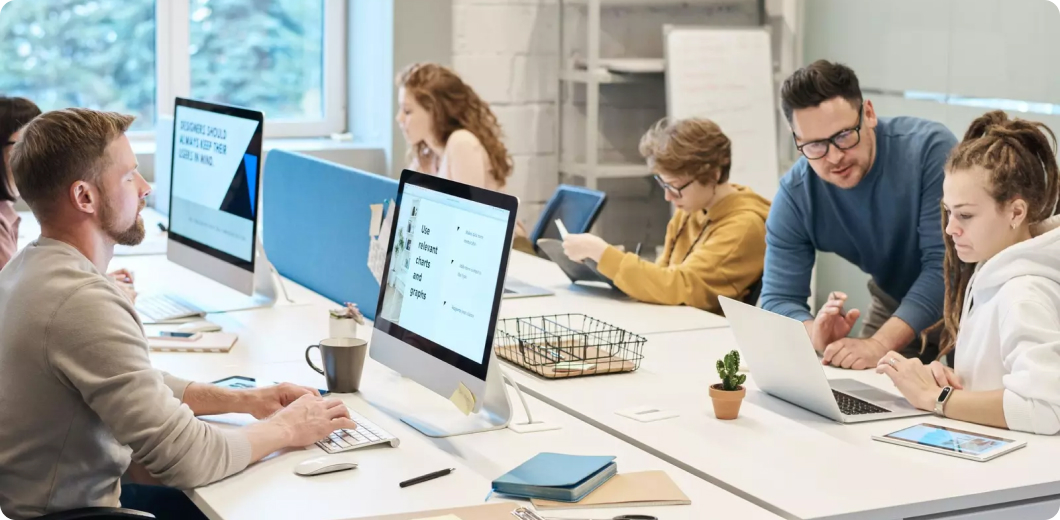 1. Improved UX design:
UI/UX Designers are specialized in creating effective and user-friendly designs to improve the user experience. They have the technical skills, knowledge and expertise to create a unique product design that meets customer needs and expectations.
2. Increased conversion rate:
An effective UX design has the potential to significantly increase a business's conversion rate. UI/UX Designers are familiar with user psychology and can create designs that resonate with customers and lead them to take action.
3. Enhanced usability:
With their expertise in creating intuitive product designs, UI/UX Designers can help businesses enhance their product usability. This can lead to improved customer satisfaction, higher levels of engagement and loyalty.
Why Hire UI/UX Designers From Dinarys?
When it comes to designing the perfect user interface and user experience for your app or web application, you need to hire talented UI/UX designers. But where do you find the right designers? Dinarys can help you make this process simpler and easier by connecting you with experienced UI/UX designers. Dinarys' team of UI/UX designers has the expertise, experience, and skills to build a great user interface for your app or website. We have years of experience in creating visually appealing designs that are easy to use and look great on various devices. So, for what reasons choose Dinarys?
Transparency:
We provide clear communication and progress updates throughout the development process, allowing you to monitor your project in real-time. You will always completely control your project, from the timelines and costs to the code quality.
Streamlined Recruitment Process:
We offer a streamlined recruitment process that helps you quickly and easily find the right developer. Our team of experts will guide you through the hiring process, helping you find and select the most suitable candidate for your project.
Loyalty:
Once you've hired your dedicated developer, we will provide ongoing support and guidance during the development process. Our experienced professionals are always available to answer your questions and provide assistance whenever needed.
Focus on Feedback:
We take customer feedback seriously and are always open to suggestions on how we can improve the quality of our services. We regularly review customer feedback, ensuring your project is aligned with the latest industry standards and trends.
Full-Time and Long-Term Engagement:
We offer full-time and long-term engagement options, allowing you to scale up or down your project team easily. This ensures you have the resources needed to complete your project on time and within budget.
Born Group is an award-winning global agency that helps brands with digital transformation. BORN, a Tech Mahindra company, creates unique brand experiences by connecting ten specialisms that serve as the foundation of the digital economy.
"Working on a large telecommunication company project, we needed to enlarge our development staff to cope with heavy project loads and deliver timely outcomes, so we started to search for professional and reliable third-party developers across a range of disciplines, including SFSC, React, JS, etc., and this is what Dinarys assisted us in.
Dinarys GmbH has made significant contributions to the platform. They have helped them streamline their development process and enjoyed their results. They are also reachable at all times and offered reasonable solutions to any difficulties."
Accenture Song is a global consulting, technology services, and digital transformation company. Accenture offers core consulting services in business strategy, operations, marketing, human capital, and technology to more specialized services, such as customer experience design and digital transformation.
"I recently had the pleasure of working with Dinarys and their dedicated developer services. As Head of Business Innovation & IT at Accenture Song, I needed a reliable and experienced partner to bring my vision to life.
Dinarys exceeded my expectations in every way! Not only were they incredibly responsive, but the quality of their work was outstanding. Their developers had the excellent technical expertise and always put in extra effort to make sure our project was completed on time and with the highest quality."
Vaimo is an expert in digital commerce experience. The company is a full-service omnichannel partner, driving success in digital commerce through digital enablement, customer experience, solution development, and managed services. Having built a fourteen-year track record of technical excellence by working with select industry partners, Vaimo provides its clients with high-quality solutions across the B2B, B2C, and D2C sectors.
"I have been working with Dinarys for the past couple of years, and our experience has been nothing short of exceptional. From start to finish, the team at Dinarys was professional and knowledgeable, [delivering] exactly what we needed in a timely fashion. We hired dedicated developers from Dinarys for a few different projects, and not only did they meet our expectations in terms of quality and performance, but their prices were also very competitive. I would highly recommend Dinarys to anyone looking for reliable, cost-effective, and high-quality dedicated developer services. Their team of experts was very helpful in guiding us through the entire process and meeting our needs."
FAQs
When hiring a UI/UX designer, it's important to understand what skills and qualities they must possess in order to best meet the needs of your project. Generally, this type of designer will have expertise in creative design concepts, user interface (UI) design principles, UX research methods and techniques, and coding languages such as HTML and CSS. As a designer on the job, they must be able to identify problems and collaborate with other team members to develop solutions that are both effective and visually appealing. UI/UX designers should have an eye for detail when it comes to creating user interfaces, which includes understanding typography, layout, color theory, and how users interact with digital products. They should also have a strong understanding of the principles and practices behind creating user experiences that are intuitive and easy-to-use. Additionally, UI/UX designers will often use software tools such as Sketch, Adobe Creative Suite, and other prototyping platforms to develop wireframes, prototypes, and mockups for projects.
The cost of hiring a dedicated UI/UX designer can vary depending on the scope and complexity of the project. As a general rule, however, you should expect to pay between $60 an hour to $250 an hour for a UI/UX designer with mid-level experience and up to $400+ for highly experienced professionals. Additionally, you may also need to cover the cost of software tools, outsourced research and testing, and other expenses related to the project. When working with a designer, it is important to get an accurate quote on the cost upfront so that there are no surprises when it comes time to pay for services.
The number of UI/UX designers you need to hire depends on the size and complexity of your project. If you have a large-scale project, you may want to consider hiring multiple designers. However, if your project is relatively small or straightforward, one designer should be enough. Ultimately, it's important to make sure that the designers you hire have the skillset and experience necessary to successfully complete your project. It is also important to ensure that they are compatible with the other team members, as collaboration is a key part of creating successful digital products.
Lassen Sie Profis Ihre Herausforderung meistern
Unsere zertifizierten Spezialisten finden die optimale Lösung für Ihr Unternehmen.