Magento
Jan 10, 2023
Magento SEO in 2023: 8 best practices and tools
Content
Where do clients go when they are willing to buy something? A large number of them start searching online. They go after product characteristics, comparisons, reviews, etc. to come to balanced solutions.
If your internet store isn't available in search engines, you lose a great channel of receiving potential clients. You may offer high quality products but can anybody find your e-shop?
Among the eCommerce CMS, Magento offers impressive inbuilt capabilities for search optimization. However, some activities are necessary to set up those Magento SEO configurations properly.
Magento gives you a chance to earn more. Solely in 2018, this platform helped their stores to make $155 billion earnings. So read on as today we'll share must-have Magento SEO tips to help your website reach top positions in search engines.
We should highlight that we mainly focus on Magento 2 release in this guide. However, these tips fit Magento 1 as well.
Top 6 Magento SEO best practices
In this section, we give a set of recommendations that will come in handy even if you know nothing about SEO. After each one, we give a detailed explanation of how to apply this using your Magento admin.
1. Checking site indexation
It's the primary Magento search engine optimization activity you should do. Unless your website is indexed, it won't even appear on the search engines. But what does indexing mean? Simply saying, it's the procedure of search engines scanning the page content to furtherly rank it. Modifying the Robots.txt file lets you turn the indexation on.
1) Enter your Magento Admin and access Content -> Design -> Configuration.


Modifying the Global template
Image Source: www.onlinemarketinggurus.com.au
2) Modify the Global template
3) Look at the "Default Robots" dropdown list and choose Index, Follow. To remove some specific site categories or web pages from indexation, write a disallow command in the text area below.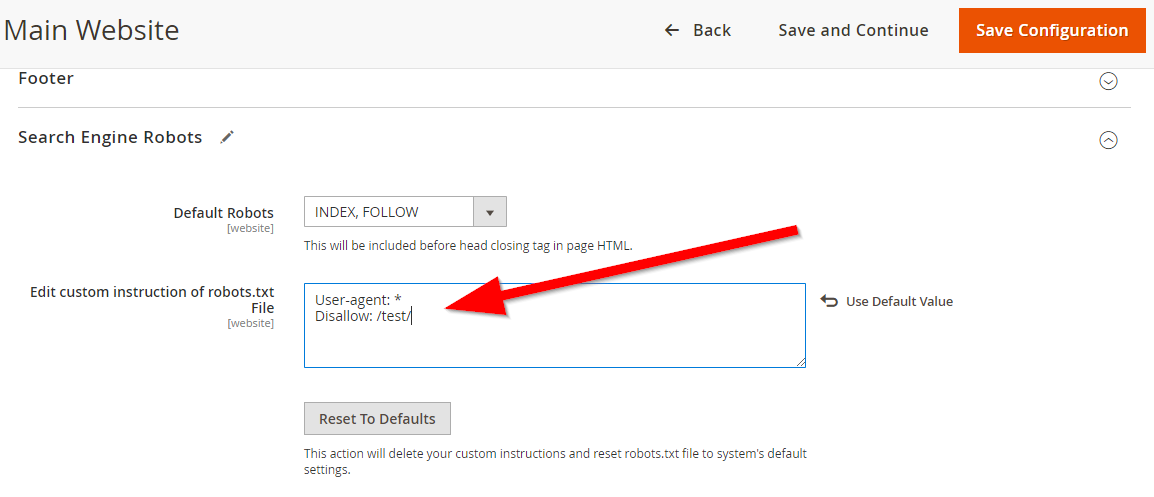 Altering the robots.txt
Image Source: www.onlinemarketinggurus.com.au
4) Everything should work fine but to double-check it, let's open the main page source code. As for Google Chrome, in particular, press CTRL + U. You'll see this line:


A new robots meta tag is added to the HTML
Image Source: www.onlinemarketinggurus.com.au
2. Deal with Query Strings
The next one on our list of Magento 2 SEO tips is optimizing URLs containing query strings. When a web address includes a question mark and some parameters after, it's often a query string. For instance:
htttp://site.org?category=1&page=10
Query strings have their application such as monitoring information about a click. It includes a page number in the catalog, product filters applied and their values, etc. However, query strings generate numerous URLs linking to a similar page. Also, query strings make URLs look messier. Both of these factors cause problems for SEO.
To deal with this trouble, it's easier and more convenient to use the external plugins. At Dinarys, our developers prefer extensions by Amasty, particularly Amasty SEO toolkit, for its high code quality and powerful functionality. In addition to dealing with query strings, it also solves above 90% of Magento SEO specialists' tasks. We should point out that integrating such an extension into Magento requires skills in programming and hours of work. Follow a link if you need help in configuring, migrating or integrating your eCommerce software.
3. Alter default meta tags
Usually, Magento already has some predefined meta tags. Altering them can improve your Magento 2 SEO.
Move to Content -> Design -> Configuration. Press the HTML Head Area and alter these configurations:
The Default Title shows for non-content web pages that don't have their manually set title. For instance, "Shopping Cart", "Sign in", etc.
Title Suffix. It is appended to every page title ending. A great idea is to type your brand name or shop name.
The Default Description is used solely for the homepage.
eCommerce store homepage is crucial to acquire new customers better. Check out our 10 best practices for Creating a Successful eCommerce Homepage.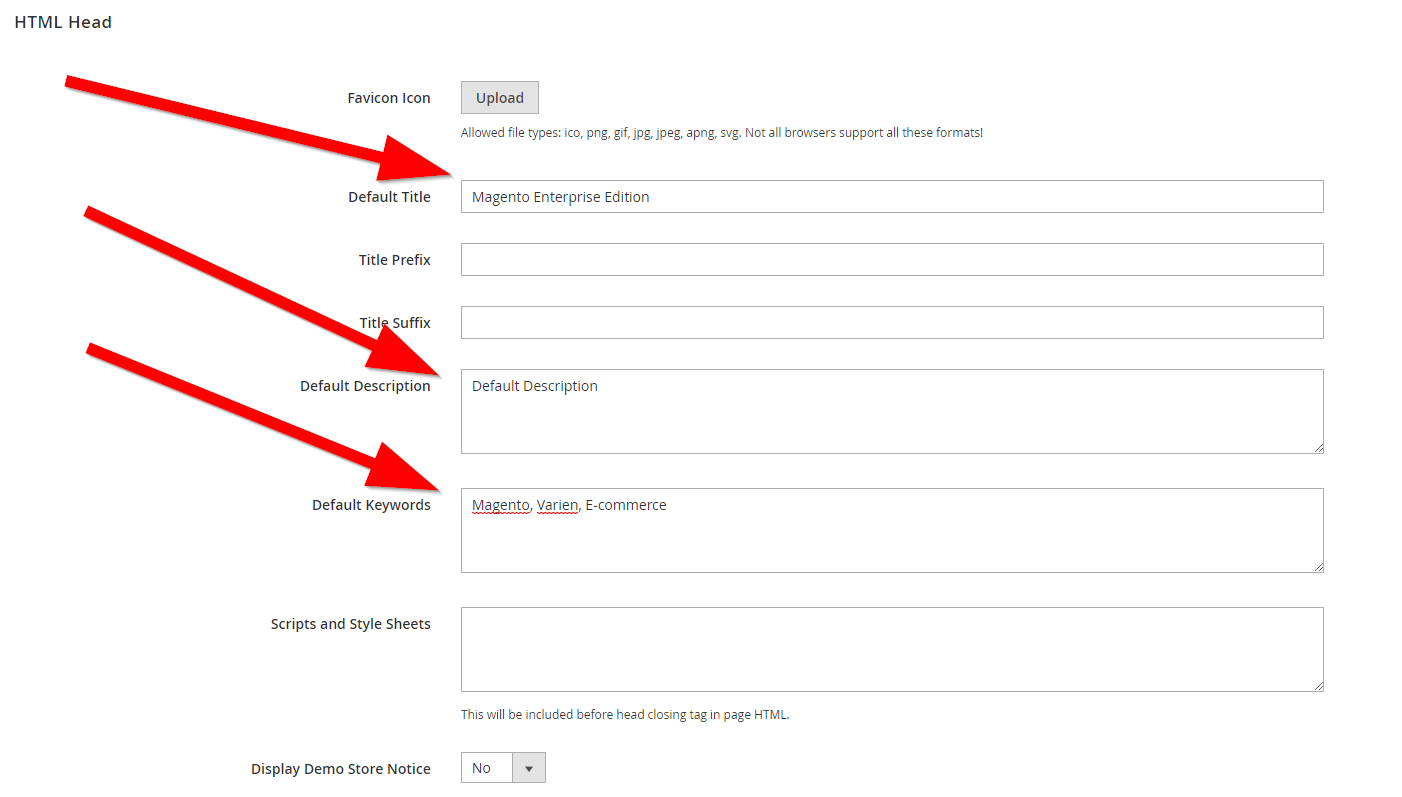 Changing the default meta tags
Image Source: www.onlinemarketinggurus.com.au
Note: Google prefers key phrases to be situated early in the meta tags. Therefore, it's better to place them there.
4. Optimize images
You may think: "Wow! What images have to do with SEO?". Indeed, the search engines are not able to interpret images at present. Nonetheless, implementing some principles can lead to getting more traffic to your website.
Firstly, the alt tags. What are the requirements to optimize them for SEO? They should:
reflect the image content
be concise
use keywords appropriately. Don't stuff the alt tags with keywords because it causes negative user experience. In addition, your site can get banned by the search engines.
Besides, an image should have a readable filename, e.g., apple-iphone-7-32gb-black.png instead of IMG12345.png.
To append the alt text to Magento, proceed to Product -> Basic Settings -> Images and Videos -> Alt Text.
Also, don't forget to change the default alt text of the logo on your website. According to our experience, it's a frequent flaw that the web site owners make. Don't let your SEO get worse due to inattentiveness or lack of knowledge of this small fact! Here's a short manual of how to upload and change the default logo's alt-text in Magento.
Another valuable step is compressing images that provide Magento 2 performance optimization. It improves page loading speed that is crucial not only for SEO but also for users. One way to compress images is in your image editor software or by searching "compress image" web services online. If you've already uploaded an image to Magento then specialized extensions such as Apptrian or Potatocommerce can do the thing.
We should note that compressing images is just one of the steps of improving page loading speed. At Dinarys, we provide complete Magento performance optimization services which include the work of both developers and DevOps specialists. Developers perform cache configurations and make changes in the production mode. Our DevOps adjust server setting and page speed services. If you want to significantly improve or update your site, contact us for a free consultation.
5. Utilize top-level URLs for your products
The next SEO tip for Magento concerned with URL duplication is that one product can belong to two different categories, e.g., the iPhone 11 Pro Max can fall into two categories:
www.site.org/electronics/smartphones/
www.site.org/eletronics/special-offers/
You can change it using the top-level URLs setting resulting in:
www.site.org/eletronics-smartphones.html
Proceed to Stores -> Settings -> Configuration -> Catalog -> Search Engine Optimizations -> Use Categories Path for Product URLs and select "NO".
6. Leverage product configurations
We've reached the last tip in our Magento SEO checklist. You may have configurable products in your store like the same smartphone with different color versions or inbuilt memory size. Magento considers it as a set of simple products and assigns them different SKU as well as inventory listing. Though, this can be O.K. for accounting but not good for SEO.
The problem is search engines consider product versions as different products. Magento doesn't utilize canonical tags by default to solve this issue as well. However, applying canonical tags can also be ignored by Google, so the best solution is to make product versions not interconnected and non-indexable from the start.
One way to resolve this issue in Magento is to utilize "Attributes" and set them up on your product pages. It's done so that a single page serves as the main one for every variation. And if you want to add a new product version go to the "Configurations" section which you can see at the image below.


Creating a product configuration
Image Source: www.onlinemarketinggurus.com.au
Nevertheless, the best solution for this problem is setting a different product description, H1, and URL for each product version. This way every URL isn't considered as a duplicate by the search engines. Besides, each product version uses a separate URL that significantly increases the number of your website's internal links. The only requirement is you need to implement a third-party extension to use this approach.
Dinarys's developers know and install the optimal extensions to enhance Magento SEO functionality. To deal with configurable products we recommend using the "Improved Configurable Products for Magento 2" extension by Firebear studio. If you need to implement a Magento extension or some other help regarding the functionality or design of your e-store, feel free to contact us.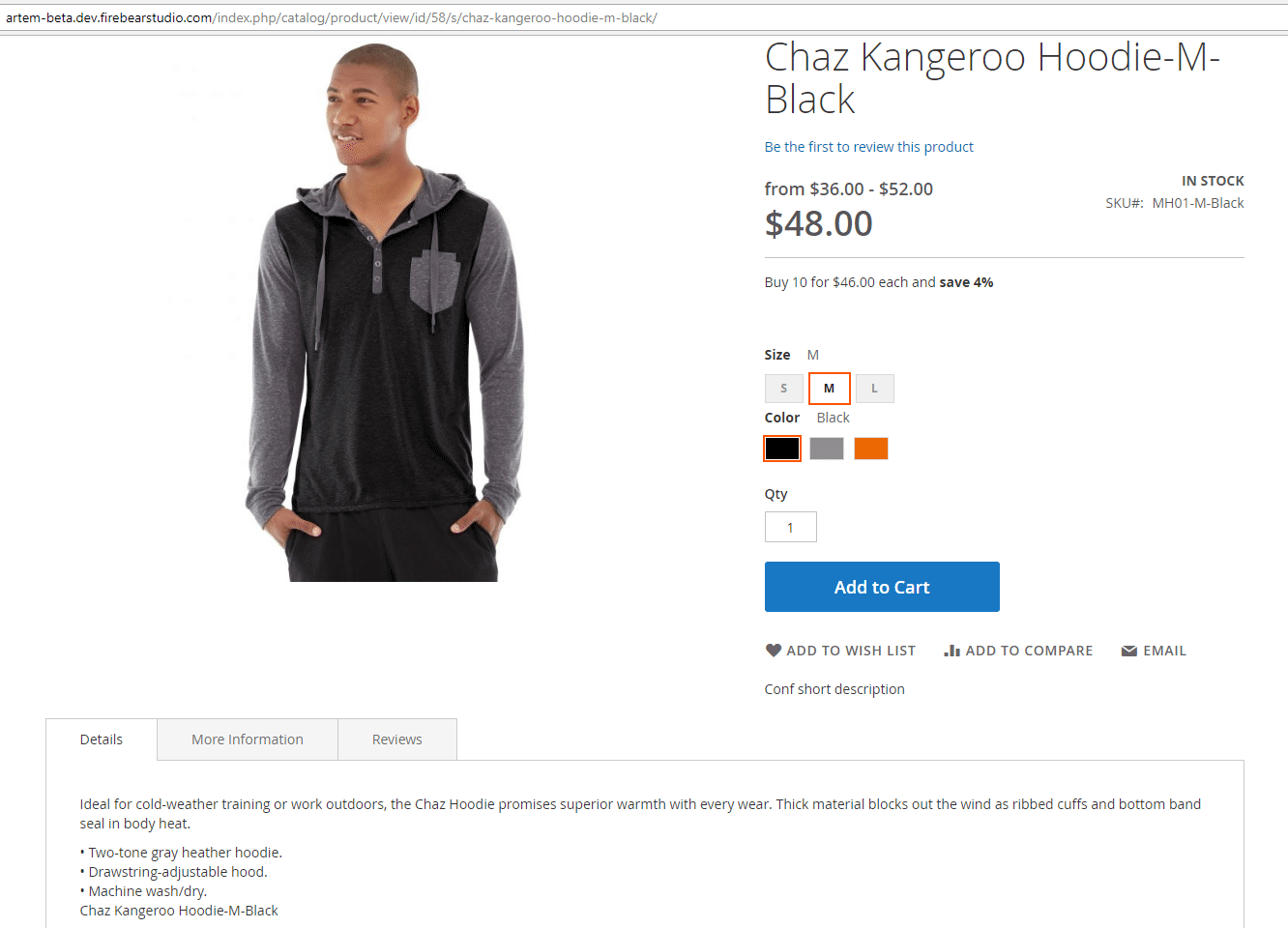 A different product description, H1 and URL for each product version.
Image Source: firebearstudio.com
Best Magento SEO Extensions
Not every SEO configuration is convenient to set up manually using Magento's inbuilt functionality. For this reason, specialized SEO extensions are required. Also, plugins enable us to automate some repetitive operations and extend the out-of-the-box SEO capabilities of Magento. Below we share a few but the best extensions that we tested and installed for our clients.
Yoast SEO


The famous Yoast SEO plugin from Wordpress has a Magento version
Image Source: wordpress.org
Yoast SEO originally became famous as the finest SEO plugin for Wordpress. Yoast SEO for Magento 2 appearance was rather unnoticed. However, the extension is still of high quality and strongly recommended for use. Yoast for Magento is currently used by over 2000 eCommerce sites. Proclaiming their mission as "SEO for everyone", they really made a great SEO plugin. By the way, a free plugin. Yoast SEO for Magento is a toolbox capable of performing 90% of all SEO tasks. The plugin streamlines optimizing meta tags, handling redirects, etc. Check out the latest version of the Yoast SEO Magento version.
Amasty Improved Layered Navigation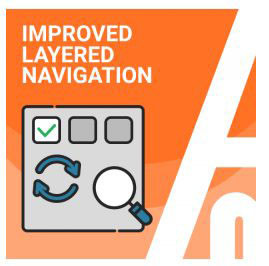 Amasty Improved Layered Navigation
Image Source: northcutt.com
The plugin enables to optimize the crucial component of every eCommerce site - the product filters. Magento 2 SEO inbuilt capabilities don't offer this possibility. For this reason, the plugin is so valuable and demanded by our customers at Dinarys. Firstly, Improved Layered Navigation brings horizontal and vertical filters to your store. Secondly, it removes the GET parameters from the URL to improve their SEO-friendliness. For instance, instead of getting such a URL with the get parameters after the "?" mark such as:
https://estore.com/smartphones?brand=samsung
Amasty Improved Layered Navigation will make you a separate URL for the Samsung brand that will be properly indexed by the search engines like this:
https://estore.com/smartphones/samsung
Read also, tips on how to improve your checkout page to increase your sales.
ReloadSEO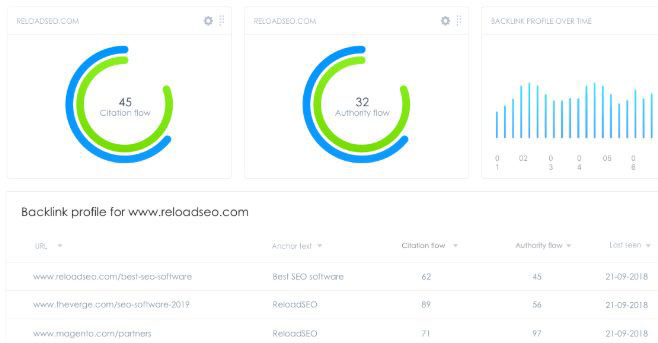 Reload evaluates your SEO using their score system and offers recommendations
Image Source: northcutt.com
ReloadSEO appends SEO analytics to the server-side of your Magento. It enables essential data including revenue metrics, your high-performing keywords, backlinks info, etc. This extension processes about 6 billion web pages a day to fill up its huge databank. In addition, Reload SEO checks if some backlinks went missing to alert you of this.
A handy feature of this plugin is evaluating each web page SEO in points. It gives practical advice on resolving every SEO issue your page has.
Read also: 7 Most Important Ecommerce Business Metrics.
Summing up
Thus, by implementing our tips you are able to utilize the utmost Magento SEO potential. Just allocate some time to apply all of them. Nevertheless, some complex tasks like implementing SEO extensions into your site or performance optimization may require the help of professional developers.
Dinarys is a software development company that has extensive experience in eCommerce development. We do Magento performance optimization and develop Magento websites with SEO in mind. Whether you're looking to launch an e-commerce store, need to integrate new features or migrate to another platform – we are the team you can turn to regardless of the stage of your online business. Check out our reviews on Clutch and contact our managers to discuss your project.
Do you want to be the first to find out the changes in the software development or eCommerce worlds? Subscribe to our blog on LinkedIn, Facebook or Twitter.
Lassen Sie Profis Ihre Herausforderung meistern
Unsere zertifizierten Spezialisten finden die optimale Lösung für Ihr Unternehmen.
Related articles