Magento
Jun 18, 2021
Magento/Shopware Minimalist Ecommerce Themes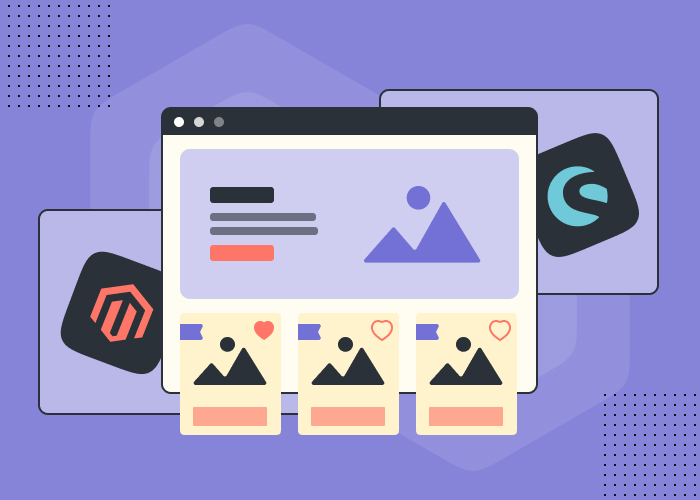 Content
Magento and Shopware are two of the most popular platforms for electronic commerce in the market. The systems allow adding various extensions, features and installing updates which makes them adaptable and convenient solutions for businesses in the field of retail. Due to the opportunities available on the platforms, you can provide the best shopping experience to the clients of your online store.
According to statistics, 38% of visitors would leave the website because of unattractive design. The themes would reinforce the capabilities of your Magento or Shopware store and take your business to the next level. Minimalist themes are the most popular designs among shop owners. The high-quality minimalist theme will not distract the buyer's attention from your products.
Best Minimalist Magento Themes
We have created a selection of the best minimalist website themes that you can utilize for your business. The themes are pre-designed templates for Magento-powered online retailers. Any of the designs will allow you to develop a high-quality website for any purpose. One of the main advantages of the best minimalist Magento themes is a responsive design that fits any screen size, resolution, and device. The other benefits are user-friendliness, simplicity of use, support for a variety of languages, and the ability to modify the appearance of an e-commerce store by changing colors, fonts and other theme options. If you are searching for a suitable design for your ecommerce store, consider the following themes.
Unero Minimalist Magento 2 Theme
Unero theme is a perfect choice for online stores specializing in fashion, decor, or furniture. With this minimalist and clean theme, your online retail store will look more attractive and appealing to viewers. The responsive design and great coding will allow you to turn your e-commerce shop into a stylish and modern-looking website. Due to the large number of editable features provided by the Unero Theme, you can create a professional and effective website for your business.
This design is one of the best minimalist Magento themes suitable for any type of online store. Mella would be a perfect choice if your e-commerce shop specializes in selling furniture, clothes, accessories, cosmetics, or books. There are plenty of customizable options, various shop and product layouts. Mella minimalist Magento 2 theme is designed for mobile phones but it would look great on any device.
Claue is an excellent choice for trendy and sophisticated minimalist websites. There are over 27 homepage layouts for fashion, food, accessories, furniture, electronics, cosmetics and other types of online stores. Claue is developed on Front-End Page Builder and provides a large number of free extensions, such as Guest Wishlist, Mega Menu, Store Locator, Ajax Cart Pro, Ajax Layered Navigation, and others.
Shopper Magento Theme
This Magento template with responsive and clean design is one of the most stylish and elegant minimalist website themes. The template is compatible with numerous devices and can be viewed from smartphones and tablets. Shopper Magento Theme has a variety of color schemes for different website sections. The advantages of a new version of the theme by Queldorei include a customizable sidebar and image size, Ajax price slider, unlimited colors, easy install sample data, and a lot of custom CMS blocks.
Sebian is a modern and beautiful Magento theme that is multipurpose and easy to adjust. More than ten unique layouts, adaptable and attractive design and vibrant color schemes make this template a perfect solution for any e-commerce shop. It will be perfect for fashion, cosmetic, beauty online stores. Sebian Magento minimalist theme provides flawless design, blog integration, widgets for products, and other outstanding features.
SM Papa is a stylish design for e-commerce Magento platforms. It offers six color presets, clean fonts, an intuitive interface, perfect and simple design. This Magento theme would be ideal for wedding, jewelry, or fashion-themed online store. Furthermore, the theme comes with a number of add-ons and more than ten fully customizable components. The features of SM Papa Magento Theme include social network integration, custom wishlist, contact and cart pages, powerful Mega Menu and mobile menu, Ajax cart pro and others.
If you are looking for a free minimalist Magento theme, Ves Need is an excellent option. The Magento theme development will be suitable for e-commerce stores selling accessories, jewelry, shoes, clothing items, cosmetics, and others. The eye-catching design, optimization for mobile devices, and numerous features will attract customers to your e-commerce store and showcase the products in a favorable light.
Read further: Top Magento Themes for Your Store
Top Minimalist Shopware Themes
The online store design is essential for the success of your business as it has a significant impact on user experience. The minimalist designs for Shopware online store will not only make your e-commerce shop look more appealing and user-friendly but also boost sales and increase the number of customers. In this list, we have gathered the best minimalist themes for your Shopware store.
This template can be used by anyone for any type of business. You do not need any programming skills to set up the theme and customize it for the requirements of your online shopping website. Minimalist e-commerce theme is fully responsive, SEO optimized, and easily adapts to various browsers. It is compatible with all platforms and resolutions, including smartphones, tablets, desktop computers, and laptops. You can also receive free updates during the first year.
White Knight Shopware Theme
White Knight minimalist theme looks very simple and stylish. The specific feature of the template is the ability to change the main color in various sections at once with just one adjustment. Moreover, individual colors can be applied to navigation and sidebar. The theme is developed on a responsive template, so it can work with different plugins. The other properties of the White Knight Theme include a sidebar banner, icons for delivery and payment, the free position of the logo, and intuitive navigation.
The minimalist and elegant theme will be suitable for different types of shops including fashion, jewelry, and accessories e-commerce stores. The template is free which is a huge benefit for the shop owners. The advantages are a minimalistic dropdown menu, sticky navigation, the opportunity to add your own Google fonts, and customizable configuration. In addition, the theme is open-source, so you can change it according to your needs.
Summary
The listed Magento and Shopware templates are some of the most widely-used minimalist designs for e-commerce shops. With the help of these designs, you can set up your online store without significant expenses and with little effort. In case you need ecommerce developers' help don't hesitate to contact us. We are certified Magento and Shopware developers with strong expertise in e-commerce website development.
Lassen Sie Profis Ihre Herausforderung meistern
Unsere zertifizierten Spezialisten finden die optimale Lösung für Ihr Unternehmen.
Related articles