Magento
May 12, 2021
Magento Marketing Automation Integration: Best Marketing Software / Marketing Solutions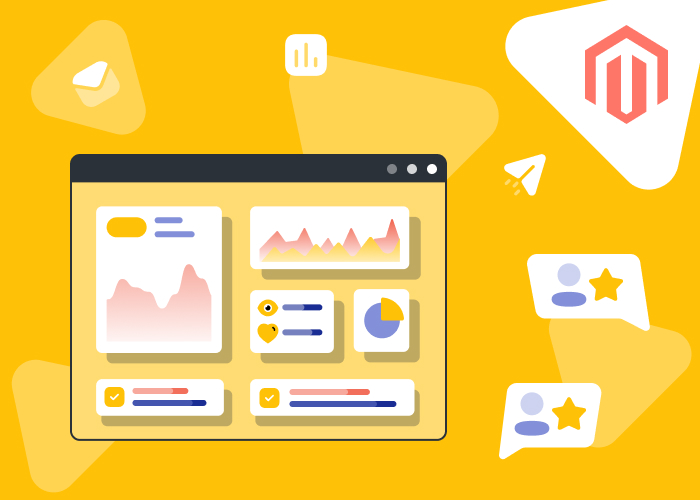 Content
Every business owner may have different marketing needs, but they do agree on one thing - a tool should help increase the turnover or at least raise the product's popularity. To achieve the best level of marketing automation, simply using a Magento store might not be enough. Here's where Magento marketing automation integration comes into play.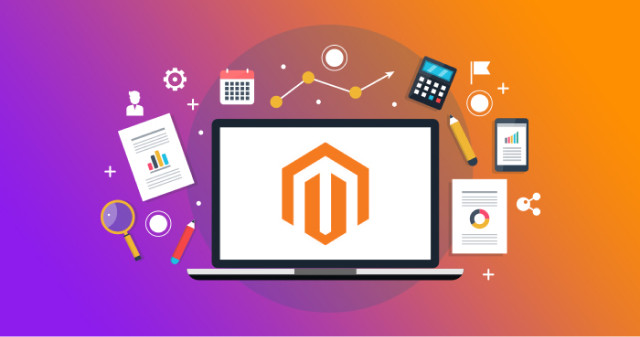 Image Source: www.cloudways.com
With the right extensions and tools, catching the interest of your audience with special offers, campaigns, and newsletters is a piece of cake. Keep reading to discover marketing automation tools and tips that are right for your business.
Marketing Automation Benefits
Marketing automation is a lovely contrivance for those who wish their emails, social media posts, and ads to be organized and published on a schedule. Such arrangement provides a necessary relief when particular clients' actions during sales need to be followed by relevant marketing campaigns and efforts. For example, an email after an abandoned e-store cart can lead to a customer's return and subsequent purchase.
Many business intentions may be doomed without a human touch, but too much of it - and a human error is bound to appear. Routine is at the top of this list. Both productivity and improved time management are the obvious yet highly repetitive advantages of automation, although they remain accurate. Strategy and innovation in business are much better uses of time than the same procedural activities every day.


Image Source: cedcommerce.com
Other marketing automation benefits include:
quick and effective collection of clients' reviews and personalization;
help with numerous discounts, reward systems, and loyalty discounts;
better customer experience and improved relationships with potential clients;
relevant and targeted offers due to algorithms;
increased revenue - 77% of marketing automation users confirmed conversions boost.
Possible drawbacks may include the need for a bigger budget, a potential complex learning curve, and various employee adjustments. Still, they are easy to fix or overlook due to the advantages mentioned above.
Magento Integration Tips and Capabilities


Image Source: www.cin7.com
Magento 2 already has default marketing and sales functionalities - promotions, customer engagement, email, and newsletter templates. The integration provides features well beyond these basics.
How to Integrate Magento with Drip
Drip is an excellent choice if you need to elevate your ecommerce brand. The three most used features are subscriber engagement evaluation, workflow regulation, and a visual campaign constructor. Another helpful tool is contact management for livening up campaigns with broadcasts and autoresponders.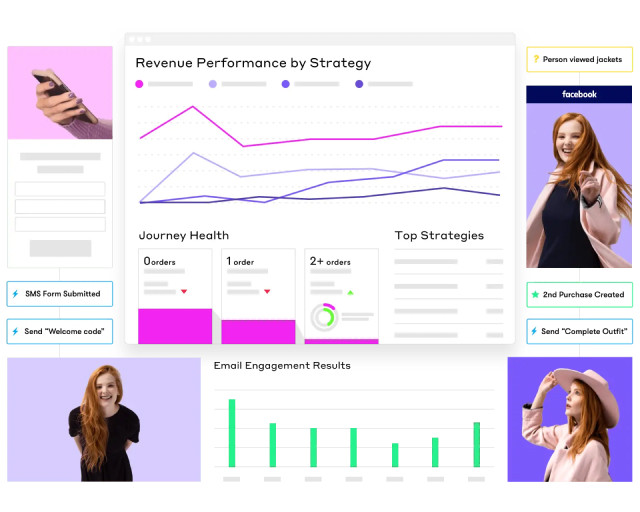 Image Source: www.drip.com
Advantages of Drip software:
the ability to add multiple marketing layers, such as surveys, ads, and messengers;
passive leads profiling mode to evaluate already running targeted ads;
action-based triggers - usually page clicks or social media visits;
subsequent product recommendations after a purchase;
intuitive interface and templates.
Drip Magento integration is available with an extension presented in Magento Marketplace. Before installation, you need your own Drip account, which you can create after choosing plans and prices here. After logging in, click Ecommerce and choose Magento after navigating to Integrations. Eventually, instructions will appear on your screen.
How to Integrate Magento with Bronto
This marketing platform has the usual campaign features with a few extra post-purchase, loyalty, and VIP clients' solutions. A bit pricey for small businesses; however, Bronto has professional support with several justifiable features if your revenue allows it.
Bronto opportunities:
enables A/B testing and database segmentation;
exceptional guidance and knowledge from their customer support team;
logical and easy-to-understand interface;
omnichannel SMS campaigns and reminders.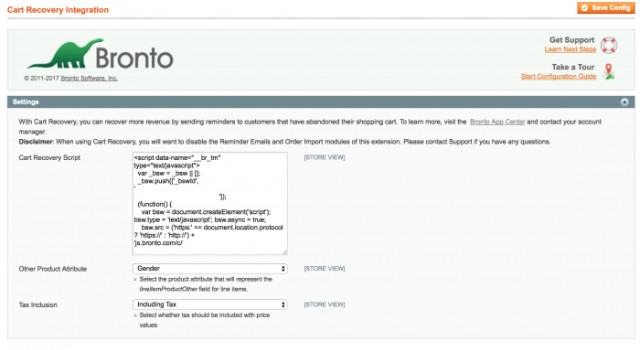 Image Source: www.markuptrend.com
Bronto Magento integration can be a bit complicated. You can go the easier way and choose an extension (although the Magento Marketplace version is missing as of lately) or the latest plugin in the archive here. Perhaps use third-party services and follow their tutorial or an official Bronto Connector.
Using the connector, you can import contact, product, and order data, build a campaign, coupon, and message configurations.
How to Integrate Magento 2 with Unific
Unific allows for the rise of the Lifetime Value of a Customer, meaning the future cash value that a customer will bring to a company during their entire relationship cycle. The marketing influence of such a benefit leads to growth and a justification of the HubSpot investment.
Unific Magento integration advantages:
default synchronization and automatic recovery of abandoned carts;
dynamic coupon codes, meaning the utmost accuracy of existing or potential client targeting;
customer segmentation depending on multiple factors of purchase history.
The Unific Magento integration process starts with using the Unific connector. Before installing the extension, make sure you have an account and one of their three plans - either a free limited, growth (according to orders correlation), or scale for high-volume businesses. After installation, follow the process below.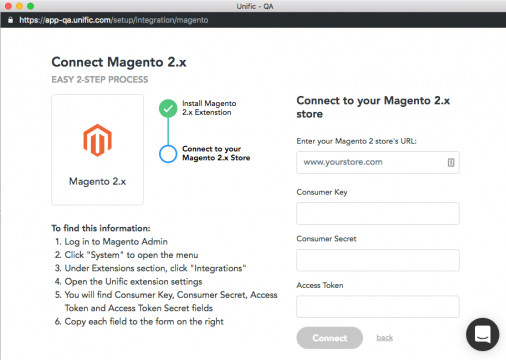 Image Source: marketplace.magento.com
How to Integrate Magento with Dotmailer
Dotmailer (currently changed to dotdigital Engagement Cloud) is a multi-channel program supporting all B2B or B2C marketing teams regardless of size. Businesses to benefit most from their solutions are those in possession of a significant amount of email subscribers.
Key Dotmailer features are constantly improving - the most prominent are recommendations using AI, segmentation based on behavior, contextual triggered messaging, an account manager, and all-day support on the weekdays.
Dotmailer Magento integration benefits:
auto-updates of contacts and purchase history;
campaign automation by push, CRM, or SMS notifications, also transactional emails;
cart and wishlist synchronization;
custom segment and attribute mapping;
automated follow-up if a client dropped out intentionally or unintentionally (abandoned carts or websites);
VIP perks and incentives.


Image Source: marketplace.magento.com
Dotmailer Magento extension is usually added free of charge (although dotmailer account has costly monthly plans), using Magento Marketplace as well or by a custom solution. The extension is bundled and can be found by default coupled with Magento installation.
Read also: Magento Mail Service for Bulk and Transactional Mailings
How to Integrate Magento with MailChimp
MailChimp is mainly known for the meticulous and prompt handling of your business newsletters and emails. This tool does so by tracking and analyzing your clients' behavioral cues and preferences. Magento MailChimp integration retains the best qualities of both software with effortless precision.
Mailchimp pros:
a variety of ready-made and custom templates for emails, campaigns, and signup forms with zero coding needed for anything;
a limited, but still satisfactory free version;
personalization and customer incentives following previous sales history;
great for small to medium-sized companies with restricted budgets.
How to add MailChimp extension in Magento:
open Magento's Marketplace and find the extension for Magento 2;
download the ZIP file (which is free, don't worry) after choosing the Edition and Magento store version in the menu on the right;
add to cart, then proceed to checkout, where you log in using your account in Magento;


Image Source: mailchimp.com
after placing the order, download the extension, and then use the Component Manager to install it;
next goes settings configuration after making and adding your own API key;
finish by creating your new MailChimp store and connecting it to Magento in the Admin panel.
Read more in our blog What is Marketo? Figuring Out the Leading Automation Tool.
Bottom Line
Marketing campaigns automation does wonders for efficient management as it helps to reduce the time spent on all monotonous tasks. Imagine all boring routines gone away, and you can finally focus on your brand - this is what Magento marketing automation integration truly means.
However, in no way is it a replacement for your marketing or sales department. Automation integration provides valuable assistance to your team in the management and following campaign execution, so use it wisely and with clarity about your company's goals.
Any questions about Magento marketing automation left? The Dinarys experts are ready to answer them. Reach out, and we'll get back to you asap.
Lassen Sie Profis Ihre Herausforderung meistern
Unsere zertifizierten Spezialisten finden die optimale Lösung für Ihr Unternehmen.
Related articles