Magento
May 11, 2021
Magento ERP System Integration: How to Integrate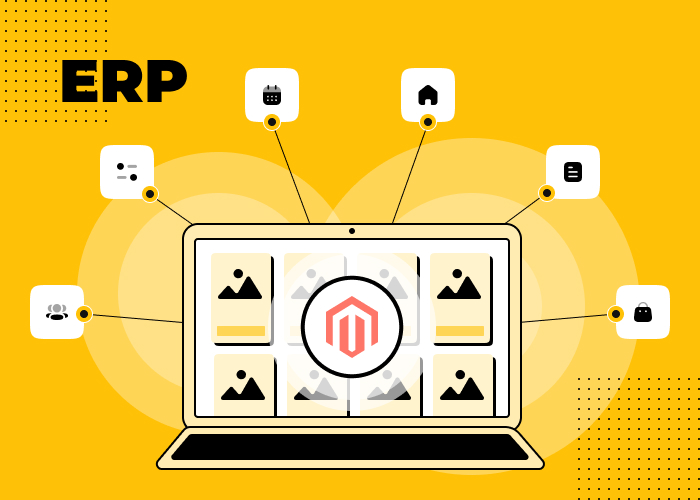 Content
ERP brings advantages to both small and large businesses. Implementing Enterprise Resource Planning is a great decision that helps your company save time and reduce expenses. Magento EPR system integration will increase your business productivity. You will get rid of the routine operations and the need to manage orders manually. Due to the Magento ERP system, the clients will receive more precise data on product availability and price. Before integrating ERP with Magento, it is important to take into account the company's size, pain points, types of products and attributes, orders and shipping information.
The Basics of Magento ERP Integration
What Is ERP Magento?
Magento users apply the ERP software to improve the company's processes and control operations in various areas, such as manufacturing, development, organization, marketing and sales. The ERP software allows managing all processes from one place. Magento's programming interface integrates with different enterprise resource planning software including custom products. An ERP solution for Magento can be provided by NetSuite, Microsoft Dynamics, SAP, Oracle, Infor and others. We offer a high level of expertise in Magento ERP integration services.


Image Source: ecomextension.com
How to Sync Magento with ERP
There are several ways of ERP integration for Magento. The most popular approaches to ERP integration for Magento are point-to-point solutions, multichannel integration platforms and custom integration.
Point-to-point solutions are more suitable for small businesses than for large companies. Magento ERP eCommerce integration will be less expensive compared to other offerings. You will be able to find point-to-point solutions in Magento Extension Marketplace. The major advantage of point-to-point solutions is the ability to synchronize data. However, you will need an operational platform to organize the data and add sales channels.
Custom Magento ERP integration is more expensive and has more options. It will be suitable for companies with specific needs and requirements. A Magento ERP custom solution operates with the help of both programming APIs for data synchronization.
Multichannel integration is a special solution dedicated to Magento online stores and ERP integration. The major advantage of multichannel integration is the opportunity for automatic synchronization, storing and managing the data. The solution is aimed at both small businesses and enterprises. At the same time, the price is usually higher compared to other solutions.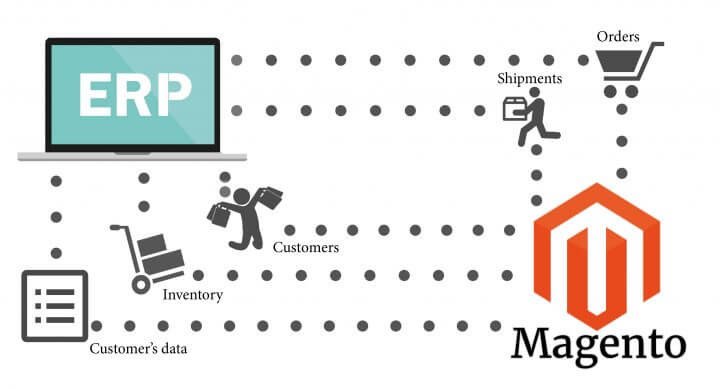 Image Source: elogic.co
Best ERP to Integrate with Magento
Once you have figured out your company's requirements, it is time to choose the ERP module for Magento among the Magento best ERP. Further, we will describe some examples of the best ERP to integrate with Magento.
How to Integrate Magento with SAP
SAP solutions are the perfect choice for middle-sized and large companies. SAP is very useful in managing various aspects of the business including purchasing, CRM and arrangement of the supply chain. Magento SAP ERP integration provides a lot of great features, such as cloud deployment, machine learning, predictive analysis, integrated business intelligence, the opportunity to export orders from Magento, the ability to import inventory, promotion pricing and catalog into an e-commerce platform.
You can conduct the Magento SAP ERP integration using two key approaches. The first way is to apply the special connector for SAP and Magento. The second way is to use Magento Import and Export extension. The second solution provides you with more flexibility, as you can connect with any third-party sources, ERP and CRM solutions.
How to Integrate Magento with Microsoft Dynamics
Microsoft Dynamics will be the perfect solution for the problems related to financial challenges and human resources. Due to operations management, you will be able to take your company to the next level. The most outstanding characteristics of Microsoft Dynamics include warehouse operations automation, data management, the ability to create budget plan templates, improved performance with HR updates and payroll analytics and the opportunity to build social media campaigns.
You need a reliable connector to integrate ERP extension with Magento. You can either use the improved Import & Export extension or use some other connectors like AppseConnect.
How to Integrate Magento with IBM AS/400
Magento integration with IBM AS/400 will provide your company various advantages and simplify the processes of inventory management, managing product data and more accurate client management.
The integration of Magento and AS/400 ERP is a difficult process, so it requires detailed planning and implementation. Magento enterprise ERP integration cannot be conducted without third-party extensions. You can perform the integration using Web Services, IBM WebSphere MQ Series or Mule Enterprise Service Bus.
NetSuite Magento 2 Integration
Magento 2 integration with NetSuite eliminates the Magento 2 e-commerce store owners the problems related to the manual entry of the important information, errors and challenges with the data accuracy. A successful integration results in a better client experience and improved process efficiency. NetSuite Magento 2 Integration allows automating the processes of financial reporting, online order fulfillment, pricing updates and many others.
There are three main options that will help you to integrate NetSuite and Magento. Some vendors provide the option of implementing point-to-point integration. The other way is custom NetSuite Magento integration. The last way to integrate NetSuite and Magento is a SaaS-based integration platform.
Odoo Magento Integration
Odoo is the enterprise resource planning software that has many essential features for increasing sales, building websites, streamlining operations and managing financial tasks. Odoo is based on an open-source model that allows meeting the needs of various companies in different industries. Odoo is easy to use and brings a great website performance and stability.
Odoo Magento integration provides a wide range of advantages and functions for business processes automation. The ERP software will be useful in terms of simplifying everyday operations and improving productivity. The integration of Odoo ERP and Magento will synchronize your sales orders, shipments and product catalog.
To integrate Odoo and Magento 2 you can use special extensions, such as Odoo Magento 2 Connector.
BlueCherry ERP Magento Integration
Blue Cherry and Magento integration will help solve some specific issues for your business, including transaction automation, tracking and managing inventory, tracking shipments and determining what to change once the products were shipped. The advantages of BlueCherry ERP Magento integration include minimization of operational expenses, an increase of the market reach, customer satisfaction and a decrease in inventory costs.
To perform the integration of Magento and Blue Cherry, you need to involve certified Magento developers. We have extensive experience in Magento e-commerce website development, providing full-range services to help businesses benefit from Magento.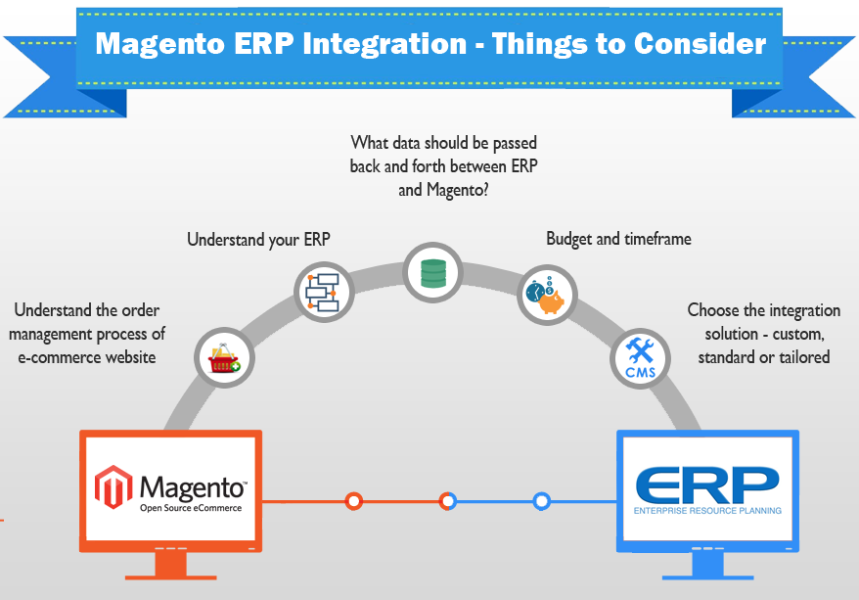 Image Source: business2community.com
Conclusion
ERP integration with Magento allows tackling challenges in different areas of business. Enterprise resource planning helps to track payrolls, orders and purchases. With ERP you can easily manage production capacity, raw materials and stocks. In combination with ERP, your Magento online store works as a high-profitable unit.
Enterprise resource planning enables you to establish control in sales and marketing, financial management, manufacturing, purchasing and inventory. The key components of the ERP system — automation and synchronization — will boost the effectiveness of your business processes and increase revenue. You can improve the routine of nearly every department in your company, reduce risks, achieve better collaboration and simplify the way your employees perform tasks every day. In case you need developers' help don't hesitate to contact our team.
Lassen Sie Profis Ihre Herausforderung meistern
Unsere zertifizierten Spezialisten finden die optimale Lösung für Ihr Unternehmen.
Related articles