Magento 2 B2B Feature List for Ecommerce Business Growth
Magento Jun 28, 2020

Main / Blog / Magento 2 B2B Feature List for Ecommerce Business Growth
You probably already know that Magento has ceased supporting the first version of the platform, and now all stores based on this engine, by will or not, must migrate to the second version. Fortunately, there are no negative aspects involved because the updated version is filled with even more features to boost B2B-type commercial sites. But let's take a closer look at the Magento 2 B2B feature list.
Is Magento 2 a Holy Grail for Entrepreneurs and Developers?
Magento is a hugely popular and powerful framework used by small to large businesses alike to achieve a competitive level of eCommerce performance.
Magento's motto is: "Designed to grow, built for flexibility", which means that entrepreneurs get great opportunities to grow their business the way they want. Due to the flexibility of the framework, you can combine B2C and B2B features in the same store.
Small business owners can start from sites with basic functionality, gradually adding up more and more features and increasing the productivity of the existing solution to simultaneously serve even more users.
Then, there's also end-to-end platform compatibility. Magento an open-source solution that allows you to integrate numerous additional extensions, modules, and APIs in order to smooth out the performance of store administrators and optimize the level of user experience.
And of course, if your business needs something unique, you can always contact Magento developers to create an individual solution specifically for your online store.
Therefore, Magento can be a perfect CMS if you plan to scale your eCommerce business in the nearest future. It is able to handle large stores pretty much all on its own. So instead of planning to migrate to Magento when you'll need a more powerful solution, it may be best to go with this platform from the very start.
9 Best Magento 2 B2B Features
Let's now review the Magento full feature list that covers both B2B and various other commercial capabilities.
1. Built-in self-service tools
Instead of connecting multiple pricey plugins to expand the functionality of user accounts, you have the opportunity to get everything right out of the box.
A self-service tool helps customers get everything they need to manage their accounts into their own hands. In turn, sellers have a whole set of features for interacting with customers, including the functions of import/export, grouping and assigning individual priorities for certain accounts.
2. Advanced account configurations
The new version of Magento also boasts the ability to assign multiple users to the same account at once. Also, owners of trading resources can independently distribute directory access rights for selected accounts.
Thus, you can configure different policies for different accounts, which, in turn, allows you to conduct two types of business on the same eCommerce site.
Learn more:
Magento Custom Module Development
How to Speed Up Your Magento Website
Top Magento Themes for Your Store
3. Quote requests management
Previous versions of Magento only allowed interaction with customers by installing third-party plugins and solutions. Now, all this is available without connecting anything of third-party nature. The same can be said about the parameters for setting prices: everything you need already contains the 2nd version of Magento by default.
So, thanks to this update, buyers can quote requests without leaving the shopping card, track the delivery status of goods, and also leave specific notes for store managers.
Learn more: How to Choose the Best Ecommerce Shopping Cart
4. Reduced sales funnel progression time
In the new version of Magento, developers have significantly optimized sales funnel promotion capacities, reducing the time required to complete a purchase dramatically.
Firstly, buyers get the opportunity to instantly place an order when adding multiple products to the basket. Secondly, the new version has boosted analytical functions, which allows you to create lists of the most popular products that you can offer customers depending on their shopping cart contents.
Also read: How to improve Magento shops cart abandonment
5. Payments on Credit
The cherry on top of the Magento website features list is a payment on credit option.
Previously, the platform only supported the PayPal payment gateway, which greatly limited the ability of users to complete transactions. Surely, you could connect paid extensions, but for beginners, this was not always the most reasonable solution.
Now, Magento offers a wide range of features for payments on credit, which is an extremely useful thing for marketplaces and other B2B-format solutions. You can, without any restrictions, set the minimum and maximum purchase amount set the terms for the loan, assign specific policies for different regions, and much more.
Moreover, you can define privileged accounts for which credit limits will be more loyal. This will increase the customers' confidence in the store and make them even more active at shopping.
May be interesting: How to Integrate a Payment Gateway in Your eCommerce Store
6. Extended shipping parameters
Another great thing is you get to expand your regular delivery management. Thus, the updated version of Magento provides end-to-end automation of all stages associated with the transportation of goods, including logistics functions and optimization of goods turnover, taking into account the location of warehouses.
7. Even more mobile-friendliness
Nowadays, it is imperative that online stores have a design adapted for mobile devices. Even now you can come across shops that look good but perform awfully when opened on a smartphone (be it cumbersome navigation or messed up visuals).
Fortunately, Magento 2 capabilities allows creating a mobile app for Magento website.
Know more: Magento PWA for Magento 2 Store
8. Advanced inventory management & delivery timing
Forget about spending hours managing inventory to compile all the data across different sales channels. In the updated version of Magento, everything is extremely synchronized, and all data is displayed in real-time: seems like a perfect feature for B2B, ain't it?
With it in hand, you are enabled to optimize the supply chain and establish the optimal turnover between warehouses and end-users.
9. End-to-end integrations with numerous APIs & extensions
Last but not least in the updated Magento 2 features list is end-to-end integration with all kinds of third-party solutions.
Indeed, Magento is the perfect value for money when it comes to the integration options provided. Not only that, but by default, the platform itself also contains multiple features for B2B solutions, so developers from all over the world have tried to collect the widest selection of various extensions, plugins, and APIs in order to satisfy the needs of the most demanding eCommerce entrepreneurs.
Read more: 5 Simple Steps to Start an eCommerce Business
How to Scale an eCommerce Business with Magento 2: Final Word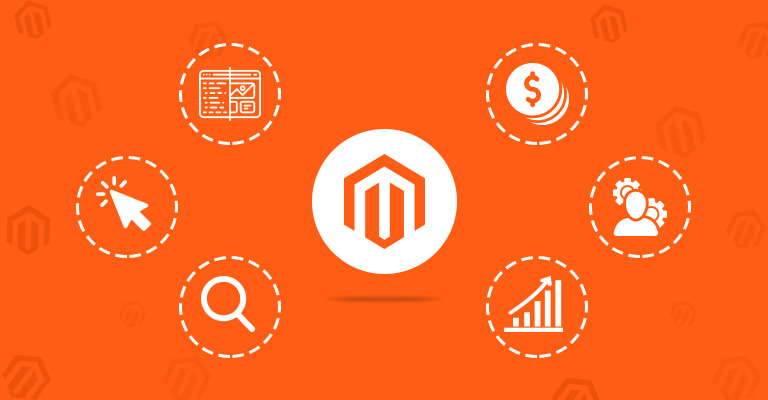 Image Source: jackfic.com
As you can see, the updated version of Magento offers a lot of opportunities for implementing B2B-format solutions, the main thing is to find experienced developers for this. The Dinarys team is at your service. Our portfolio has dozens of readymade solutions based on the Magento framework, which we support to this day.
If you want to be among our keen work partners and get the most out of the B2C/B2B feature list of Magento - contact us right now to discuss the details and budget of the future solution.
We also offer our services to scale eCommerce business based on Magento, so that you instantly adapt to changing market requirements and can survive even among the most powerful competitors.
Want to read more
Get fresh articles, news and case studies to your email firstly
Related articles